Keren Landsman has won the 2019 Geffen Award for Best Original Science Fiction or Fantasy Novel for The Heart of the Circle!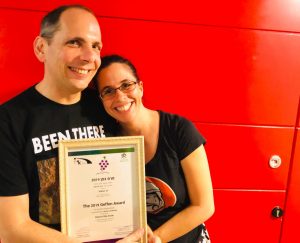 The Geffen is Israel's most prestigious genre fiction award, given annually by the Israeli Society for Science Fiction and Fantasy since 1999, and recognising the very best science fiction and fantasy writing in Hebrew and Hebrew-translation.
We are tremendously proud to have published the English translation of Keren's brilliantly genre-bending book.
Huge congratulations to Keren, pictured here with her very proud husband Yoav!