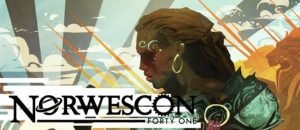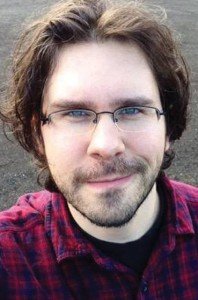 While the UK mob are descending on Follycon for Easter, Stateside have the joy and the pleasure of Norwescon41 at SeaTac, WA, which kicks off today!
Our man with a sword Joseph Brassey, author of the glorious Skyfarer and its upcoming sequel Dragon Road will be slashing wildly all weekend – you should definitely catch up with him. He's on a tonne of panels, so get your Brassey fix:
Thursday
Magic: Status Quo or Revolution?
5:00pm – 6:00pm @ Cascade 10
Fonda Lee (M), Eva L. Elasigue, Joseph Brassey
Friday
10:00am – 11:00am @ Cascade 9
Dawn Vogel (M), Dylan Templar, Joseph Brassey
Reading And Writing In A Time Of Tumult
11:00am – 12:00pm @ Cascade 10
Lish McBride (M), Kate Ristau, Joseph Brassey, Fonda Lee
Bad to the Bone: Villains in SF & F
1:00pm – 2:00pm @ Cascade 10
Julie McGalliard (M), Lee Moyer, Joseph Brassey, Scott James Magner
Saturday
Crossing the Streams: SF, Fantasy, and Horror Cross-genres
10:00am – 11:00am @ Evergreen 3 & 4
Julie McGalliard (M), Greg Bear, Kat Richardson, Joseph Brassey
3:00pm – 4:00pm @ Grand 2
Chris Pramas, Galen Dara, Ken Liu, Matthew Wedel, Nicole Lindroos, Barth Anderson, Tina Connolly, Fonda Lee, G. Willow Wilson, Joseph Carriker, Kat Richardson, Nancy Kress, Sandra M. Odell, Tanya D., Curtis C. Chen, Dawn Vogel, Nisi Shawl, E. Lily Yu, Eva L. Elasigue, Jack Skillingstead, Joseph Brassey, K. C. Alexander, Lee Moyer, Meg Elison, Pat MacEwen, Patrick Swenson, Rhiannon Held, Scott James Magner, Dean Wells
Make a Villain – Fantasy Edition
7:00pm – 8:00pm @ Evergreen 3 & 4
Joseph Brassey (M), Cory Skerry, Patrick Hurley, Kat Richardson
"Ask Me About my Feminist Agenda"
8:00pm – 9:00pm @ Cascade 5 & 6
Minim Calibre (M), Sarah Gulde, Brenna Clarke Gray, Joseph Brassey