OK, fine, maybe not official LEGO sets, but they're made with Lego bricks…
Last year our editorial assistant, Nick, had too much free time (an error swiftly corrected) and built a scale model of the incredible Will Staehle designed cover of A Man of Shadows. Somehow he's found time to re-create Amazing 15's mindblowing The Body Library cover!
More →
Rod Duncan's new series, The Map of Unknown Things, sees our Gas-Lit protagonist Elizabeth in an entirely new light as she takes to the high seas in first title The Queen of All Crows, due for release in January.
As we are nearing the release date it's only fair that we reveal the haunting new cover to you – an enticing and enigmatic image created by the wonderful Will Staehle.
Click on the teaser image below to see the official full cover on Fantasy Faction.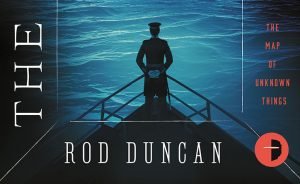 More →