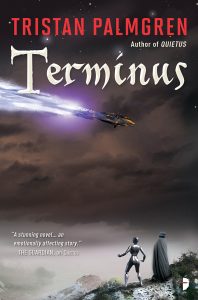 Sink deep into Terminus, Tristan Palmgren's brilliant, serious SF sequel to the critically acclaimed Quietus, by reading the first three chapters for FREE on us!
"I'm absolutely in love with this book. I love the characters, I love the connection of the plot to the plot of the previous book, I love the DEVELOPMENT. 15/10 would reread a thousand times and none of you can stop me." – Litcast of Doom
---
More →
First came Quietus but as these things go it had to be followed by Terminus.
That's right, we loved Tristan Palmgren's inter-dimensional space opera Quietus so much that we had to have a second book! That book is Terminus and it will be available for your eyeholes this November!
Below is a sneak peek, but head over to the B&N Sci-Fi & Fantasy Blog for the full synopsis and a look at the beautiful new cover by Dominic Harman!
More →