Today's Robot Round-Up is a celebration of a few of our authors trilogies which are coming to a close. Featuring Anne Lyle's Night's Masque, Emma Newman's Split Worlds, David Tallerman's Easie Damasco, and Chris F. Holm's Collector series we're going to share with you the wonderful praise that these trilogies have received!
Night's Masque Trilogy by Anne Lyle
Reviews for The Prince of Lies, Anne's final instalment: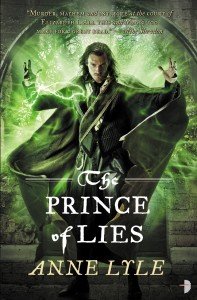 More →
Hey, it's Leah here, Angry Robot's new intern. Today's Robot Round-Up is a celebration of October's upcoming titles, and we have some brilliant ones to show you. First of all, keep your eyes peeled for our Special Edition post coming soon on Ramez Naam's amazing second novel, Crux.  Cory Doctorow, author of Little Brother and Pirate Cinema has described Crux as "A blisteringly paced technothriller that dives deeper and even better into the chunky questions raised by Nexus. This is a fabulous book, and it ends in a way that promises at least one more. Count me in." If this has whet your appetite, both
More →
At one stage or another, everyone dreams of having magical three wishes, right? Those instant fixes that will magic millions of pounds/dollars/euro/insert-local-currency-here into our bank accounts, grant loved ones good health; you know the ones… world peace, seven-figure publishing deals, seven-figure book sales, constant good weather…
Dream no more, because the wonderful Emma Newman is here to help!* To celebrate the forthcoming launch of Any Other Name, the second in the
More →

This Guest Post is by newly-signed AR Author Emma Newman.
Come into the Split Worlds
So the dust is settling and my little corner of the internet is returning to normality following the announcement that the Split Worlds series is now in the gentle care of our favourite Robot Overlords. I thought it would be a good time to promise to
More →