Attention robotic readers!
We have a new Goodreads Giveaway on offer for you and this time we're giving away not one, not two but three books!
That's right, there are five copies of the Night's Masque Trilogy by Anne Lyle up for grabs, so enter now for your chance to win The Alchemist of Souls, The Merchant of Dreams and The Prince of Lies!
This Giveaway is only open to people from the UK, US or Canada, but keep an eye on the Angry Robot website for international Giveaways in the future!
Want to smell like an Elizabethan? Have you seen the fabulous giveaway running over on author Anne Lyle's blog?

Anne's friend Naomi Clarke has created two scents based on the characters in the Night's Masque series, one for Mal and one for Coby! To celebrate the launch of the two new fragrances, Anne is running a competition to win two sampler sets of a 1ml vial of each fragrance to try.

Head on over to enter and to find out more about the scents, and check out the fragrances on Naomi's Etsy page here. More →

Today's Robot Round-Up is a celebration of a few of our authors trilogies which are coming to a close. Featuring Anne Lyle's Night's Masque, Emma Newman's Split Worlds, David Tallerman's Easie Damasco, and Chris F. Holm's Collector series we're going to share with you the wonderful praise that these trilogies have received!
Night's Masque Trilogy by Anne Lyle
Reviews for The Prince of Lies, Anne's final instalment: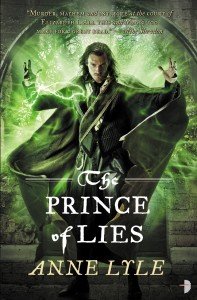 More →

It's free samples time again! Check out these multi-chapter extracts from our three January 2013 releases: near-future science fiction thriller Nexus by Ramez Naam, Elizabethan swashbuckling and skullduggery saga The Merchant of Dreams by Anne Lyle and the three-in-one omnibus edition of the steampunk extravaganza The Bookman Histories by World Fantasy Award winner Lavie Tidhar.

All three books will be on-sale in print in the UK/EU from January 3rd 2013, slightly earlier in the US/CAN, and in ebook from December 18th from all your favourite book retailers.

Click on the widgets below to

More →