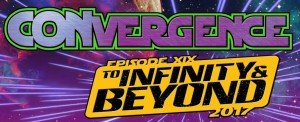 Are you ready for more convention news? Yes? No? Unsure?
Well I hope you ticked box one because this time, the Robot Overlords gave decreed an appearance at CONvergence 2017, from 6-9 July is in order.
We're sending our very own Mike Underwood (sales & marketing wizard and author) who you'll be able to find at #Space 15, where he'll be hanging out, selling books and generally being awesome!
Mike will be joined by Patrick S. Tomlinson, author of the