OK, fine, maybe not official LEGO sets, but they're made with Lego bricks…
Last year our editorial assistant, Nick, had too much free time (an error swiftly corrected) and built a scale model of the incredible Will Staehle designed cover of A Man of Shadows. Somehow he's found time to re-create Amazing 15's mindblowing The Body Library cover!
More →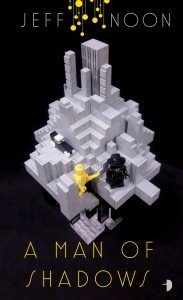 It seems that our editorial assistant has too much time on his hands (we'll fix that), and was inspired to recreate, in Lego, the cover for Jeff Noon's new book A Man of Shadows, designed by master cover artist Will Staehle.
From Jeff:
"Seeing Nick's fantastic Lego remix of the A Man of Shadows cover reminded me that a novel is never quite finished: it exists in various forms, some more jagged
More →