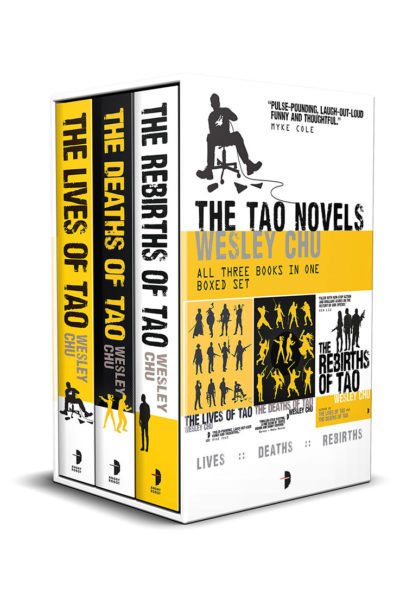 The Tao Novels (Limited Edition)
"Filled with non-stop action and brilliant asides on the history of our species, sure to thrill and amuse."
– Ken Liu, Nebula Award winning author of The Paper Menagerie
---
A slacker super-spy is possessed by an alien, and thrown into an ancient war which will decide the fate of humanity, in the complete Tao series of witty and action-laced SF thrillers.
---
File Under: Science Fiction
Buy the ebook version now – only
£

8.99
SKU: AR9780857667489
Collects The Lives of Tao, The Deaths of Tao and The Rebirths of Tao in a single volume.
When out-of-shape IT technician Roen Tan woke up and started hearing voices in his head, he naturally assumed he was losing it. He wasn't. He now has a passenger in his brain – an ancient alien life-form called Tao, whose race crash-landed on Earth before the first fish crawled out of the oceans. Now split into two opposing factions – the peace-loving, but under-represented Prophus, and the savage, powerful Genjix – the aliens have been in a state of civil war for centuries.  Meanwhile, Roen is having to train to be the ultimate secret agent. Like that's going to end up well…
The war between the Prophus and the Genjix escalates as the battle to leave Earth enters a deadly new heights. The end is now in sight, and both factions have plans to leave the Earth, but the Genjix method will mean the destruction of the human race. That's a price they're willing to pay.
The world splits into pro-Prophus and pro-Genjix factions, and is poised on the edge of a devastating new World War; the Prophus are hiding; and Roen has a family to take care of. A Genjix scientist who defects to the other side holds the key to preventing bloodshed on an almost unimaginable scale. With the might of the Genjix in active pursuit, Roen is the only person who can help him save the world, and the Quasing race, too. And you thought you were having a stressful day…
| | |
| --- | --- |
| Series | Axiom |
| Ebook | 2nd August 2018 | 9780857667489 | epub & mobi | £8.99/$10.99/$12.9 |
"Tipping his hat to both science fiction novels and comic books, Chu delivers a narrative that is at times pulse-pounding, laugh-out-loud funny and thoughtful. Part James Bond, part Superman, part Orphanage. There's something here for everyone."
– Myke Cole, author of Control Point and Fortress Frontier 
"Filled with non-stop action and brilliant asides on the history of our species, the book is sure to thrill and amuse."
– Ken Liu, Nebula Award winning author of The Paper Menagerie
"A totally original sci-fi thriller that will have you hooked from page one with both riveting action and a sly wit. This is a story of human history, the hidden powers that have shaped it, and one man's transformation from complete nobody to a key fighter in the war for humanity's future."
– Ramez Naam, author of Nexus
"Wesley Chu is my hero… he has to be the coolest science fiction writer in the world."
– Lavie Tidhar, World Fantasy Award winning author of Osama and The Bookman Histories
"In The Lives of Tao, newcomer Wesley Chu delivers an action-laced scifi thriller filled with clever ideas and witty, engaging characters. A thoroughly enjoyable ride."
– John Marco, Author of The Inhumans and The Tyrants And Kings trilogies
"A fast-paced, high-action SF mix of Jason Bourne meets the hero's journey, jam-packed with dark conspiracies, wild romance, ancient aliens, and a secret, globe-spanning war. Loved it!"
– Matt Forbeck, author of Amortals and Hard Times in Dragon City
"Just your usual 'I've got an immensely wise alien in my head who wants me to become and international man of mystery' story. Which is to say, a page-turning homage to other classic SF like Hal Clement's Needle. Recommended."
– Steven Gould, author of the Jumpers series
"In Wesley Chu's debut novel you meet an unlikely hero in the form of Roen, an out-of-shape, self-loathing, under-achieving computer geek. He is soon transformed into a confident, lean, mean fighting machine under the guidance and influence of the ancient alien Tao, who has inhabited his body and is now working hard to get Roen in shape for an important mission – nothing less than to take on the Genjix and save the planet from an evil plot of destruction. This book is high-octane spy vs spy action with a sly sense of humor. Pure pleasure from beginning to end. Highly recommended!"
– Ann Vandermeer, Hugo winning editor of Weird Tales and British Fantasy Award winning publisher of Buzzcity Press
"One part Deep Space Nine, three parts Babylon 5, and two parts Chuck."
– Gini Koch, author of the Katherine "Kitty" Katt series
"As a novel, The Lives of Tao is a super-hero, science fiction, alien contact, and spy thriller all wrapped into one. It's also funny and thrilling with a touch of a buddy comedy thrown in. I got hooked right away and when all was said and done, I can safely declare it as my favorite novel of 2013 so far."
– Matt Hughes, Adventures in SciFi Publishing
"Few books begin more engagingly than The Lives of Tao, a science fiction romp which wears its principal strength – the wit and humor of the narrative voice – on its sleeve."
– Huffington Post
"If you want something to read on a plane or settle into over the weekend, this is the book you want to pick up. But like most great stories, there's a little more going on under the surface."
– SF Signal
"Wesley Chu's Lives of Tao is one of those military science fiction novels that isn't afraid to have some fun in between the action scenes, or during them for that matter. Like John Scalzi (Old Man's War) or Larry Correia (Monster Hunter International) Chu manages to deliver a tense and thrilling plot while not getting bogged down in heavy and hard science."
– Serial Bookseller
"The Deaths of Tao is as funny, loveable and entertaining as the first book, and adds even more depth to the characters, story and themes."
– Fantasy Faction
"…the end result is a thrilling novel that without quirky aliens would sit triumphantly in Ian Fleming or Vince Flynn's wheelhouse."
– Staffer's Review
"Perhaps the strongest part of The Deaths of Tao is the fact that Chu never lets the story get bogged down. Every time he takes the story forward he does it with an action scene in mind, and this trick rips the reader through from start to finish."
– Buzzy Mag
"The more that I read Wesley Chu, the more I find new ways to love these witty science fiction novels."
– The Homeschool Reader
"For fast paced, extraterrestrial action and adventure sure to endure the test of time and the science fiction genre. Excellently written with a great sense of urgency and characters that are organic in their evolution, The Deaths of Tao is a Fall must-have sequel."
– Toonari Post
"The Rebirths of Tao is a suitably epic trilogy-capper in both scope and scale. This time, the battlefield is the whole world, with Roen once again at the center of things. If the first book is an action-adventure and the second a political thriller, the conclusion is something approaching dystopian guerrilla warfare. It still has that snarky sense of humor and the same frenetic action, but the focus has changed. In fact, it's a book that explores change more than anything else."
– Barnes & Noble
"I should also note that not only is The Rebirths of Tao jam-packed with action and espionage, it's hilarious to boot. Chu has a great sense of humour and uses it to great effect in both breaking tension and entertaining his audience. The Rebirths of Tao brings a close to a very rich trilogy.""
– Every Read Thing
"This third book was everything I'd hoped for, a wonderful end to a trilogy that has been a wildly entertaining ride from the get go. It's funny, action-filled, and manages to tie up all the loose ends that count, while still leaving things open-ended enough for future stories set in this universe."
– The Bibliosanctum
"There's nothing better than a favorite series ending on a high note, and I'm happy to report that The Rebirths of Tao has accomplished just that. For those of you who have started reading the Tao books, you are in for a treat. And for those of you who haven't, well now you have a great excuse to binge read the whole thing at once!"
– Book, Bones & Buffy