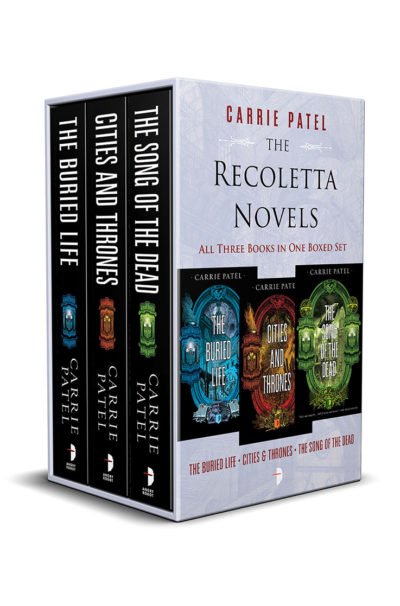 The Recoletta Novels (Limited Edition)
"Carrie Patel's post-Catastrophic world has become progressively more rich and complex over the course of her trilogy. This engaging political fantasy is full of twists and turns, and The Song of the Dead especially stands out for its imaginative, memorably described characters and settings."
— Dru Pagliassotti, author of the Clockwork Heart trilogy
---
Murder, revolution and secrets of a lost past threaten a vast underground city, in the complete collection of the Recoletta novels.
---
File Under: Science Fantasy
Buy the ebook version now – only
£

8.99
SKU: AR9780857663610
Collects The Buried Life, Cities and Thrones, and The Song of the Dead in a single volume.
The gaslight and shadows of the underground city of Recoletta hide secrets and lies. When Inspector Liesl Malone investigates the murder of a renowned historian, she finds herself stonewalled by Recoletta's top-secret historical research facility. When a second high-profile murder threatens the very fabric of city society, Malone and her rookie partner must tread carefully, lest they fall victim to not only the criminals they seek, but the government which purports to protect them. Knowledge is power, and power must be preserved at all costs…
The dark, forbidden knowledge of how the city came to be founded has been released into the world for all to read, and now someone must pay. Inspector Liesl Malone is on her toes, trying to keep the peace, and Arnault's spy ring is more active than ever. Has the city's increased access to knowledge put the citizens in even more danger? Allegiances change, long-held beliefs are adjusted, and things are about to get messy.
The Library Accord has finally been signed by Recoletta and its neighbours, but the fight for power continues. A desperate attempt to save the spymaster Arnault from execution leads to Malone's arrest and Jane's escape. They must pursue each other across the sea to discover a culture that has held together over the centuries. There they will finally learn the truths about the Catastrophe that drove their civilization underground.
| | |
| --- | --- |
| Release Date | 2018-08-02 |
| Series | Recoletta |
| Cover Art | John Coulthart |
| Ebook | 2nd August 2018 | 9780857663610 | epub & mobi | £8.99/$10.99/$12.99 |
"Carrie Patel's post-Catastrophic world has become progressively more rich and complex over the course of her trilogy… [This] engaging political fantasy is full of twists and turns, and The Song of the Dead especially stands out for its imaginative, memorably described characters and settings."
— Dru Pagliassotti, author of the Clockwork Heart trilogy
"The Buried Life artfully sets a who-dunit murder mystery in a dystopian underground city filled with dark politics and foul secrets. It's a gripping read from start to finish, with two clever female leads and a delightfully colorful cast. More, please!"
– Beth Cato, author of The Clockwork Dagger
"The Buried Life is a dark, imaginative steampunk gem – tailor-made for mystery fans and history nerds alike, with plenty of cops-and-robbers to keep you on your toes. This is a very fine contribution to the genre."
– Cherie Priest, author of Boneshaker and Maplecroft
"In the riveting Recoletta series, Carrie Patel is a cultural excavator incisively carving out the recesses of human nature, digging up fossils that reveal both the physical geography of a collapsed United States as well as the existential cartography of humanity. The trilogy is a moving paean wrapped in the rhythms of a steampunk dystopian alternate history that rings with pain, hope, and resistance in a song that will awaken even the dead."
– Peter Tieryas, author of United States of Japan and Bald New World
"With Regency-era sensibilities and Agatha Christie's flair for the subtle conundrum, Patel's debut novel introduces readers to a subterranean city of the future, centuries after what is dubbed 'The Catastrophe', and beautifully manages the delicate balance between entertainment and social commentary. The subtly fantastical story is resplendent with surprisingly deep villains, political corruption, and a gripping whodunit feel."
– Starred Review, Publishers Weekly
"The Buried Life excels on many levels, quite apart from its presentation of strong female characters: it's a cracking whodunnit with sufficient twists and turns to make Agatha Christie proud, a vivid portrayal of a vibrant multicultural society, and an intriguing love story."
– The Guardian
"Fans of steampunk alternate histories will enjoy this book, and I suspect that readers of the lighter end of the dystopian genre will too. It's quick, filled with enjoyable characters, and contains enough socio-political reflectiveness to give you something to chew on. It's a great debut effort, and, even better, the first in a series."
– Barnes and Noble
"Vaguely steampunk-ish but not quite classifiable, The Buried Life is recommended for readers comfortable straddling the border of fantasy and sci-fi; dedicated fantasists and hard sci-fi fans may want to go down another hole."
– Books, Brains, and Beer
"The worldbuilding in The Buried Life is absolutely fantastic and Patel weaves together a universe that's as grand as it is provocative. Patel is etching out traces of our own civilization from a future perspective, a cultural excavator carving out the recesses, digging up fossils that reveal both the geography of a collapsed United States as well as the intellectual debris of censorship. The Buried Life had me digging deeper, gawking at the literary stakes involved."
– Peter Tieryas, author of United States of Japan
"This was a really interesting book. To me it was like the love child of a Steampunk and a Dystopian. Seriously. The setting was fascinating — an underground city, a group of rulers that are more dictators than anything, societal rules, and, of course, murder and mayhem. This book took off running. It was fast paced with a hell of a lot of action — which, coupled with the setting, was right up my alley. And on top of the murders and guns and all that, there were also some interesting characters. The main characters here were all quite fascinating — nuanced, layered, realistic. The world and the characters were fascinating, the plot was fast-paced and action-packed. It was a great read."
– In Case of Survival
"Patel's voice is her own. I was impressed.  Patel's debut novel is definitely worth reading."
– Bookish
"This was a very well written novel. Attention to the logic of not only writing but writing a detective novel was superb. Behind this detecting logic there lurks an obvious perpetrator but you always seem to know that that would be too easy. The fun is in determining the who, and seeing if subsequent events play out in your favor. I like a novel that challenges you and gives you enough information to figure it out. I loved this novel and look forward to Ms. Patel's next."
– Koeur's Book Reviews
"The Buried Life is one of those books where you get much more than you had bargained for. Carrie Patel introduces the reader to a very interesting world, which besides several explanations only raises many more questions. The whole setting of the book is cleverly build by mixing up several of the established genres, Carrie Patel has created a very unique and intriguing blend. The Buried Life is a high recommendation, you don't come by these types of books very often, great reading stuff."
– The Book Plank
"What Patel is giving the characters (and the reader) in this changed portrayal is an understanding of consequences. The old Recoletta is dead, but the birth pains of the new one aren't especially pretty. Still, from a setting point of view, Patel has spun together a vivid world, one which is different enough from our own to be fascinating, and similar enough that we empathise with the characters as they struggle within it."
– Sci-Fi and Fantasy Reviews
"I read this book in one go, quite literally in one sitting. It's definitely a worthy sequel."
– Bibliophibian Inc.
"Carrie Patel has created a world that's so rich, so full, and so well-developed, that it's incredibly easy to get lost in it. There are layers to the characters and layers to the world itself. It's incredibly thought out and developed, and it's so well-done. I'd revisit this world again for sure."
– In Case of Survival
"What I really loved (and respected) about Cities and Thrones is that Patel doesn't pander to the reader, overwrite the story, or otherwise tell rather than show. Yet the wording isn't dense, frustrating, or nebulous."
– Online Eccentric Librarian
"Ms. Patel has a knack in Cities and Thrones of providing just enough information for your imagination to grab hold and provide the rest. She's also a master at nail-biting, non-stop action. Once you start reading, hold on tight because things are going to get really interesting fast. I recommend this series because it just keeps getting better."
– Popcorn Reads
"It's all fascinating and interesting, and the aftermath of the revolution in Recoletta puts me in mind of some of the events of the French Revolution. Thus, the tangle of events here reminds me strongly of the novels of Django Wexler and Brian McClellan, especially when the plots of their novels focus on intrigue and city adventure rather than the flintlock fantasy war scenes. These three authors, McClellan, Wexler and Patel, all understand and illustrate that revolution and political upheaval are never, ever, smooth and easy affairs. There are countervailing forces, revanchist forces, radical elements, and the ordinary person *still* has to muddle along  and live the day-to-day life, sometimes in a very broken world."
– The Skiffy and Fanty Show
"It's got something for everyone. There's the great secret of the Catastrophe, which shattered the land above Recoletta. There's air battles, train robberies, betrayals. A whiff of the romantic (as well as of romance) runs through the pages, and if Malone and Jane seem to plunge from the frying pan into the fire quite often – well, it certainly kept me turning pages. There's some great character moments here, as well as some smartly written dialogue – and the plot runs along nicely. It kept me guessing and kept me reading late into the night. If you're looking to start a new series, then it's worth going back to The Buried Life and working your way through the series. If you're looking for a conclusion to the story of Recoletta, then I can recommend this wholeheartedly."
– SF and F Reviews
"Patel does it again. This is another great story that takes us from the buried city of Recoletta, to the farming communes, onto a flotilla of ships across the ocean and the Continent where Arnault's big secret is revealed. I found the resolution of the plot arc very satisfying and Patel did a great job of tying up all the individual plot threads into one satisfying conclusion. It is hard to say much more without risking giving too much away. Suffice to say you will need to find out for yourself."
– The Qwillery