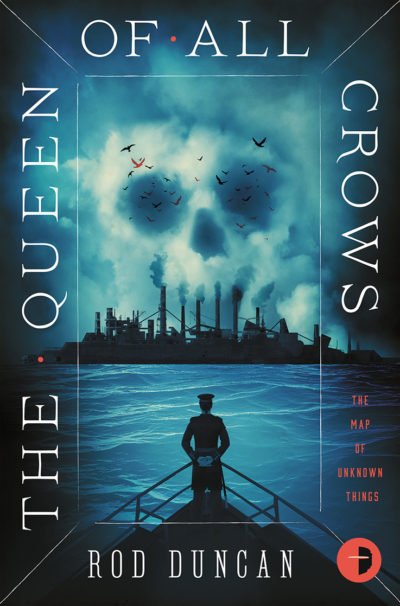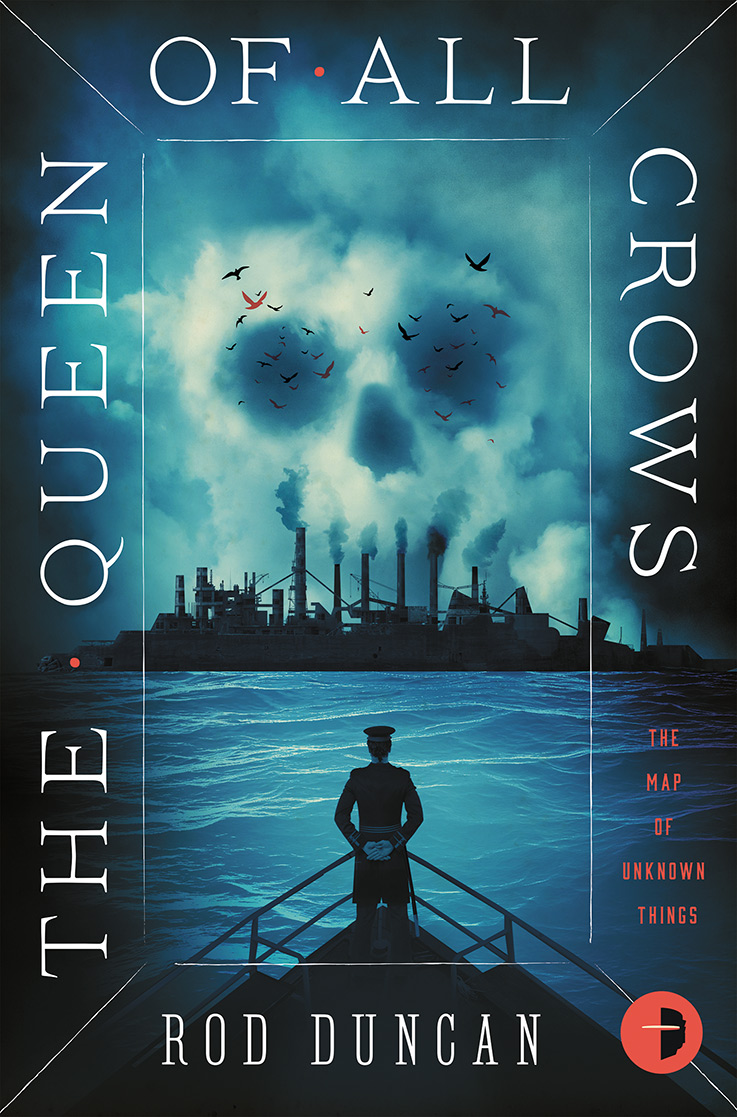 The Queen of All Crows
WINNER OF THE LEICESTER BOOK OF THE YEAR AWARD
Scientific progress has been stifled for 200 years and the arms race outlawed. But something is stirring in the wilderness beyond the borders of civilisation.
When an airship is destroyed over the North Atlantic, Elizabeth Barnabus loses her dearest friend. Setting out to investigate, she discovers forces at work that may be about to bring the age of order crashing down.
---
"I absolutely loved The Queen of All Crows. It's a gripping alternative history adventure set in an intriguing world. Elizabeth Barnabus is possibly my favourite steampunk main character ever: resourceful, fearless, unusually observant and emotionally intelligent. I was thrilled to follow her to the ends of the world as a reader."
– Emmi Itäranta, award-winning author of Memory of Water
---
File Under: Fantasy [ A Lost Airship | On the Sargasso | Stowaway Bay | The Crow Queen ]
---
The First Book in The Map of Unknown Things
Buy the ebook version now – only
£

2.99
SKU: AR9780857667014
The year is 2012 but it might as well be the Victorian age. The nations of the world are overseen by the International Patent Office, and its ruthless stranglehold on technology.  When airships start disappearing in the middle of the Atlantic, the Patent Office is desperate to discover what has happened. Forbidden to operate beyond the territorial waters of member nations, they send spies to investigate in secret.
One of those spies is Elizabeth Barnabus. She must overcome her dislike of the machinations of her employers, disguise herself as a man, and take to the sea in search of the floating nation of pirates who threaten the world order.
"I absolutely loved The Queen of All Crows. It's a gripping alternative history adventure set in an intriguing world. Among the fast-paced plot twists the novel also provides keen insights into power structures, particularly when it comes to gender roles as social constructs. Elizabeth Barnabus is possibly my favourite steampunk main character ever: resourceful, fearless, unusually observant and emotionally intelligent. I was thrilled to follow her to the ends of the world as a reader."
– Emmi Itäranta, award-winning author of Memory of Water
"The Queen of all Crows is a smart and entertaining read, among the best of the steampunk subgenre I've read. It continues the story of Elizabeth Barnabus in an alternative history where they take intellectual property protection a little too seriously."
– Craig Newmark, founder of Craigslist and Craigconnects
"Let's get this out of the way: The Queen of All Crows is an excellent book, full stop. Duncan has managed to infuse the world of the Gas-Lit Empire, and the character of Elizabeth Barnabus herself, with a new jolt of life, color, and depth. Clear your schedule, because you won't want to stop reading this until you've finished, and then you'll want more."
– Eric Scott Fischl, author of The Trials of Solomon Parker
"The winner of the 2018 Leicester Book Prize was Rod Duncan, for his novel The Queen of All Crows. This was a hugely imaginative, compelling and ambitious work of speculative fiction, which frankly I loved, start to finish. I've never read anything quite like it."
– Jonathan Taylor, judge of Leicester Book of the Year Award and author of Entertaining Strangers
"A richly inventive novel that will make the reader think hard about gender and equality."
– Chris D'Lacey for Reviews by Writers
"Some authors really find a groove in their series where each new book is more enjoyable than the last. But Rod Duncan has done even better with The Queen Of All Crows: he's taken the Gas Lit Empire series into a completely new direction that is both wonderful and wondrous."
– Surreal Tavi
"It has all the makings of a classic read that will endure for centuries."
– Adjunct Thoughts
"Rod Duncan shows a great deal of talent as he constructs this world."
– JD DeHart
"Everything has been built into the story to ramp up the tension (and the page turning), creating a delicious anxiety in the reader who needs a stiff drink at the end of it all."
– Strange Alliances
"In The Queen of All Crows Rod Duncan not only delivers a solid story that you'll enjoy full of action and a well-paced layout but amazing characters as well."
– Science Fiction
"I found the story fascinating."
– Journey of a Bookseller
"I liked this novel even more than I liked the previous series… There's adventure, pirates, lots of women, great characters and a smart main character. What else do I need to say? I recommend this novel highly!"
– Naty's Bookshelf
"It seems an odd mix of steampunk, supernatural mystery, and intellectual property thriller, but I like it."
– Black Gate
"An excellent start to what I feel is going to be a compelling series."
– The Qwillery
"Rod Duncan not only delivers a solid story that you'll enjoy full of action and a well-paced layout but amazing characters as well."
– Science Fiction.com
"I personally am excited to see where the main character goes from here, I have to give a lot of credit to the author, in my personal opinion this story was one hell of a way of moving a character from point A to point B."
– Just Me
Praise for The Fall of the Gas-Lit Empire
"Elizabeth Barnabus is a uniquely intriguing character who will take readers on a fascinating journey through the strange landscapes of the Gas Lit Empire. Rod Duncan's storytelling skill brings his fictional world to a mysterious, vibrant life."
–  Stephen Booth, bestselling author of the Cooper & Fry series
"Rod Duncan's The Bullet Catcher's Daughter is a magic box pulsating with energy. Compulsive reading from the get-go, the blend of steampunk alternate history wrapped in the enigma of a chase makes for first-rate entertainment in this finely crafted novel."
– Graham Joyce, author of Year of the Ladybird
"Steeped in illusion and grounded in an alternative history of the Luddite Rebellion, Duncan's strong supernatural mystery serves ably as both a standalone adventure and the start to a series…Strategically placed steampunk tropes inform but do not overwhelm Elizabeth's headlong quest to find a missing aristocrat sought by the Patent Office, which is fixated on both achieving perfection and eliminating "unseemly science." A hazardous border crossing into the permissively corrupt Kingdom of England and Southern Wales provides ample excitement, and a glossary at the novel's conclusion hints enticingly at a much more involved story to come."
– Publishers Weekly
"I was completely caught up in her adventure and her plight. I think steampunk readers and fantasy/sci-fi readers will enjoy this one, so I'm recommending it for them even though (and to some extent because) its use of steampunk is a bit different. I found it to be a refreshing change from more formulaic steampunk novels."
– Popcorn Reads
"A detective story with a difference … Chapters begin with quotes from the legendary Bullet-Catcher's Handbook, phrases that introduce not only the idea of illusion that pervades the novel, but also the author's sly humour. [Duncan's misdirection is] subtly and well done, all the way through the book, right to a neat little twist at the end, a play on the title that had me nodding in approval. Each [character] is vividly portrayed, lively enough to feel like the heroes of their own stories, all with distinctive voices; it's always a good sign when you find yourself reading dialogue out loud, rolling your lips and tongue around the words. Rod Duncan's talent has combined inventive plot and characterisation to create a smart, amusing and fascinating tale that had me reading long into the night."
– Fantasy Faction
"It's all steampunk and circus wonder as we follow the adventures of Elizabeth Barnabas.The double crosses along the way keep the plot tight and fun, and the conclusion sets us up nicely for book two."
– The Washington Post, Best New Science Fiction and Steampunk
"If I had a bowler hat, I'd take it off to the author of this beautifully crafted steampunk novel."
– Chris D'Lacey, author of The Last Dragon Chronicles
"Close escapes and the hint of a possible romance drive the action forward. However, the ending raises some questions about the overall plot. Most readers will enjoy the adventure and look forward to the next installment."
– SF Revu
"The Bullet-Catcher's Daughter is off to a solid start. Rod Duncan has created a wonderful setting in The Bullet-Catcher's Daughter taking in account the big as well as the small things that are needed to make a world go round. He has struck a perfect balance between both highlighting the characters, from our main protagonist Elizabeth Barnabus down to the secondary characters, and the world itself, using bits and pieces of exisiting history spinning it in his own way by adding enough fantasy influences to make it one-of-a-kind. It is with these kind of books that make sure the fantasy genre is kept fresh. If you are looking for something new and refreshing make sure you read The Bullet-Catcher's Daughter, it's is everything you want and much more!"
– The Book Plank
"Looking for a good book?  Mystery, duplicity, secret societies, alchemy, romance, action … The Bullet-Catcher's Daughter by Rod Duncan has it all and promises to be the talked-about/must-read book for sci-fi/fantasy enthusiasts this year!"
– Looking For A Good Read
"Really, a fine and well crafted novel. As per the glossary, Elizabeth plays a key role in the fall of the Gas-lit empire. Cheers to that as she is a captivating character. Angry Robot has picked a winner."
– Koeur's Book Reviews
"Steampunk at its best. Engaging characters, spectacular settings and snappy dialogue."
– Cayocosta72 Book Reviews
"I was immediately hooked by the world Duncan created. What would the world look like if the Industrial Revolution had been halted, even reverse? What really made this book for me was Elizabeth Barnabas. Her unusual upbringing in a traveling circus and her five years of forced independence have made her clever and strong. She's a wonderful character and it was a treat to watch her work through the challenges the cropped up as she find out why everyone wants to get their hands on the Duchess's missing brother. The Bullet-Catcher's Daughter is the opening book in a series and I will be eagerly waiting for the next installment of Elizabeth's adventures."
– Summer Reading Project
"The Bullet Catcher's Daughter is an entertaining book that has some genuine, original touches combined with a clever story and even cleverer characters."
– SF Book Reviews
"Rod Duncan has successfully written an absorbing tale from the perspective of a woman in the early nineteenth century.  This is science-fiction with the sub genre of Steampunk, so technology is unorthodox and fascinating. A cracking read."
– Fancy Pans Cafe
"Duncan has crafted a credible and intriguing world where the twists of a society founded on very different ideals are perhaps even more important than the technology. That makes this novel, while solidly a steampunk offering, feel very fresh and engaging. The backdrop of the circus and the surprising way Elizabeth manages to make a living give the whole story real depth. This is the first in a planned series of novels entitled The Fall of the Gas-Lit Empire: I'm certainly looking forward to the next installments. Fabulous."
– Geek in Sydney
"Duncan is an accomplished crime writer, and this detective story with fantastical elements shows his chops to great effect, and the steampunk elements don't overtake the story; instead, they add just enough to make it more interesting. The ending leaves so many wonderful possibilities for more adventures with Elizabeth, and you'll want to keep an eye out for Unseemly Science in May!"
– My Bookish Ways
"I liked a lot about this book. Traveling circuses, illusions, deceptions. I like that the steampunk elements aren't over the top, and it isn't romance-heavy, either.  By the end of the book I had a good understanding of the world and politics, mostly revealed through Elizabeth's travels and narrow escapes."
– Cynthia's on Pens and Needles
"Any writer who can, without infodumping, bring me directly into a fantastical and outrageously unlikely alternate steampunk world earned your scarce book-buying dollars. He gave such reality to the conundrum of how to simply exist as a woman in the world he's made that I was wincing, squirming, and blushing for the privilege that being male has always brought. Please believe me…this is powerful storytelling talent working so smoothly you can't feel the strain. "
– Expendable Mudge Muses Aloud
"The Bullet-Catcher's Daughter is a unique and immaculately crafted novel that everyone should read, whether they're a fantasy novice or expert."
– The Writer's Den
In the same series