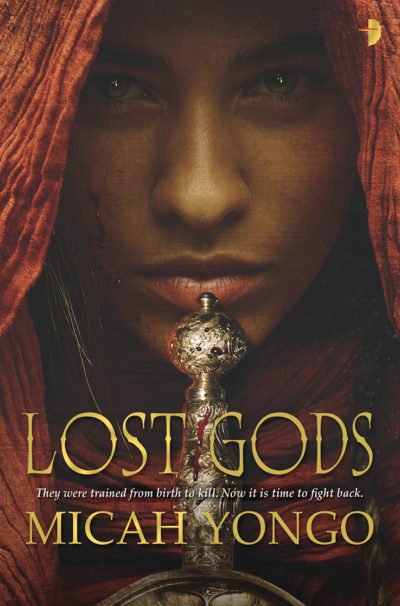 Lost Gods
FINALIST for the British Fantasy Awards Sydney J Bounds Award for Best Newcomer 2019
---
"Yongo invigorates the epic fantasy genre with his original and accomplished voice in the striking and throroughly enjoyable Lost Gods."
– Adrian Tchaikovsky, Arthur C Clarke Award-winning author of Children of Time
---
In this extraordinary fantasy debut, a young assassin finds himself hunted by the brothers and sisters he has trained alongside since birth.
---
File Under: Fantasy [ Brothers at Arms | The Faceless Ones | Kings and Keepers | Creed of Assassins ]
Buy the ebook version now – only
£

3.99
SKU: AR9780857667380
Neythan is one of five young warriors trained and raised together by a mysterious brotherhood of assassins known as the Shedaím. When Neythan is framed for the murder of his closest friend, he pursues his betrayer – and in so doing learns there's far more to the Brotherhood, and the machinations of the rulers of the warring kingdoms, than he'd ever thought possible. His journey will lead him across the five realms, from the Forest of Silences to the Ash Plains of Calapaar, and reveal the breaches that lie beneath the world, and the hidden truths of his oath.
| | |
| --- | --- |
| Release Date | 2018-07-03 |
| Cover Art | Larry Rostant |
| Ebook | 3rd July 2018 | 9780857667380 | epub & mobi | £2.99/$3.99/$4.99 |
| US Print | 3rd July 2018 | 9780857667373 | Trade Paperback | $12.99/$15.99 |
| UK Print | 5th July 2018 | 9780857667373 | Paperback | £8.99 |
| Goodreads URL | Review & Discuss Lost Gods |
"Yongo invigorates the epic fantasy genre with his original and accomplished voice in the striking and throroughly enjoyable Lost Gods."
– Adrian Tchaikovsky, Arthur C Clarke Award-winning author of Children of Time
"Fast-paced and intriguing… with an African inspired setting that makes a refreshing change."
– Anna Smith Spark, author of The Court of Broken Knives
"Lost Gods is an astonishing debut, the evocative prose transports you to a rich world of wonder, intrigue and mystery. This is a superb fantasy novel!"
– Gavin G. Smith author of the Age of Scorpio trilogy
"Lost Gods is a fully immersive experience which made me a fan again. It made me seriously take my time, soak in its prose, get lost in this fully realized, rich and vital world, and get whisked along in its adventure. Micah Yongo pays respect to his elders, like Charles Saunders, while defining a space for himself in the pantheon of great sword & sorcery (sword & soul!). He is a griot, a true storyteller, coming into his own."
– Maurice Broaddus, author of the Knights of Breton Court trilogy and The Usual Suspects
"Lost Gods is a tense, complex fantasy thriller that keeps the reader guessing until the very end."
– Mike Brooks, author of the Keiko series
"Lost Gods is fresh, fierce, and lush with inspiration from the lands and mythology of ancient Africa and the Middle East."
– Cameron Johnston, author of The Traitor God
"A strong work from a very promising new author."
– Publishers Weekly
"Yongo's debut feels fresh in its conception and worldbuilding, exploring an intriguing landscape from the points of view of a diverse array of characters of different social strata."
– Barnes & Noble Sci-Fi & Fantasy Blog
"There's a lot of lore here, beneath the skin, and for lore junkies like me, that's pretty much irresistible. So a big thumbs up from me, and I'm going to keep an eye on Micah's career."
– This is My World
"This work knows what meal it wants to serve you and justifies everything it throws into the recipe. There's a level of confidence in the writing that quickly pulls you in and doesn't let you go until all the secrets are on the table."
– FIYAH
"It is fresh, it is exciting, and it's truly fantastic."
– ATSP
"It's rare for a book to grab me from the get-go quite like Lost Gods did."
– Alan Brenik
"Read this book for four hours nonstop… I can't wait to see what Yongo is going to reveal next."
– Angry Elves
"A wonderful introduction to a new world, in which there is so much going on, and so much more to learn and explore. I happily give 4.5 hoots and look forward to Yongo's next book!"
– Purple Owl Reviews
"Great setting, interesting and relatable characters, and a lot of potential to be realised in the next book. Definitely worth a read."
– Strange Currencies
" Any novel set in a world that is not another attempt to mimic Western Europe is always going to be a book that interests me, and Lost Gods is definitely one of those novels."
– Occasionally Random Book Reviews
"It's an intriguing opening to what looks to be a very exciting epic fantasy series, written by a very talented author."
– The Fantasy Inn
"It is new, it is fresh, it is exciting, and it's truly fantastic."
– Deeply Shallow
"The premise and details of the plot itself are actually incredibly interesting. Yongo is clearly a clever writer that knows how to include twists that keep the readers guessing while also subtly building up elements that will play into later events in the book."
– Forever Lost in Literature