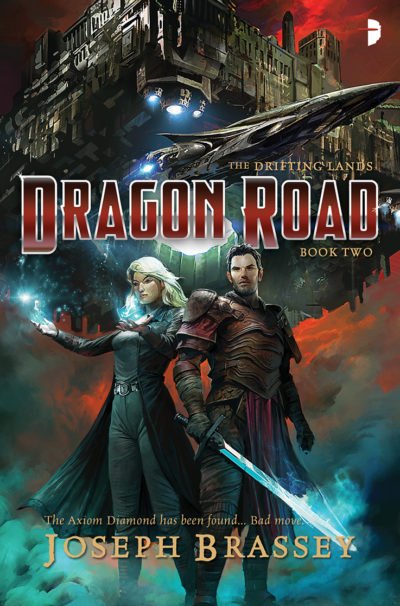 Dragon Road
"Final Fantasy meets Star Wars in Brassey's fantastic sequel, cram-packed with magic, action, and a heartfelt, hard-fought quest for redemption."
– Beth Cato, author of Breath of Earth
---
A murderous plot aboard a city-sized flying ship must be averted before a crazed cult sends a million people to their deaths.
---
File Under: Fantasy [ Atmospheric Disturbance | Eternal Order | Trust No One ]
---
The Drifting Lands Book II
Buy the ebook version now – only
£

3.99
SKU: AR9780857666802
When portal-mage Harkon Bright and his apprentice are asked to help select a new captain for the immense skyship Iseult, they quickly find themselves embroiled in its Machiavellian officer's court. Meanwhile, their new recruit, Elias, struggles to adapt to his unexpected gift of life while suffering dark dreams of an ancient terror.
As the skies darken and storm-clouds gather on the Dragon Road, the crew of the Elysium come face to face with deadly intrigues, plots from beyond death, and a terrible darkness that lurks in the heart of a thousand-year storm.
| | |
| --- | --- |
| Release Date | 2018-05-01 |
| Series | Drifting Lands |
| Cover Art | Ignacio Lazcano |
| Ebook | 1st May 2018 | 9780857666802 | epub & mobi | £3.99/$5.99/$6.99 |
| US Print | 1st May 2018 | 9780857666796 | Massmarket Paperback | $8.99/$10.99 |
| UK Print | 3rd May 2018 | 9780857666796 | Paperback | £7.99 |
| Goodreads URL | Review & Discuss Dragon Road |
"Final Fantasy meets Star Wars in Brassey's fantastic sequel, cram-packed with magic, action, and a heartfelt, hard-fought quest for redemption."
– Beth Cato, author of Breath of Earth
"A worthy follow-on to Skyfarer and then some!"
– Neal Stephenson
"Skyfarer left me cheering … and surprisingly teary-eyed, but Dragon Road is a high-octane, operatic, and moving addition that not only passes the bar for sequels but adds a few hundred pounds to each side of the bar. Characters from the first book are revisited and deepened, and new characters (one word: Belit!!) arrive on the scene with a shock of impact that leaves you gripping the book with both hands. Topical and daring and sometimes downright Wagnerian in its pyrotechnics, Dragon Road is freaking awesome. It's like Brassey did an anime-style power-up while embarking on this sequel, and what leaves me breathless with anticipation for the next book is the realization that this isn't even his final form."
– Stant Litore, author of Ansible and The Running of the Tyrannosaurs
"Brassey's characters' challenges and adventures are consistently entertaining, and the way he fits the exploits of his powerful heroes and villains into a framework of skillfully revamped fantasy elements."
– T Eric Bakutis, for Fantasy Hive
"All round a great read and a title that more than kept me interested as I loved the concept and the explanations as to why the functionality alongside "science" of the ship which help make much more sense of things for me as a reader. Finally throw into the mix a solid understanding of pace and it lets you breath just enough to prepare for the next endorphin-filled scene. "
– Totally Pawsome
"Dragon Road is a great adventure read that moves quickly and keeps readers engaged throughout. There are some nifty and fun surprises/twists and it reads very much like a blockbuster movie."
– Surreal Tavi
"As original and exciting as the first book, Dragon Road brings back all of Brassey's particular magic technicalities and ass-kicking characters."
– Splattergeist
"Like Skyfarer, Dragon Road is a book which reminds me why I love to read. Do yourself a favour and delve into both now. I for one can't wait to revisit these novels, and hopefully a third instalment soon. Five out of five stars, hands down."
– Alan Brenik
"This is a wonderful sequel, though I don't think you will have to have read the first to enjoy it. It's a fun, action-packed, fast-paced adventure where even the bureaucracy is interesting!" 5 hoots!
– Purple Owl Reviews
Praise for Skyfarer
"To say that Skyfarer was Firefly meets the Battle at Helm's Deep would be to dismiss the amazing world-building that Brassey wraps us up in, or to gloss over the intricate and intense battles we are thrust into, both on high and up close. Brassey raises the bar for everyone else. More, please."
– Mark Teppo, author of Earth Thirst and Silence of Angels
"This book has one of the best covers I've seen all year, and it's incredibly accurate in its depiction of the characters and mood of the story. Do judge the book by its cover!"
– Beth Cato, author of Breath of Earth
"Brassey's writing is an adrenaline dump in page form."
– Stant Litore, author of The Zombie Bible series
"A richly imagined story full of soaring adventure, dark intrigue, and characters you'll fall in love with."
– Megan E O'Keefe, author of Inherit the Flame
"Brassey has created an action-packed roller coaster ride with rich characters, incredible combat scenes, and a fresh heroine audiences will love."
– John G Hartness, author of the Black Knight Chronicles series