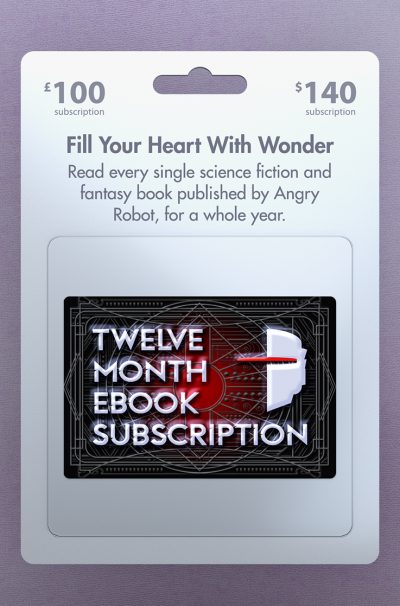 Angry Robot 12 Month Subscription
Be our very best mates and get a shocking discount on 12 months of the finest SFF books in the galaxy, for you, or for a friend.
File Under: Bargain [ Do It Your Way | Loyal Minions | Magic Books | Love You ]
Buy the ebook version now – only
£

100.00
SKU: AR12monthsubs
The future is here: every book we publish in your territory over the next 12 months for just £100 / $140ish, including any books re-issued in a different format! See which books are coming up right here.
So say you sign up in March 2018… you get all of March's beautiful ebooks, and the releases each month up to and including February 2019!
That smashes the price per book down to less than half price, and every new book we schedule makes them even cheaper! Plus, because we love you, and because you might be coming in part way through a series or two, we'll give you a one-time coupon for 25% off your whole cart, to help you catch up.
---
Gift Subscription
If you'd like to purchase a subscription as a gift for someone you really like, buy one of our £100 Gift Cards and pass the coupon code on to your pal. You must be an amazing pal!
---
How it works
When we receive your order we'll give you that month's books straightaway.
You can use your 25% off voucher on a single cartload of ebooks, so stack 'em high.
On the publication date every month we'll add the new books to your order and email you to tell you about them. You can download them immediately from your Angry Robot account, and you'll always be able to download them as often as you like.
When you reach the end of the 12 months (including the month you signed up) we'll give you a nudge to buy another subscription and then it all begins again.
And uh, that's it!
---
Formats
DRM-free mobi (Kindle) & epub (B&N Nook, iBooks, Sony, KoboBooks, and Google Play Books) supplied as a zip file.
If your reading device requires a different ebook format, the files will need to be converted, which you can do with a free tool like Calibre.
If you would prefer us to email the ebooks straight to your Kindle, we can do that too! Check out the instructions here.
---
Take a look at this selection of titles…
| | |
| --- | --- |
| Release Date | 2018-01-02 |
| Ebook | All ebooks, all the time! |