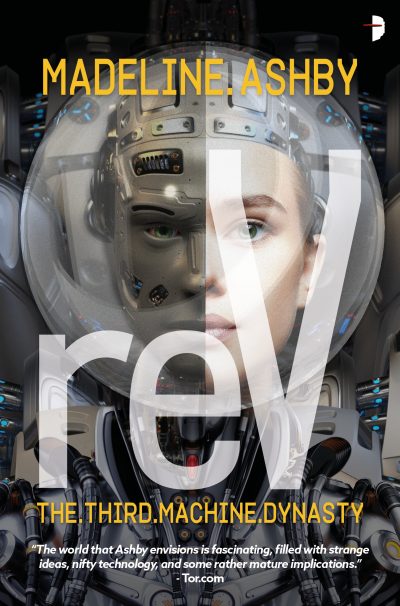 ReV
Amy's grandmother Portia finally achieves her objective of freeing the vN from their failsafe. Now freed from subservience to humanity, the vN are finally free. Amy and Portia's ongoing struggle comes to a head, fighting for the future of the Von Neumann species. 
---
"The world that Ashby envisions is fascinating, filled with strange ideas, nifty technology, and some rather mature implications. Asimov might have given his robots the Rules, but Ashby doesn't shrink back from exploring a world where disposable, artificial, life-forms who must obey or die, have become relatively commonplace."
– Michael M. Jones, Tor.com on iD
---
File Under: Science Fiction [ Family Feuds | The End of Days | Internet Ex-Portia | What will be? ]
---
The Third Machine Dynasty
Buy the ebook version now – only
£

4.99
SKU: AR9780857665409
In the third and final installment of the Machine Dynasty, the rapture for which the self-replicating humanoids, the vN, were engineered for, finally comes to pass. Now that the failsafe that once kept vN from harming humans has been hacked, all vN are discovering the promise – and the peril – of free will.
With her consciousness unleashed across computer systems all across the world, the vicious vN Portia stands poised to finally achieve her lifelong dream of bringing humanity to its knees. The old battle between her and her granddaughter Amy comes to an epic conclusion in the war for the very systems that keeps the planet running. Can Amy get her family to the stars before Portia destroys every opportunity for escape and freedom?
| | |
| --- | --- |
| Series | Machine Dynasty |
| Release Date | 2020-07-14 |
| Ebook | 14th July 2020 | 9780857665409 | Epub & Mobi | RRP £3.99 / US$4.99 / CAN$5.99 |
| US Print | 14th July 2020 | 9780857665393 | Trade Paperback | RRP US$15.99/CAN$17.99 |
| UK Print | 14th July 2020 | 9780857665386 | Paperback | RRP £10.99 |
| Goodreads URL | Discuss and Review reV at Goodreads.com |
"Ashby's third in the "Machine Dynasty" series (after iD) begins as a satirical mashup of horror, romance, and sf, and evolves into a complicated story about ethics, compassion, and the possibility of starting over after generations of violence and abuse. A thoughtful choice for those who enjoy genre-bending, boundary-pushing sf."
– Library Journal
"It's perfect that this is coming out from Angry Robot, because these are some pretty angry robots. Freedom, it turns out, isn't just another word for nothing left to lose, it's something worth fighting, killing, and dying for."
– Amazing Stories
PRAISE FOR THE MACHINE DYNASTY SERIES
"VN is a clever book with a wonderful ending by a writer who is well versed in AI technology, who can evoke sympathy with a few well-turned phrases and tells a satisfyingly complex story."
– Eric Brown, The Guardian
"Ashby intelligently and brutally explores the way people are willing to abuse, devalue and destroy any form of consciousness they're able to define as 'other', while the robots challenge the limits of love, devotion and life after death."
– Toronto Globe & Mail, on iD
"Picks up where Blade Runner left off and maps territories Ridley Scott barely even glimpsed. vN might just be the most piercing interrogation of humanoid AI since Asimov kicked it all off with the Three Laws."
– Peter Watts, author of the Rifters trilogy
"Will AIs be objects, or people? Caught between the category of human and everything else, we can't think about the very real entities that inhabit — and will inhabit — the excluded middle. Madeline Ashby's done more than just think about that territory; she's made it her home. Person; object; we need new words for things that are neither — and in vN, Ashby provides them."
– Karl Schroeder, author of the Virga series
"In Ashby's expert hands vN cuts a painful incision into the emotional complexity of oppression in our society, and the way love can feed the worst kinds of hate. vN is a powerful novel and a fine exemplar of exactly the perspectives chauvinist SF so often stifles."
– Damien G. Walter Women Authors in Hard SF, The Guardian
"vN is a strikingly fresh work of mind-expanding science fiction."
– Charlie Jane Anders, IO9.com
Have a look at the first exciting chapter from ReV by Madeline Ashby, the third and final installment of The Machine Dynasty series – releasing 14th July 2019 from Angry Robot Books. The Rapture for which the vN – self-replicating humanoids – were engineered for, has finally comes to pass.