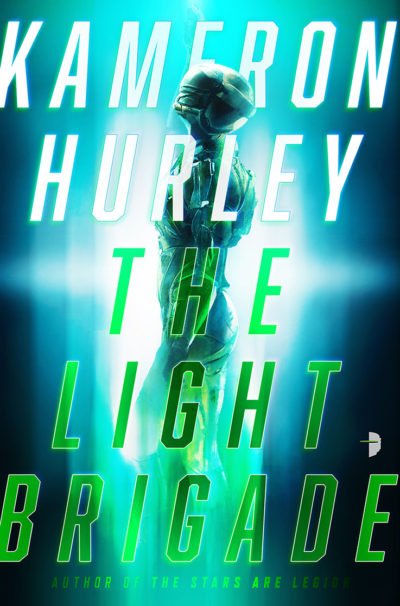 The Light Brigade
Nominated for the Arthur C Clarke Award 2020
Nominated for the Hugo Award for Best Novel 2020
Shortlisted for GoodReads Choice Awards' Best Science Fiction 2019
---
"Badass."
– John Scalzi, bestselling author of Old Man's War
---
Soldiers are broken into light and sent to the frontline of a brutal interplanetary war, in this brilliant military SF from the Hugo Award­­-winning author of The Stars Are Legion.
---
File Under: Science Fiction [ Star Troopers | Hostile Takeover | Out of Time | Honour the Charge ]
Not available from us in your territory, check the Book Details for publisher information.
SKU: AR9780857668240
The Light Brigade: it's what soldiers fighting the war against Mars call the ones who come back…different. Grunts in the corporate corps get broken into light, travelling from interplanetary battlefronts. Everyone is changed by what the corps must do. Those who survive learn to stick to the mission brief — no matter what happens during combat.
Dietz, a fresh recruit in the infantry, begins to experience combat drops which don't sync up with the platoon's. And the bad drops tell a story of war that's not what the corporate brass want the soldiers to think it is. Is Dietz really experiencing the war differently, or is it combat madness? Trying to survive with sanity intact, Dietz is ready to become a hero — or maybe even a villain. In war it's hard to tell the difference.
| | |
| --- | --- |
| Release Date | 2019-04-02 |
| Cover Art | Even Ventrue |
| Ebook | 2nd April 2019 | 9780857668240 | epub & mobi | £6.99 |
| UK Print | 2nd April 2019 | 9780857668233 | Paperback | £8.99 |
| Goodreads URL | Read & Review |
"The Light Brigade by Kameron Hurley is damn near perfect… By turns harrowing and gorgeous, this novel is a machine of precision plot, character, prose, and theme, working together to become one of the best military sci-fi novels I've read, period."
– Tor.com
"Sophisticated and fiendishly clever… It grips from the start, is engagingly sassy and motors along at a pace that leads to a clever conclusion. I've read a lot of similar novels to this, but this is one of the best I've read. Recommended for those who like their military-sf but also want something to think about as well."
– SFF World
"Badass."
– John Scalzi, bestselling author of Old Man's War
"Hurley is one of the most important voices in the field, and The Light Brigade is some of her best work. This is the real thing."
– James A Corey, author of The Expanse Series 
"Highly recommended for not only SF fans but anyone interested in a thrilling and troubling vision of the future."
– Booklist, starred review
"Rereads will be both necessary and desirable."
– Kirkus, starred review
"A smart, brutal, and structurally sophisticated military science fiction tale with a time travel twist… This book is both a gripping story of future warfare and an incisive antiwar fable. Readers will savor this striking novel's ambitious structure and critique of rapacious, militarized capitalism."
– Publishers Weekly, starred review
"The Light Brigade is passionately brutal, fierce and furious in voice and pace. Everything's appropriately gruelling, from Dietz's memories of life before she joined her corporation to her fractured experiences of battle. It's a particularly cinematic experience of war, Full Metal Jacket meets Edge of Tomorrow, close up in the muck and blood and horror. It's genuinely moving, too: all these heartbreaking young people caught up in a sick lie that everyone half-knows but can't look at directly."
– The New York Times Book Review 
"Starship Troopers meets Edge of Tomorrow. A call for us all to be the light in dark times."
– Rebecca Roanhorse, Hugo and Nebula Award-winning author of Trail of Lightning
Praise for Kameron Hurley
"The Stars are Legion is a profoundly moving tale of self-discovery and self-construction in a world as wondrously layered as its unforgettable protagonist."
– Ken Liu, author of Grace of Kings
"Epic in every sense of the word. Hurley has built a world – no, worlds – in which cosmology and magic, history and religion, politics and prejudice all play crucial roles. Forget all about tentative, conventional fantasy; there's so much great material in here that Hurley needs more than one universe in order to fit it all in."
– Brian Staveley, author of The Emperor's Blades
"The Mirror Empire is the most original fantasy I've read in a long time, set in a world full of new ideas, expanding the horizons of the genre. A complex and intricate book full of elegant ideas and finely-drawn characters."
– Adrian Tchaikovsky, Arthur C Clarke Award-winning author of Children of Time
"Taut and gorgeous, pungent with spilled guts. A sharply-flavored, brutal space opera."
– Cassandra Khaw, author of Hammers On Bone
"Grabs you like a gravity well and won't let go. Discovering Kameron Hurley's work is like finding a whole new galaxy, and she is the star at its center"
– Chuck Wendig, NYT bestselling author of Star Wars: Aftermath
"It's kind of awesome fun. You should totally read it."
– Ann Leckie
"It's a fantasy-quest saga grafted on to a far-flung space setting, gutsy in every sense."
– James Lovegrove for Financial Times
"In a genre filled with generic portrayals of space, Hurley's take is one-of-a-kind: equal parts love story and revenge tale, mixed with adventure science fiction and body horror."
– The Washington Post
STARRED REVIEW: "This is a hugely ambitious work, bloody and violent, with interestingly gender-flipped politics and a host of factions to keep straight, as points of view switch often. Although it is a challenging read, the strong narrative thread in this new series from Hurley (God's War) pulls readers through the imaginative tangle of multiple worlds and histories colliding."
– Library Journal
STARRED REVIEW: "Hurley (Rapture) reuses old tropes to excellent effect, interweaving them with original elements to create a world that will fascinate and delight her established fans and appeal to newcomers. Readers will blaze through this opening instalment and eagerly await the promised sequel."
– Publishers Weekly
"The Stars Are Legion is a beautiful work of fiction, a wholly original novel that pops and crackles with big ideas. It subverts old tropes, challenging readers to question humdrum science fiction plots, and imagine an entire alternate reality. And for that reason, it's the genre at its best."
– The Verge