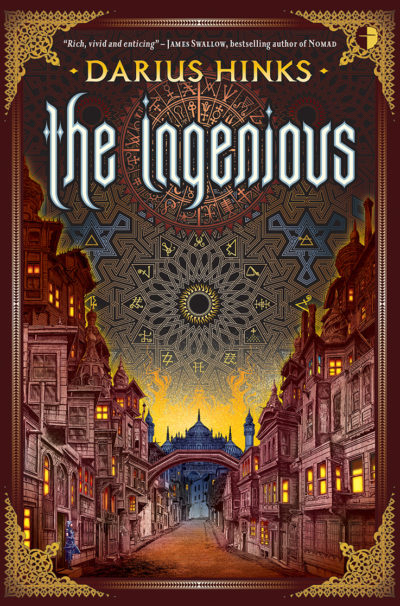 The Ingenious
"Visceral and intense, The Ingenious creates a world that is rich, vivid and enticing."
– James Swallow, New York Times bestselling author of Nomad
---
The squalid, bloody tale of desperate political exiles seeking a way home from the impossible city that imprisons them.
---
File Under: Fantasy [ Alchymical Exiles | Loathing and Fear | Manifest Revelation | City of Broken Spheres ]
Buy the ebook version now – only
£

4.99
SKU: AR9780857667908
Thousands of years ago, the city of Athanor was set adrift in time and space by alchemists, called the "Curious Men". Ever since, it has accumulated cultures, citizens and species into a vast, unmappable metropolis.
Isten and her gang of half-starved political exiles live off petty crime and gangland warfare in Athanor's seediest alleys. Though they dream of returning home to lead a glorious revolution, Isten's downward spiral drags them into a mire of addiction and violence. Isten must find a way to save the exiles and herself if they are ever to build a better, fairer world for the people of their distant homeland.
| | |
| --- | --- |
| Release Date | 2019-02-05 |
| Cover Art | John Coulthart |
| Ebook | 5th February 2019 | 9780857667908 | epub & mobi | £6.99/$8.99/$10.99 |
| US Print | 5th February 2019 | 9780857667892 | Trade Paperback | $12.99/$15.99 |
| UK Print | 5th February 2019 | 9780857667892 | Paperback | £8.99 |
| Goodreads URL | Read and Discuss |
"I'll be upfront: I loved The Ingenious. The world is fabulously weird and complicated, the characters are fundamentally flawed and broken… I loved that the world was crazy, and that the magic was mysterious and powerful, and that the story was often messy, chaotic, and exciting."
– The Fantasy Inn
"Its constantly changing nature gives it the sense of a wild, beautiful, protean place, its danger as seductive as it is horrifying."
– B&N Sci Fi & Fantasy Blog
"Beautifully creative settings, highly imaginative magic, fast-paced action, and sympathetic heroes…The Ingenious is a spectacular, in the true sense of the word, novel"
– Grimdark Magazine
"Visceral and intense, The Ingenious creates a world that is rich, vivid and enticing."
– James Swallow, New York Times bestselling author of Nomad
"Rewarding [and] intriguing."
– Publishers Weekly
"A deftly woven fantasy, rich in imagination and narrative flair and wrought in lyrical prose. Not to be missed."
– George Mann, Sunday Times bestselling author
"A compelling and richly characterful first step into an awesome new world. Athanor is a hell of a place to get lost. I hope Darius hurries up with the sequel…"
– Aaron Dembski-Bowden, New York Times bestselling author 
"Athanor joins the likes of New Crubuzon, Gormenghast and Ankh Morpork in the ranks of the incredible, crumbling, amazing and terrifying edifices of fantasy fiction. Every bit as rich and textured as the characters we follow through its shadowed and deadly streets, the city's personality compels us through the book as much as the exploits of Isten and her companions. A plot that teases and intrigues as much as it investigates and explores makes The Ingenious a book that is both creative and fresh and yet resonates with genre familiarity. A lot of people are going to be Darius Hinks fans after reading this."
– Gav Thorpe, New York Times bestselling author, and winner of the 2017 David Gemmell Legend Award for Fantasy
"Its constantly changing nature gives it the sense of a wild, beautiful, protean place, its danger as seductive as it is horrifying."
– B&N Sci Fi & Fantasy Blog
"An intriguing tale of a wandering city. Hinks' prose is pure poetry."
– Guy Haley, author of Champion of Mars
"Gritty and moving, with a healthy dose of horror – Hinks has woven a powerful and compelling fantasy – where worlds are at stake and entire cities will be laid to waste."
– Justin Hill, author of Viking Fire
"The Ingenious is a triumph of the imagination bursting with strange, terrifying sorcery and wondrous locations"
– Cameron Johnston, author of The Traitor God
"A twisty, turny triumph of imagination, with a heroine you aren't sure you should like, but soon grow to love."
– Mark A Latham, author of the Apollonian Case Files series
"Hinks has taken the best of so many favourites and spun them in new ways with his own ideas that just makes the world, characters, and overall story so colourful and inviting."
– Anike Kirsten
Praise for Darius Hinks
"Mythic fiction as it should be, a high-magic, high adventure, with flawed, believable characters, a good story line and a decent, fast pace."
– The British Fantasy Society
"He expertly handles both battles and intimate encounters, while creating well-rounded, full bodied characters."
– Red Book Review
"Hinks' prose is fluid, the dialogue realistic, and plot and events progress at a very good clip."
– Civilian Reader
"Hinks' writing is some of the closest I have read to Gemmell himself."
– Floor to Ceiling Books
"Darius Hinks is an amazing fantasy author."
– Mengel Miniatures
"Watch out, Darius Hinks' knack for writing danger can tear you straightaway into the ravaged Old World of Warhammer and keep you hooked to the very end."
– The Founding Fields
"Delivers on all fronts in a manner that's nothing short of superb. Nine and a quarter out of ten."
– Graeme's Fantasy Book Review
"Great prose and solid bloody combat alongside dialogue that will enrapture the reader as well as ensnare them into Darius's own web."
– Falcata Times