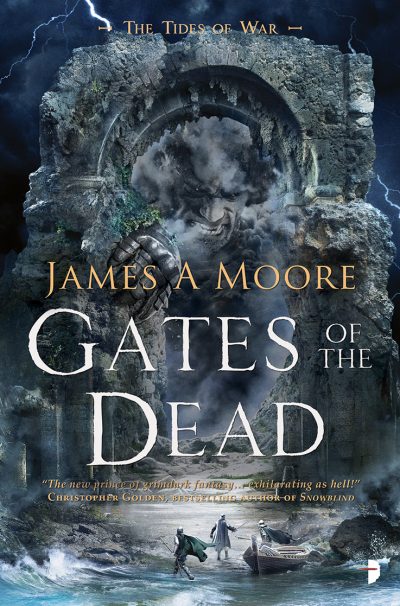 Gates of the Dead
"James A Moore is the new prince of grimdark fantasy. His work is full of dark philosophy and savage violence, desperate warriors and capricious gods. This is fantasy for people who like to wander nighttime forests and scream at the moon. Exhilarating as hell."
– Christopher Golden, New York times bestselling author of Snowblind
---
The end times have come, but it's not too late for a hero to strike back,  in the grimdark fantasy sequel to The Last Sacrifice and Fallen Gods.
---
File Under: Fantasy [ Broken Blade | Defiant Heroes | End of Days | Gateway Weapon ]
---
Tides of War Book III
Buy the ebook version now – only
£

4.99
SKU: AR9780857667472
Brogan McTyre started a war with the gods, and he's going to end it. Raging gods have laid waste to the Five Kingdoms. Only Torema remains, swollen with millions of refugees. Their last hope lies in fleeing by sea, but as storms tear at the coast, even King Opar can't muster enough ships for them all. Brogan and his warriors must fight the He-Kisshi to reach the Gateway, the sole portal for gods to enter the mortal world – and the only place where they can be killed. But the forces of creation have been unleashed, and they'll destroy the world to reshape it.
| | |
| --- | --- |
| Release Date | 2019-01-01 |
| Series | Tides of War |
| Cover Art | Alejandro Colluci |
| Ebook | 1st January 2019 | 9780857667472 | epub & mobi | £6.99/$7.99/$8.99 |
| US Print | 1st January 2019 | 9780857667465 | Massmarket Paperback | $8.99/$10.99 |
| UK Print | 1st January 2019 | 9780857667465 | Paperback | £8.99 |
| Goodreads URL | Read and Discuss |
Praise for the Tides of War
"Gripping, horrific, and unique, James Moore continues to be a winner, whatever genre he's writing in. Well worth your time."
– Seanan McGuire, New York Times bestselling author of the InCryptid and Toby Daye series
"James A Moore is the new prince of grimdark fantasy. His work is full of dark philosophy and savage violence, desperate warriors and capricious gods. This is fantasy for people who like to wander nighttime forests and scream at the moon. Exhilarating as hell."
– Christopher Golden, New York times bestselling author of Snowblind
"Moore has laid the groundwork for a trilogy that promises to be loaded with terrifically grim fantasy storytelling. I might even call it epic. There is a lot of swift, merciless violence in this book, mingled with an undercurrent of very welcome, if very dark, humor. All of it together takes me back to what made me giddy about epic fantasy way back when. I'd say I'm happy to be back, but I'm not sure that's quite the right word for a book packed with this much violent incident. Let's say instead that I'm bloody satisfied."
– B&N Sci-Fi & Fantasy Blog
"The Last Sacrifice is dark and violent with no punches pulled. The worldbuilding is epic in scope but focuses on a select few individuals to flesh out the story." 4.5/5 stars
– San Francisco Book Review
"With The Last Sacrifice, James A Moore has triumphed yet again, delivering a modern sword and sorcery tale to delight old and new fans of the genre.  With its intriguing premise, stellar cast of characters, and flavorful horror elements, this is damn good stuff."
– Bookwraiths
"I love it. This is a story that turns the genre story arc on its head, mixes up the motives of heroes and villains, and muddies the waters of divine intervention. A fantastic, surprising start to a major new series."
– Beauty in Ruins
"Seriously, what a phenomenal second book! Everything that was so delightfully dark about The Last Sacrifice, James just wraps those thorny vines tighter around the plot. He proceeds to deepen it to a gripping degree throwing in mindbogglingly twisted horror elements."
– Smorgasbord Fantasia
"I found The Last Sacrifice to be highly engaging, magical with a distinct grimdark feel and the world herein is richly imagined and cleverly wrought and brought to life. I can't wait to read the sequel and I am now also eager to check out the other works by this author. I highly recommend this book to all lovers of fantasy."
– Cover 2 Cover
"Fast-paced fantasy that you simply can't put down. Great action adventure."
– Morpheus Tales
"A wild adventure with plenty of action and bloodshed and just as with the first book, we have a conflict on a grand scale – mortal men against the gods – which keeps the stakes high and exciting."
– Looking for a Good Book
"I am so ready for the next book!' Seriously, the next one is promising to be glorious. If the world is actually going to end, it ain't going down without a fight and I want to read that fight!"
– Purple Owl Reviews