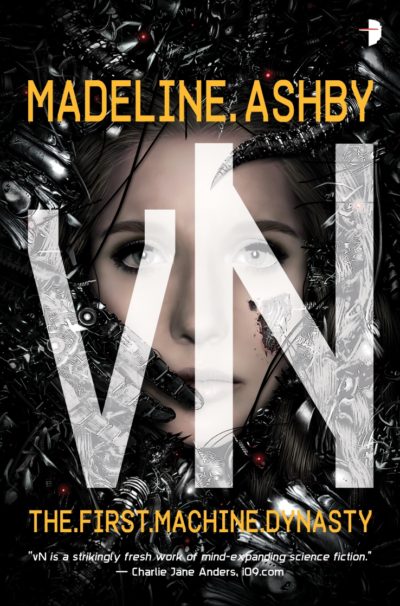 vN
"Ashby's debut is a fantastic adventure story that carries a sly philosophical payload about power and privilege, gender and race. It is often profound, and it is never boring."
– Cory Doctorow, BoingBoing
---
Amy is a Von Neumann humanoid – grown in a stable family environment, with her robot mother and human father. But alone of all her kind, known as the von Neumanns, her human-protecting failsafe has stopped working. Soon she is on the run from the law, and worse – everyone's after her, some to use her as a weapon, others to destroy her.
---
File Under: Science Fiction [ Von Neumann Sisters | Fail Safe Fail | The Squid & the Swarm | Robot Nation ]
---
The First Machine Dynasty
Buy the ebook version now – only
£

2.99
SKU: AR9780857662637
Amy Peterson is a von Neumann machine, a self-replicating humanoid robot.
For the past five years, she has been grown slowly as part of a mixed organic/synthetic family. She knows very little about her android mother's past, so when her grandmother arrives and attacks her mother, little Amy wastes no time: she eats her alive.
Now she carries her malfunctioning granny as a partition on her memory drive, and she's learning impossible things about her clade's history – like the fact that the failsafe that stops all robots from harming humans has failed… Which means that everyone wants a piece of her, some to use her as a weapon, others to destroy her.
First published July 2012 in US trade paperback ISBN: 9780857662620
| | |
| --- | --- |
| Series | Machine Dynasty |
| Publication date | |
| Cover Art | Martin Bland |
| Ebook | 28th September 2010 | 9780857662637 | Epub & Mobi | RRP £6.99 |
| US Print | 3rd January 2017 | 9780857665423 |  Massmarket Paperback | RRP US$7.99 CAN$10.99 |
| UK Print | 2nd October 2010 | 9780857662613 | Paperback | RRP £7.99 |
| Goodreads URL | Discuss and Review vN |
One of IO9.com's 10 Best SF and Fantasy Books of 2012
"vN fuses cyberpunk with urban fantasy to produce something wholly new. There's a heavy kicker in every chapter. Zombie robots, vampire robots, robots as strange and gnarly as human beings. A page-turning treat."
– Rudy Rucker, author of the Ware Tetralogy
"Picks up where Blade Runner left off and maps territories Ridley Scott barely even glimpsed. vN might just be the most piercing interrogation of humanoid AI since Asimov kicked it all off with the Three Laws."
– Peter Watts, author of the Rifters trilogy
"Will AIs be objects, or people? Caught between the category of human and everything else, we can't think about the very real entities that inhabit — and will inhabit — the excluded middle. Madeline Ashby's done more than just think about that territory; she's made it her home. Person; object; we need new words for things that are neither — and in vN, Ashby provides them."
– Karl Schroeder, author of the Virga series
"VN is a clever book with a wonderful ending by a writer who is well versed in AI technology, who can evoke sympathy with a few well-turned phrases and tells a satisfyingly complex story."
– Eric Brown, The Guardian
"In Ashby's expert hands vN cuts a painful incision into the emotional complexity of oppression in our society, and the way love can feed the worst kinds of hate. vN is a powerful novel and a fine exemplar of exactly the perspectives chauvinist SF so often stifles."
– Damien G. Walter Women Authors in Hard SF, The Guardian
"vN is a strikingly fresh work of mind-expanding science fiction."
– Charlie Jane Anders, IO9.com
"What's really fascinating about vN is the way it portrays a fairly complex future almost exclusively from the limited perspective of an immature and confused non-human character. There's a future history hidden in these pages, but you have to glimpse it through eyes that can't just can't process all of it yet. You experience Amy's growth while she learns the true nature of the world she somehow ended up in."
– Stefan Raets Tor.com
"It is a rare author who can write a fast-paced adventure without losing sight of the dilemmas, debates, morality and emotion that mark good storytelling. vN is nothing less. If you pick it up (and I recommend you do), expect to find a world thick with meaning and humour, elegantly packaged in an eminently readable adventure."
– Paul Jarvey, AESciFi, the Canadian Science Fiction Review
"A captivating conglomeration of Stephen Spielberg's A.I., a little mix of I, Robot, and even The Matrix seem to infiltrate their way into vN"
– Liam at Troubled Scribe
"With an excellent grasp of her subject matter and much to say within the genre, Ashby looks set to become one of the most important new voices in this particular branch of SF, and I for one shall be awaiting her next book with great interest. Download to your system at the earliest opportunity."
– Carl Barker for The British Fantasy Society
"vN is a strong debut novel; its central premise is interesting and Ashby draws us into a highly detailed and technologically literate world. Fans of Bladerunner, the Portal games and Raising Cain will find this an interesting read with more than a little bit of food for thought."
– Ed Fortune, Starburst Magazine
"vN is a fresh and original novel and an extremely interesting debut. I highly recommend it if you want to read a book which is not tour typical humans-vs-robots story."
– Sense of Wonder
"vN is a great novel. The prose drives forward. The tension never slackens. Amy is an instantly likable character."
– Luke Italiano, Seeking the New Earth
"There is so much to say about vN, from the characters to the basic premise, to the writing and the power of the story, it's hard to begin … Madeline Ashby's debut novel blew my mind and I can't imagine where she'll go next."
– Mieneke van der Salm, A Fantastical Librarian
"There was honestly nothing about the book I disliked; I adored it all – from the bizarre beginning, through all the action, horror, and gut-wrenching twists, right until the very end … In my opinion, vN is one of the best and most original robot books since Asimov."
– Cathy Russell, The Functional Nerds
"There is absolutely no sugar coating and let me tell you, some psychotic stuff happens. Right front the beginning of the book I was shocked by the events that unfolded; which was refreshing."
– Sarah at That Bookish Girl
"vN is a striking debut, one part tech thriller and one part adult fairy story … The best sci-fi not only entertains but also educates and informs, and vN manages all three effortlessly."
– Pablocheesecake, The Eloquent Page
"As a whole, this is a remarkably good debut novel. There's action, quiet contemplation, twists and turns … There is so much that is great in this novel, that I don't want to single out any element. Everything in it comes together to create what very well could be the best Science fiction novel I read this year."
– Weirdmage's Reviews
"The ideas presented in vN are fascinating. Could this be where we are headed?"
– Tabitha Jensen, My Shelf Confessions
"an engaging, entertaining book, that touches on some complex, relevant themes and draws interesting parallels between its vision of artificial and human life."
– Steven Long, Foes of Reality
"An original and innovative science fiction adventure."
– von Blank Space
"This is an excellent book, carefully thought out, in a world that could be our future with only a few technological breakthroughs. The plot is believable and gripping, with a surprising ending. It was impossible to put down."
– Christophe Montoya, The Geek Syndicate
"It's powerful. It really is. vN discusses slavery, the future of robotics, the nature of humanity and sentience and does so without preaching or lecturing."
– Caitlin Blanchard. In Case of Survival
"Ashby's subversion of Little Red Riding Hood and her exploration of robot-rights make vN a good read. This is the type of novel that will reassure readers about the quality of science-fiction being published today."
– Anna Call, Isotropic Fiction
"vN offers a bold and interesting vision of the future. The lack of dates and time frame allows the author to unhinge the book somewhat from the present, giving her leave to worldbuild in a delightful manner."
– Paul Weimer, The Functional Nerds
"vN is excellent science fiction that packs in plenty of fun and original ideas while also not getting bogged down in all the techno-babble behind the concepts."
– Josh Vogt, Examiner.com
"The book goes to some dark places at times, touching on some very serious issues."
– Jessica at Plot Twister
"I would be extremely surprised if this book did not garner some nominations and awards. vN has changed the way I will look at AI stories."
– Mike Douton, Stuff and/or Junk
"Ashby does a good job of immersing the reader in her vision of the future, through strong images and well-written prose. Overall, it's a gripping read – check it out, even if (and maybe especially) if you're not a sci-fi reader."
– Fictavia
"vN is a thrilling adventure story with a well-developed cast of both humans and vNs, which challenges the meaning of being a person without ever being preachy about it."
– Steve Jones for Terror Tree
"Ashby balances profound questions on individuality, gender, race, and personal freedoms within the framework of a crackling cyberpunk chase thriller. Like the best of Asimov and Dick, Ashby's world functions on its own rules yet mirrors our own, and she populates this world with generously intriguing characters."
– Corey Redekop
"By the time you finish this book, you'll feel like you've been on a wild ride through a plausible future. vN has an absorbing, page-turning nature and touches on issues of love, free will, and the possibilities of robot consciousness." – Terra Cognition