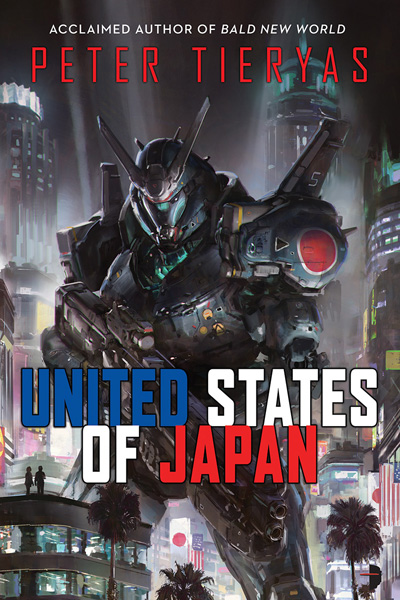 United States of Japan
"United States of Japan is a powerful book, unsettling at times – surreal and hypnotic. There's a bit of Philip K. Dick in here, and Wind-Up Bird Chronicle, but Peter Tieryas is his own voice, a talented author, somebody to keep an eye on for sure."
– Richard Thomas, author of Breaker and Disintegration
---
The Axis won WWII and now, in the late 1980s, the Japanese Empire rules over the western US states, their power assured by technological superiority. But when a video game emerges that posits a world where the allies won, a game censor and an Imperial Government agent discover truths about the empire that make them question their loyalty.
---
File Under: Science Fiction [ Gamechanger | Area #11 | Robot Wars | Strike Back The Empire ]
Buy the ebook version now – only
£

3.99
SKU: AR9780857665348
Decades ago, Japan won the Second World War. Americans worship their infallible Emperor, and nobody believes that Japan's conduct in the war was anything but exemplary. Nobody, that is, except the George Washington's – a shadowy group of rebels fighting for freedom. Their latest subversive tactic is to distribute an illegal video game that asks players to imagine what the world might be like if the United States had won the war instead.
Captain Beniko Ishimura's job is to censor video games, and he's tasked with getting to the bottom of this disturbing new development. But Ishimura's hiding something' He's slowly been discovering that the case of the George Washingtons is more complicated than it seems, and the subversive videogame's origins are even more controversial and dangerous than the censors originally suspected.
Part detective story, part brutal alternate history, United States of Japan is a stunning successor to Philip K Dick's The Man in the High Castle.
| | |
| --- | --- |
| Publication History | First published in the US in Trade Paperback on 1st March 2016, ISBN: 9780857665331 |
| Publication date | |
| Cover Art | John Liberto |
| Ebook | 1st March 2016 | 9780857665348 | Epub & Mobi | RRP £6.99 / US$6.99 |
| US Print | 1st August 2017 | 9780857667229 | Massmarket Paperback | $7.99/$10.99 |
| UK Print | 3rd March 2016 | 9780857665324 | Paperback | RRP £8.99 |
| Goodreads URL | Discuss and Review United States of Japan |
"A searing vision of the persistence of hope in the face of brutality, United States of Japan is utterly brilliant."
– Ken Liu, Hugo, Nebula, and World Fantasy winner and author of The Grace of Kings
"Mind-twisting and fiercely imaginative; Tieryas fuses classic sci-fi tradition with his own powerful vision."
– Jay Posey, author of The Legends of the Duskwalker series
"It's a tense and intriguing read, a blend of alt history and cyberpunk and thriller. 1988 California where San Diego is a razed landscape home to American rebels, and Japanese mechas patrol the coast? Heck yes!"
– Beth Cato, author of The Clockwork Dagger and The Clockwork Crown
"The novel deftly portrays the horrors of oppression but also, with its giant military robots, sumo wrestlers and body-transforming technology, is a gleeful love letter to Japanese pop culture."
– The Financial Times
"A really intriguing book, one that jumps nicely off of the coattails of Philip K Dick and instead of simply copying what had come before, has ventured out and created something wholly new, interesting and exciting to read."
– io9
"United States of Japan is one of those books that you think about long after you put it down. I haven't been able to shake it. This is a darkly fun, clever, and unrelentingly ambitious book. Pick it up and enjoy the ride."
– Kameron Hurley, Hugo Award-winner and author of The Mirror Empire
"It's both a thoughtful examination of humanity's darker nature and a slam-bang sci-fi adventure."
– B&N Sci-Fi & Fantasy Blog
"Acute observations in great dialogue and characters who are emotionally charged, and tied brilliantly and respectfully to discussions about war; it asks expected questions of its characters and readers but these are delivered in an engaging manner; United States of Japan is set in a world that's beautifully descriptive, oftentimes shocking and mixed in with outrageous sci-fi environments."
– Narelle Ho Sang, for SF Signal
"Its depiction of America in the latter 20th century under Japanese rule is great and very well thought out (look, anything that involves giant mecha is a winner in my book) and the alternate technologies that exist, some of them decades ahead of their time are quite cool. The rest of the book is solid, whips along apace and gives you the daily reality of what it must be to live in a society like that well."
– Rick O'Shea
"A hell of a ride."
– Lightspeed Magazine
"A great protagonist, an interesting plot, well paced and executed, with a lot of interesting insights into what the wider expansion of the Japanese empire might have looked like. Definitely recommended to any fans of alternate history, or war stories."
– Strange Currencies
"Amid complex layers of political and personal dynamics, these initial narratives unravel to explore what it means to be mixed race, to be a cyborg, to be loyal, to be a patriot, to be a resistance fighter, to be a gamer, to a be a human being. The novel is great fun – intellectually, ethically, and aesthetically – and I'll be pondering its implications for a while."
– Asian American Literature Fans
"A book that is both an exciting, pulpy adventure full of action, violence and giant mecha fights and a thoughtful and disturbing dissection of the tactics by which world powers are forged and maintained."
– Golden Apples of the West
"Fast paced, well researched, and with believably complex characters, this was quite difficult to put down and left me wanting to read more about this setting. With many subtle allusions to existing Japanese popular culture, it's a tale of complex, divided loyalties which interact in unexpected ways right through to the end. This should appeal to the general science fiction reader, the Japanophile, and the alternate history enthusiast alike."
– Fanboy Comics
"Tieryas is a visual writer, big-screen ready, who takes the reader to each clearly delineated scene in memorable fashion, whether it be the seamy cyber-yakuza gangster hangout, the antiseptic torture chamber, the huge shiny shopping and gaming arcade or the super-sized mecha battleground. Even his smaller side characters have complete backstories and unique goals, all of which adds texture and color to his richly detailed world. He mixes a punk-colored, neon-lit Japanese social scene set in appropriately modern gender-equal host and hostess bars with details of Southern California settings twisted inside out in his dark vision."
– Palantir Press
"United States of Japan is a fascinating venture into alternate history, and it is not to be underestimated. Highly recommended."
– The Speculative Herald
"Peter also bravely enters the political arena of history and intra-Asian debates. It's by far Peter's most ambitious novel to date. This has also been the most thought-provoking book I've read all year. The book excels in its imagery, suspense, and storyline."
– BigWOWO
"With its plot centred on video games, giant mechas and debaunched alternate history, United Staes of Japan will keep your attention and fire your imagination."
– Power of Pop
"The plot is thrilling.  I could not put this book down for an extended period of time without wanting to pick it back up again. I kept finding it in my hands to read a bit more. At the root of this story, it is a political-legal thriller set in a scifi world, and that was just what I was looking for when I picked up this book. And the plot is well thought out, intriguing, and moves at a good pace, blending suspense and action perfectly. The characters are well developed, and behave in very believable ways. They are full three dimensional characters that really help with story, and you find yourself interested in them. This book had action, and well crafted action, but it was more than that.  It was that level of depth to this story that took it to the next level."
– Science Fiction & Fantasy Book Corner
"United States of Japan was one of my most anticipated book of the year and I am glad to say that it did not disappoint. The book was full of very cool concepts, it blends alternative history with giant robots, video games and political thriller. "
– The Curious SFF Reader
"Much more complex than it seemed , with a very entertaining and enjoyable interesting historical and social recreation, reading agile and full of original features novel. Fully recommended."
– Dreams of Elvex
"Often brutal, at times genuinely humorous, and occasionally profoundly poignant, United States of Japan is a political action adventure where the characters – sometimes atypical, sometimes caricatures – anchor the narrative in a step above the norm."
– Litstack
"I really liked this book!"
– Galactica 3.0
"An original and truly gripping narrative, set within a fantastically realised, but terrifying world."
– Stephen Rhodes
"United States of Japan by Peter Tieryas is an alternate history tale told in epic adventure style that will take you on bloody journey. The comparisons to Philip K Dick's The Man in the High Castle will be obvious. The comparison to Homer, or the Orpheus story are not so obvious but are also there."
– Looking For a Good Book
"I had fun reading it. The story was engaging , there was tension and surprise. I was often angry with the book, but I enjoyed that feeling, it was like a ride in a crazy theme park, not the safest kind of fun and slightly insane, but worth experiencing."
– Re-enchantment of the World
"I totally enjoyed United States of Japan, it is exciting with lots of interesting developments, well done characters and presents a very credible alternative historical narrative."
– The Reading Life
"An amazingly well thought out and clever look at what America would be like if Japan had developed super weapons and delivered a devastating defeat to the US."
–
A Book Drunkard
"United States of Japan is a tremendous book, it's got a wonderfully dark and rich atmosphere, great action, intelligent and twisted story and above all not only does it pay homage to one of the finest authors of the 20th century but also continues one of his most celebrated and yet most difficult works — simply wonderful."
– SF Book Reviews
"United States of Japan is a surreal, weird, and brutal what-if aftermath of a brutal war. Prepare to be horrifyingly awed."
– Gem in the Rough
"United States of Japan was a compelling read, thoroughly entertaining, and the ultimate "what if?" story."
– Cemetery Dance Online
"Mr Tieryas does an amazing job in weaving a wonderful entertaining yet thought provoking and sometimes disturbing story that I highly recommend."
– Two Nerds Talking
"If I see anything with Tieryas' name on it in the future I will read it because of the quality of his writing."
– Strange Alliances
"An intelligent, different and very interesting science fiction novel."
– Sense of Wonder
"United States of Japan is a dark, disturbing read – but also a timely one…this is by no means a happy book, nor is it an easy one (conceptually, at least; Tieryas's writing is a pleasure to read). It makes the reader imagine what it would be like to live in a world where the government polices the very thoughts of its citizens via the Internet; where one's rise through the system is achieved by saving face at any cost; and where the truth is not what actually is, but what the regime says it is, and then asks: "Will you take action to make sure this does not happen to you?" This is a question that needs to be asked more often, given the current political climate in the world today, and I am glad this novel encourages that kind of questioning. The world needs a lot more like it."
– Occasionally Random Book Reviews
"This is an exciting scifi book that will make you think 'what if.'"
– A Bookish Affair
"That is my humble opinion and recognize that this book from its writing alone has the power to be a HUGE success. It is motivating, compelling, and fascinating narrative. The characters are real and gritty."
– In Pursuit of My Own Library
"It is a dark thriller at its heart, but it is laced with elements of science fiction, alternative history, philosophical discussion and war fiction. And damn, it is a wonderful combination. United States of Japan is simply brilliant. A dark and brutal thriller set in a dystopian world that will blow your mind, United States of Japan is one of my reads of the year so far."
– Smash Dragons
"For a book that will surely be thrown under the microscope of the science fiction and alternative history elements, United States of Japan puts together a solid and compelling plot. This isn't window dressing; this is the real deal."
– Heavy Feather Review
"Like China Mieville wrote A Man in the High Castle after seeing Pacific Rim."
– Blackfish Reviews
"Peter Tieryas' United States of Japan encapsulated horrific authoritarian rule in brilliant writing. What makes this book such a rare gem is that it manages to do all things well. Its writing is clever, careful and beautifully phrased."
– Joe's Geek Fest
"Overall this is a neat little self-contained mystery using an alternate America as its colourful backdrop. I particularly liked how certain things were just ever so slightly different. Just changed enough to raise an eyebrow. I enjoyed United States of Japan. It pays deferential homage to The Man in the High Castle, but also manages to be entirely its own beast."
– The Eloquent Page
"United States of Japan sees an author capable of beautiful, evocative prose writing a fast-paced Science Fiction novel of old. This results in a journey through an alternative version of our world that is as fascinating as it is disturbing and as full of emotion as it is full of adrenalin. This novel will stay with readers far beyond the final pages, forcing them to reassess the potential impact of who wins the world's wars."
– Fantasy Faction
"Things I want from a summer read: action, fast-pace, action, intriguing world, action,well-rounded characters, and did I mention action?"
– Kathy's Book Pile
"I would highly recommend United States of Japan." 5/5*
– San Francisco Book Review
"A novel that stands above the rest, different, original, with good pace and a good structure , but above all, very entertaining. I expected a robot in the style Pacific Rim and I found one of the best science fiction novels 2016. Peter Tieryas and United States of Japan is a titanic discovery."
– Donde Acaba el Infinito
"United States of Japan is probably not quite what you imagine it to be."
– Talk Amongst Yourselves
"In United States of Japan Peter Tieryas delivers a story which leaves a mark on your psyche and many important things to reflect upon"
– Booklover Book Reviews
"United States of Japan still delivers an exciting and tense plot that builds to a satisfying conclusion. If alternate history is your thing, then this is a novel that will hit your spot."
– Walker of Worlds
"We learn much that transforms the novel from a cartoon-like action thriller to a rather complicated and—in the end, moving—exploration of ethics and ideals. In this, the novel is both very like Dick and not at all like The Man in the High Castle, and Peter Tieryas has done well in acknowledging influence and remaining determined to be his own man."
– The Future Fire
"A kick-ass dystopian action thriller with all bells and whistles."
– Reading Lamp
"Tieryas is a true wordsmith, a logophile of the greatest caliber."
– Miranda Boyer
"Tieryas develops a world that is fascinating and engrossing. One that, in perhaps his greatest tribute to Philip K Dick, you feel you haven't fully explored even at the book's end."
– The Nervous Breakdown
"A dark, brutal, and twisted thriller, United States of Japan delivers hours of fun reading while challenging its readers with thought-provoking, philosophical repercussions."
– Daniel's Corner Unlimited
"United States of Japan by Peter Tieryas is a visceral, beautifully realized alternate history."
– Gesilayefa Azorbo for Medium.com
"Big Brother meets Ready Player One meets Pacific Rim."
– Charity Case
"A splendid masterpiece."
– Hayakawa Publishing
"In USJ, Tieryas finds a way to incorporate gaming, history and an alternative 'what if' scenario into a creative sci-fi, action-packed, profound, and solemn narrative."
 – Kotaku TAY
"A compelling read, thoroughly entertaining, and the ultimate 'what if?' story."
– Frank Errington
"An Asian American sci-fi classic that draws on the best traditions of speculative fiction to meditate seriously on what any of us can/should think and do in a world of repression, surveillance, disillusionment, and uncertainty."
– Asian American Literature
"United States of Japan is a dark, disturbing read – but also a timely one. Excellent."
– Occasionally Random Book Reviews
"United States of Japan is much more than your typical alternate history novel. It is also a thriller novel, a spy novel, and a detective story. The author's imagination is running wild, and we see that with all the cool gadgets and weaponry. Besides the technical wizardry, the book has almost non-stop action."
– San Franciso Book Review
"A thoughtful examination of humanity's darker nature and a slam-bang sci-fi adventure."
– Barnes & Noble Sci-Fi & Fantasy Blog
"An original and truly gripping narrative, set within a fantastically realised, but terrifying world."
– Stephen Rhodes
"Too sweet!"
– Sweet Story, Bro (podcast)
"Excellent and deranged worldbuilding."
– A Science Fiction Blog In Search of A Name
"All the best bits of Japanese pop culture rolled into one, with a Dickian twist."
– James Lovegrove, Forbidden Planet
"A gripping thriller."
– Gonzo News
This year's best books, according to the authors of the best books: "A brilliant, searing meditation on the weight of history and the moral responsibility of the individual living in a system founded on intolerable crimes against humanity."
– Ken Liu, for The Fader
"I truly love this book. Yes, it's emotional, but it's so engaging and immersive. I couldn't stop reading it (so glad I picked it up during the weekend and not when I had to work). It's a wonderful book that will keep your attention through the end."
– Purple Owl Reviews
"4.5 out of 5 stars."
– There Will Be Blog
"Prepare yourself for a really graphic read!"
– Subplot A Course (vlog)
"United States of Japan is fantastic, imaginative, and brilliant. This exciting, fast-paced book held my attention at all times, and I think it would make an incredible movie."
– Suko's Notebook
Advance Praise
"It sounds like a perfect patchwork of multiple sci-fi and anime subgenres rolled into one novel."
– Popular Mechanics, 16 Sci-Fi Things to Look Forward To in 2016
"The Man in the High Castle is one of my favourite books of all time. This subversive alternative history story was originally planned as the first in a three part series (one about the Japanese, one about the Germans and a third about the Free State in the middle) however PKD got so distressed researching about the Nazi atrocities that he just couldn't bring himself to write any more. 2016 has two reasons to celebrate this work. Amazon's new TV series and this book."
– Books to Look Out For in 2016, SFBook Reviews
40 Science Fiction and Fantasy Books That Will Rock Your World in 2016 by io9
150 Science Fiction, Fantasy, and Horror Books to Look Forward to in 2016 by Kirkus Reviews
40 Science Fiction and Fantasy Books with Potential to Rock Your World in 2016 by Neatorama
SF, Fantasy & Horror: Worlds Turned Upside Down (Spring SF,F & H top 10) by Publishers Weekly
42 SF/F Books We Can't Wait to Read in 2016 by B&N Sci-Fi & Fantasy Blog
16 Sci-Fi Pop Culture Moments to Look Forward to in 2016 by Esquire
16 in 16: Highly Anticipated SFF! by SFF180
Highly Anticipated Works of 2016 by Alternate History Weekly Update
My 8 Most Anticipated Books of 2016 by LitReactor
On My Radar by Kristin Centorcelli of SF Signal
The United States of Japan Needs You! by Tor.com
MIND MELD: This is What We Want to Read in 2016 Sunil Patel for SF Signal