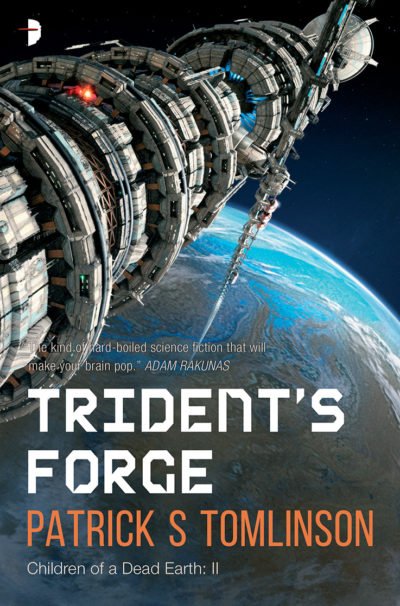 Trident's Forge
Humans have arrived on Tau Ceti G, their new home – but it was already inhabited by the g'tel. The first official meeting ceremony between humans and the g'tel ends in disaster, with deaths on each side. Now Constable Benson is brought out of retirement and paired with a g'tel 'truth-digger' to crack the case so the humans and g'tel have a chance to learn to live together.
---
File Under: Science Fiction [ First Contact | Last Massacre | Truth and Lies | Welcome to Our Planet ]
---
The second book in the Children of a Dead Earth series
Buy the ebook version now – only
£

3.99
SKU: AR9780857664884
They've made it this far. If only that increased humanity's chances on this new planet… Against all odds, the Ark and her thirty-thousand survivors have reached Tau Ceti G to begin the long, arduous task of rebuilding human civilization. Meanwhile, on the other side of the world, Tau Ceti G's natives, the G'tel, are coming to grips with the sudden appearance of what many believe are their long-lost Gods.
But first contact between humans and G'tel goes catastrophically wrong, visiting death on both sides. Rumours swirl that the massacre was no accident. The Ark's greatest hero, Bryan Benson, takes on the mystery. Partnered with native 'truth-digger' Kexx, against both of their better judgement, Benson is thrust into the heart of an alien culture with no idea how to tell who wants to worship him from who wants him dead.
Together, Benson and Kexx will have to find enough common ground and trust to uncover a plot that threatens to plunge both of their peoples into an apocalyptic war that neither side can afford to fight.
First published in massmarket paperback in the US on 5th April 2016
| | |
| --- | --- |
| Series | Children of a Dead Earth |
| Release Date | 2017-07-04 |
| Cover Art | Lee Gibbons |
| Ebook | 5th April 2016 | 9780857664884 | Epub & Mobi | RRP £6.99 / US$6.99 |
| US Print | 4th July 2017 | 9780857664877 | Massmarket Paperback | RRP US$7.99 / CAN$9.99 |
| UK Print | 7th April 2016 | 9780857664860 | Paperback | RRP £8.99 |
| Goodreads URL | Discuss and Review Trident's Forge |
"Another amazing story with all the twists and turns I've come to expect from Patrick S. Tomlinson.  With a great mix of science fiction, action and mystery it is wonderfully written and it's not "world" building but as the author said it's 'race building',  so don't miss out on the turbulent ups and downs that had me undeniably hooked throughout the entire thing."
– Books in Brogan
"A solid read, and one I definitely recommend."
– Strange Currencies
"I could not put Trident's Forge down, and read it in one marathon sitting. That is as much due to the writing style and characters as the non-stop, nail-biting story thread. If you're an outer space sci-fi geek like I am, you're going to love this series!"
– Popcorn Reads
"If you've not tried The Ark, I'd start there first – but come back to this one, it'll reward your effort."
– Sci-Fi and Fantasy Reviews
"Trident's Forge, by Patrick S Tomlinson is a wild space opera story, full of mystery and plenty of action and makes for an entertaining read."
– Looking for a Good Book
"The action does not let up… Well worth a read."
– The British Fantasy Society
"I do love mash-ups, and Trident's Forge has a melange  of a plot combining alien first-contact, frontier intrigue, colony politics, fast-paced action, quirky and irreverent humor and some (minimal) mystery/thriller elements. I am definitely looking forward to the third book in the series."
– The Mad Professah Lectures