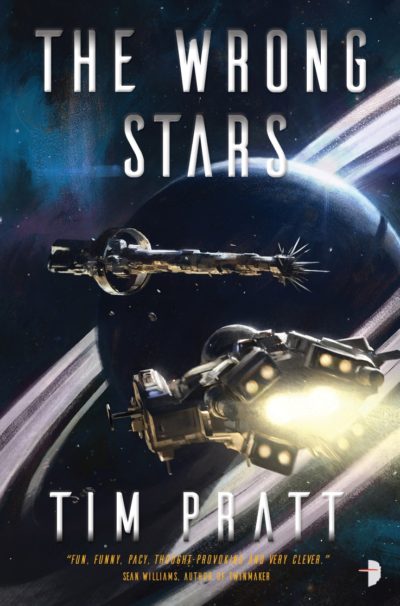 The Wrong Stars
Shortlisted for the 2018 Philip K Dick Award
"Fun, funny, pacy, thought-provoking and very clever space opera – a breath of fresh air."
– Sean Williams, author of Twinmaker
---
A ragtag crew of humans and posthumans discover alien technology that could change the fate of humanity… or awaken an ancient evil and destroy all life in the galaxy.
---
File Under: Science Fiction [ Adrift | Liar Liar | Golden Spiders | Bridge the Void ]
Buy the ebook version now – only
£

2.99
SKU: AR9780857667106
The shady crew of the White Raven run freight and salvage at the fringes of our solar system. They discover the wreck of a centuries-old exploration vessel floating light years away from its intended destination and revive its sole occupant, who wakes with news of First Alien Contact. When the crew break it to her that humanity has alien allies already, she reveals that these are very different extra-terrestrials… and the gifts they bestowed on her could kill all humanity, or take it out to the most distant stars.
| | |
| --- | --- |
| Release Date | 2017-11-02 |
| Series | Axiom |
| Cover Art | Paul Scott Canavan |
| Ebook | 2nd November 2017 | 9780857667106 | Epub & Mobi | RRP £2.99 / US $3.99 / CAN $4.99 |
| US Print | 7th November 2017 | 9780857667090 | Massmarket Paperback | RRP US$8.99 / CAN$10.99 |
| UK Print | 2nd November 2017 | 9780857667083 | Paperback | RRP £7.99 |
Shortlisted for the 2018 Philip K Dick Award
"Fun, funny, pacy, thought-provoking and very clever space opera – a breath of fresh air."
– Sean Williams, author of Twinmaker
"Ridiculously fun with a well-thought-out space opera setting and lots of fancy reveals, and most of all a nice romance between two women who are there for each other when the alien brain spiders start swarming."
– Charlie Jane Anders, author of All the Birds in the Sky
"Pratt's worldbuilding fascinates, and the plot serves up action and big ideas in equally tasty helpings. This is definitely a series to watch."
– Publishers Weekly Starred Review
"Through his wit, dialogue, and vast, diverse world, Tim Pratt has created a space opera for today–one filled with diverse characters and cultures that feel nuanced enough to be real–while still delivering the sense of wonder that made you love the genre in the first place. It yanks readers through the wormhole and refuses to let them go. When's the sequel out?"
– Sam Reader, for Barnes & Noble Sci-Fi & Fantasy Blog
"Pratt gives all his characters and his galactic civilizations depth, his action sequences are page-turners, and the tone stays light-hearted (and sometimes even meta) despite the high stakes. I don't use the word "rollicking" often, but it applies here."
– Book Riot
"Brilliantly fun space opera that reminds me of Killjoys but with more Weird Alien Cool Shit."
– Liz Bourke for Locus
"Bloody hell, but The Wrong Stars is an amazingly good, extremely fun, very satisfying novel… The Wrong Stars is vital, visceral, energetic pulp. The characters are enormously engaging, especially Callie and Elena, whose slow-build romance and mutual uncertainty over does she like me? and developing friendship are, by me, the emotional heart of the book… The Wrong Stars stands out, and right now, for me, stands alone."
– Locusmag
"A really good read that was intelligently written and skilfully put together."
– Two Bald Mages
"Expansive world building, great movement coupled with interesting characterization and a story line that is not only intriguing but brings back the grande space fairing odyssey."
– Koeur's Book Reviews
"The Wrong Stars by Tim Pratt is everything a Science Fiction novel should be."
– Tay's Infinite Thoughts
"I really really loved this book. If you like space opera, give it a read. I'm ready for more, please!"
– Fed on Peaches
"The Wrong Stars is an entertaining sci-fi read in the vein of Firefly." Five stars – excellent
– Occasionally Random Book Reviews
"I'd thoroughly recommend this book."
– Ever the Crafter
"Delightful."
– Nerds of a Feather, Flock Together
"Pratt has started a series that shows massive promise."
– Morpheus Tales Reviews
"Compelling and funny and engrossing to read."
– The 1000 Year Plan
"An entertaining and accessible sci fi opera/romp featuring imaginative aliens, cyborgs, pirates, and space battles."
– Surreal Tavi
"I for one am looking forward to returning and seeing what will happen next. Five stars"
– Mixed Book Bag
"The Wrong Stars gets five stars hands down. A blistering, imaginative javelin of a sci-fi novel which paves the way for even better sequels."
– Alan Brenik Fantasy Author
"If you have a finicky sci-fi fan in your life with a hankering for an intelligent space opera/hard sf reading experience, give The Wrong Stars by Tim Pratt a try."
– Fand and Saucer
"The Wrong Stars is a must buy recommendation from Kafflab.com"
– KaffLab
"The Wrong Stars manages to create the mood of a fascinating large-scale space adventure and never slip into tedious explanations for the details of the setting. A rare achievement!"
– Cray Days
"The Wrong Stars is pure entertainment, science-fiction pulp at its best."
– City on the Moon
"The Wrong Stars is a charming and breezy space opera with some big action, a looming galactic threat, and a whole lot of fun."
– Nerds of a Feather
"Fast-paced action scenes, ridiculously strange aliens with a brilliantly twisted and hilarious approach to first contact with humanity, and wise-cracking crew members… Tim Pratt's first space opera is a very enjoyable ride."
– Intellectus Speculativus
"The Wrong Stars is excellent."
– Greg Reviews SciFi
"It's a fun little send-up of a bunch of sci-fi tropes that pokes fun at many staples of the genre. I fully plan on reading the next one in the series and checking out some of Tim Pratt's other works."
– Versions of the World
"I was well entertained, highly recommended to most of you, especially if you enjoyed Chambers."
– Eating Muffins
"A fun space opera."
– Controlling the Transmissions
"I enjoyed the heck out of The Wrong Stars. It's a refreshingly fun, hard to put down book. I strongly recommend it, and I can't wait for a sequel!"
– The Illustrated Page
"I really enjoyed reading this book and will pick up the sequel without hesitation. It's a good, fun read, and the Liars are wonderful additions to space opera aliens."
– Speculative Chic
"A lot of fast paced action and daring adventure."
– being Ernest
"Pratt's The Wrong Stars is purely, undeniably, excellent science fiction."
– Book Wyrm
"The book is excellent. If you like Dark Matter, Firefly, or Farscape, you should definitely read The Wrong Stars.
– Goddess in the Stacks
Praise for Tim Pratt
"Pratt shows genuine talent. A writer to watch."
– Publishers Weekly
"Tim Pratt is in the vanguard of the next generation of master American fantasists."
– Jay Lake, John W Campbell Award-winning author of Into the Gardens of Sweet Night
"Exciting and compulsively readable."
– Romantic Times
"Tim Pratt lures you in with his writing style and penchant for the dramatic and dangerous."
– British Fantasy Society
"A gifted and imaginative author."
– Bookslut
"If there is any justice at all in this universe, Tim Pratt will someday be as wealthy and famous as Neil Gaiman."
– The Green Man Review
"His stories have moved me, enchanted me, frightened me… and always leave me wanting more."
– Terri Windling, World Fantasy Award-winning editor of Year's Best Fantasy and Horror