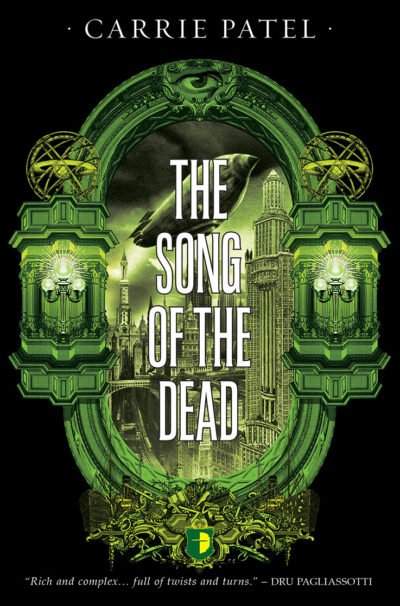 The Song of the Dead
"Carrie Patel's post-Catastrophic world has become progressively more rich and complex over the course of her trilogy… [This] engaging political fantasy is full of twists and turns, and The Song of the Dead especially stands out for its imaginative, memorably described characters and settings."
— Dru Pagliassotti, author of the Clockwork Heart trilogy
---
Finally, the lost histories of the Catastrophe will be revealed and with them the ultimate fate of the buried city of Recoletta in the dramatic conclusion to Carrie Patel's captivating trilogy.
---
File Under: Fantasy [ Day of Execution | Sky High | We are the Dead | Nature of the Catastrophe ]
---
The third book in the Recoletta series
Buy the ebook version now – only
£

3.99
SKU: AR9780857666109
With Ruthers dead and the Library Accord signed by Recoletta, its neighbours, and its farming communes, in different parts of the city Inspector Malone and laundress Jane Lin are both in limbo as the city leaders around them vie for power.
A desperate attempt to save Arnault from execution leads to both Malone's arrest and Jane's escape. They must pursue each other across the sea to discover a civilization that has held together over the centuries. There they will finally learn the truths about the Catastrophe that drove their own civilization underground.
| | |
| --- | --- |
| Release Date | 2017-05-02 |
| Series | Recoletta |
| Cover Art | John Coulthart |
| Ebook | 2nd May 2017 | 9780857666109 | Epub & Mobi | RRP £6.99 / US$6.99 / CAN $7.99 |
| US Print | 2nd May 2017 | 9780857666086 | Massmarket Paperback | RRP US$7.99 / CAN$10.99 |
| UK Print | 4th May 2017 | 9780857666093 | Paperback | RRP £8.99 |
| Goodreads URL | Discuss and Review The Song of the Dead |
"In the riveting Recoletta series, Carrie Patel is a cultural excavator incisively carving out the recesses of human nature, digging up fossils that reveal both the physical geography of a collapsed United States as well as the existential cartography of humanity. The trilogy is a moving paean wrapped in the rhythms of a steampunk dystopian alternate history that rings with pain, hope, and resistance in a song that will awaken even the dead."
– Peter Tieryas, author of United States of Japan and Bald New World
"It's got something for everyone. There's the great secret of the Catastrophe, which shattered the land above Recoletta. There's air battles, train robberies, betrayals. A whiff of the romantic (as well as of romance) runs through the pages, and if Malone and Jane seem to plunge from the frying pan into the fire quite often – well, it certainly kept me turning pages. There's some great character moments here, as well as some smartly written dialogue – and the plot runs along nicely. It kept me guessing and kept me reading late into the night. If you're looking to start a new series, then it's worth going back to The Buried Life and working your way through the series. If you're looking for a conclusion to the story of Recoletta, then I can recommend this wholeheartedly."
– SF and F Reviews
"Patel does it again. This is another great story that takes us from the buried city of Recoletta, to the farming communes, onto a flotilla of ships across the ocean and the Continent where Arnault's big secret is revealed. I found the resolution of the plot arc very satisfying and Patel did a great job of tying up all the individual plot threads into one satisfying conclusion. It is hard to say much more without risking giving too much away. Suffice to say you will need to find out for yourself."
– The Qwillery
"The Song of the Dead is my favorite book of the series."
– One Writer's Journey
"It's got something for everyone… I can recommend this wholeheartedly."
– Sci-Fi and Fantasy Reviews
Praise for the Recoletta series
"With Regency-era sensibilities and Agatha Christie's flair for the subtle conundrum, Patel's debut novel introduces readers to a subterranean city of the future, centuries after what is dubbed 'The Catastrophe', and beautifully manages the delicate balance between entertainment and social commentary. The subtly fantastical story is resplendent with surprisingly deep villains, political corruption, and a gripping whodunit feel."
– Starred Review, Publishers Weekly
"The Buried Life is a dark, imaginative steampunk gem – tailor-made for mystery fans and history nerds alike, with plenty of cops-and-robbers to keep you on your toes. This is a very fine contribution to the genre."
– Cherie Priest, author of Boneshaker and Maplecroft
"What Patel is giving the characters (and the reader) in this changed portrayal is an understanding of consequences. The old Recoletta is dead, but the birth pains of the new one aren't especially pretty. Still, from a setting point of view, Patel has spun together a vivid world, one which is different enough from our own to be fascinating, and similar enough that we empathise with the characters as they struggle within it."
– Sci-Fi and Fantasy Reviews