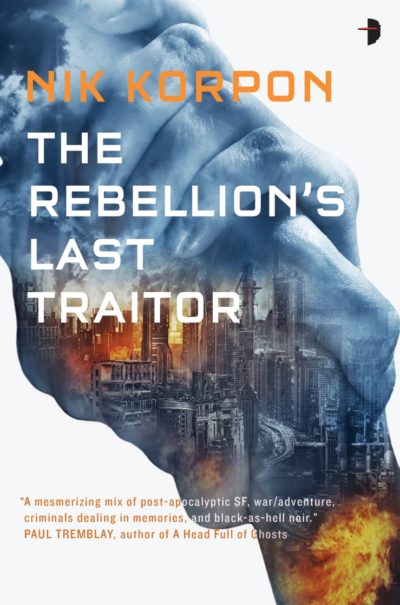 The Rebellion's Last Traitor
"Nik Korpon's The Rebellion's Last Traitor is a mesmerizing mix of post-apocalyptic F/SF, war/adventure, criminals dealing in memories, and black-as-hell noir. It's full of attitude and atmosphere, and I couldn't put it down."
– Paul Tremblay, author of A Head Full of Ghosts and Disappearance at Devil's Rock
---
In a dystopian world ravaged by war and environmental collapse, one man fights history to discover the truth about his wife and child.
---
File Under: Science Fiction [ Memory Thieves | Collaborators | Brothers In War | City on Fire ]
---
The Memory Thief Book One
Buy the ebook version now – only
£

2.99
SKU: AR9780857666574
After decades of war, the brutal Tathadann Party restored order in Eitan City by outlawing the past in order to rewrite history. Memory became a commodity – bought and sold, and experienced like a drug.
For ten years, Henraek and Walleus led a people's rebellion, until Walleus recognized what the others couldn't: the Struggle was doomed. He joined the Tathadann, and Henraek, hurt and angry, incited a riot that killed his own wife and son.
Now Henraek works as a Tathadann memory thief, draining citizens' memories while mourning his family. The people call him a traitor to his face; Tathadann spies whisper he's a traitor behind his back. Walleus protects Henraek, but Henraek knows that loyalty has its limits.
Then everything changes when Henraek harvests a memory of his wife's death. He will do whatever it takes to learn the truth – even if it means burning Eitan City to the ground.
| | |
| --- | --- |
| Release Date | 2017-06-01 |
| Series | Memory Thief |
| Cover Art | Steve Stone |
| Ebook | 1st June 2017 | 9780857666574 | Epub & Mobi | RRP £6.99 / US$6.99 / CAN $7.99 |
| US Print | 6th June 2017 | 9780857666567 | Massmarket Paperback | RRP US$7.99 / CAN$10.99 |
| UK Print | 1st June 2017 | 9780857666550 | Paperback | RRP £8.99 |
| Goodreads URL | Discuss and review The Rebellion' |
"The Rebellion's Last Traitor is an explosive tale of betrayal and revenge in which allegiances prove as dangerous and unreliable as the memories the citizens of Eitan City buy and sell. Korpon crosses genre lines with ease, and imbues this post-apocalyptic tale with the rhythm and immediacy of crime fiction."
– Chris Holm, Anthony Award-winning author of Red Right Hand and The Killing Kind
"Soldiers and memory. Memory thieves. What you can and can't recall, what you wish could forget, what you wish you had back. Nik Korpon takes you there and back, in writing as fine as I've seen and with a story you'll remember."
– Stephen Graham Jones, author of Mongrels
"The Rebellion's Last Traitor is a delicious dark delight of sci-fi noir, with an atmosphere that virtually drips from every page and an ingenious story that will hook you from the very start."
– Adam Christopher, author of Made to Kill
"Dark but compelling, with a plot that pulls you into turning page after page needing to know what happens next."
– Jena Brown Writes
"A sharp and clever novel that manages to discuss difficult themes without ever being sneaky about it."
– Dead End Follies
"A layered, smart novel that has something in it for just about any reader. 10/10"
– Pen Boys Review
"Korpon's take on speculative fiction is unique."
– Crimespree Magazine
"'Reach off the page and grab you' characters and brutally intricate world building… a well paced, challenging read."
– SFF World
"A fun and interesting take on the aftermath of a rebellion and what might cause a new one to rise up."
– The Bibliotaph
"Korpon's writing style rapidly draws you in as the character's confidante, and their motivations are very cleverly interwoven… It's definitely worth picking up for those who like a well paced, challenging read."
– MillyMollyMo
"A grittier, more grounded in reality Blade Runner… Definitely pick this book up before it becomes a Netflix show or blockbuster movie."
– Storgy
Praise for Nik Korpon
"Stay God, Sweet Angel is what happens when a story breaks loose from its moorings, burrows into the reader's psyche, and lives there, throbbing like the delirious ghost of William S. Burroughs."
– Rayo Casablanca, author of 6 Sick Hipsters and Very Mercenary
"The pop culture apocalypse is now, and Nik Korpon is one of its darkest new voices."
– Anthony Neil Smith, author of Hogdoggin' and All the Young Warriors