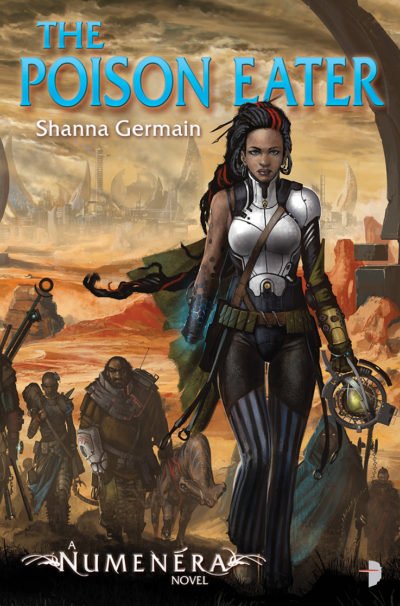 Numenera – The Poison Eater
"A carefully woven tale that builds slowly, rewarding patient readers with revelation after revelation, building to a crescendo at the climax."
– Barnes & Noble Sci-Fi & Fantasy Blog
---
Ex-martyr turned city defender has to choose between herself and her duty when her past comes back with a vengeance.
---
File Under: Fantasy [ Enter the Ninth World | Poisoned Memories | Past & Present | Every Heart a Death ]
---
The first book of Numenera
Buy the ebook version now – only
£

3.99
SKU: AR9780857666369
Poison never lies.
Talia was once one of the twelve martyrs of the forgotten compass, a prisoner of the unhuman creatures known only as the vordcha. She barely escaped that life with her body and soul intact.
Now she has a new life as a poison eater in the city of Enthait. Here she is hailed as one of the city's protectors. No one knows her history. No one has asked about her past. She's been here long enough that Enthait is her home now, these are her people. She loves them and they her.
But in the Ninth World, the past is a living, breathing thing. And when it hunts you down, you can run. You can fight. Or you can die.
| | |
| --- | --- |
| Release Date | 2017-01-17 |
| Series | Numenera |
| Cover Art | Ben Wootten |
| Ebook | 17th January 2017 | 9780857666369 | Epub & Mobi | RRP £6.99 / US$6.99 / CAN $7.99 |
| US Print | 17th January 2017 | 9780857666352 | Trade Paperback | RRP US$9.99 CAN$12.50 |
| UK Print | 19th January 2017 | 9780857666345 | Paperback | RRP £8.99 |
| Goodreads URL | Read and Discuss The Poison Eater |
"Despite the setting and sci-fi/fantasy blending, this novel is an intense character study of a woman trying to literally rebuild herself. The writing is lovely and borders on the poetic. Equally impressive is that despite the strange setting, language and terms, and wondrous tech, Germain grounds the world through the characters and keeps the focus on them. The mystery of the poison-eating ritual and the looming threat of invasion drives the story, but the focus is ever on Talia, her past, and an unsure future. Overall, this is a fantastic sci-fi/fantasy novel but readers of any genre will fall deeply into Talia's story."
– San Franciso Book Review
"I really enjoyed it. It is absolutely completely other worldly."
– Ever the Crafter
"An enjoyable diverse fantasy read with prominent sci-fi elements that was unique, well-written and complex."
– Cover 2 Cover
"For fans of Sci-Fi, Fantasy, Dystopia, and books built on the structure from a RPG, this is a great read."
– Pop Culture Beast
"Entertaining enough that I gladly read the whole thing and enjoyed the ride."
– Blogger's Bookshelf
"Germain's realization of Enthait is vivid, to the point that the reader can taste the dust in the air and murmurs of a living city like bees buzzing around the hive, and her ability to twist a story round history and half-dreamed memories builds the kind of novel that is tantalizingly missing just the right pieces to pull the reader in until the end."
– King of Books
"Readers who enjoy their fantasy and science fiction together need look no further than the mech-enhanced cast of characters in this alt-world fantasy story. Like the work of Kameron Hurley, this novel is bleak, full of tough-as-nails women willing to do what they must to survive, yet tells a universal story that many fantasy fans will relate to."
– I Am Booking
"A rich and vivid read. Highly recommended!"
– All Booked Up
"A good and satisfying read, and will definitely appeal to fans of the game."
– Morpheus Tales
"Like the work of Kameron Hurley, this novel is bleak, full of tough-as-nails women willing to do what they must to survive, yet tells a universal story that many fantasy fans will relate to."
– Edge Cases
"It's a fantastic place to play with truth and lies and mystery, and Germain does a great job of it."
– Walking Ledges