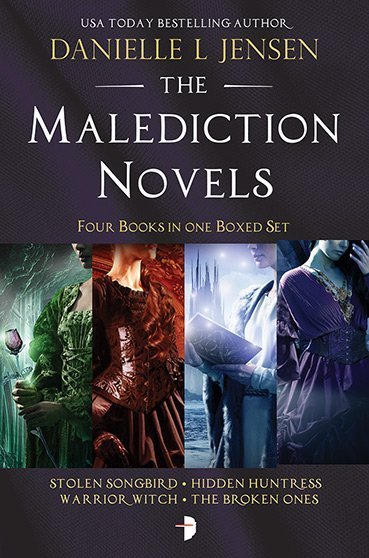 The Malediction Novels Boxed Set
"SO GOOD. I am drowning in feels. If you haven't read the Malediction Trilogy then I seriously implore for you to do it. This series is AMAZING. And it has an amazing book boyfriend (who is MINE) and excellent supporting characters. For me, it is Fantasy at its best!"
– The Reader and the Chef
---
The definitive collection of the Malediction Trilogy, and its prequel The Broken Ones, by USA Today-bestselling author Danielle L Jensen. Presenting the complete adventures of Cécile and Tristan, as they fight for freedom and love, in the magical kingdom of Trollus.
---
File Under: Fantasy
Buy the ebook version now – only
£

9.99
SKU: AR9780857667601
Collects Stolen Songbird, Hidden Huntress, Warrior Witch and The Broken Ones
When Cécile is kidnapped and sold to trolls, the best she can hope for is the cookpot, but instead she finds herself bound to the king's son, Tristan, and at the heart of a brewing rebellion in the Kingdom of Trollus. For centuries, a witch's curse has trapped the trolls in their city beneath the mountain. Is Cécile the one who will free them?
Against all odds, Cécile escapes the king's tyranny, but at a great cost. Now she delves into dark and deadly magic to track down the witch who cursed the trolls. And Cécile might not just be the hunter. She might also be the hunted.
Cécile and Tristan accomplished the impossible, but their greatest challenge remains: defeating the evil that they have unleashed upon the world. As they scramble for a way to protect the people of the Isle and liberate the trolls from their tyrant king, Cécile and Tristan must battle those who'd see them dead. To win, they will risk everything' and everyone.
Sometimes one must return to the beginning… The Broken Ones chronicles the ill-fated love affair between Marc and Pénélope as they struggle to navigate the complex political world of Trollus, where powers on both sides are intent on using them as pawns.
Praise and Reviews for the Malediction Trilogy
"Stolen Songbird is an absolutely wonderful addition to the fantasy genre. The book is full of magic, adventure, outlandish creatures, and at its heart is one of the most touching love stories I have ever read … This novel takes a very old fairytale cliché, and turns it into a stunningly original and beautiful story."
– Avid Reviews
"Amazing world building. Incredible writing. Awesome characters. No dull moments. Fierce and not-whinny-and-annoying heroine. And a swoon-worthy Troll prince.  Stones and sky! I was completely engulfed in the world of Trollus. It felt like I have been living inside its world throughout the entire time I'm reading this incredible book."
– The Nocturnal Fey
"Overall, Hidden Huntress undeniably surpasses as a sequel to Stolen Songbird. I was blown away by the ending and cannot wait for book 3! Danielle L. Jensen has shaped an underground city of magical creatures into one of my most valued book worlds – and that makes me extremely excited for future works."
– Life Writings of a Reader
"Every once in a while you run across a new series that sucks you in and you know you will be anxiously following every installment…Stolen Songbird book 1 of The Malediction Trilogy is just such a book."
– Tome Tender
"The underground kingdom was an astounding setting, it was just… I don't even have words, it felt real!"
– Paperback Wonderland
"This book is such a beautiful story.  A world filled with fantasy, romance and politics.  An introduction to a hidden, magical place, full of a race that we thought only existed in fairytales.  So well described, you have no problems imagining it.  You get to experience Cécile's emotions as she is torn away from her dream life, forced by a magical bind in marriage to a prince of a cruel race.  Grow with Cécile as things begin to change, making new friends, experiencing feelings she didn't think would be possible and discovering powers that she never realised she had. So what are you waiting for, get this book added to your Goodreads shelf, spread the word to your fellow readers and get ready to purchase this book on the 1st April 2014.  This is going to be another amazing series!"
– Opinionated Cupcakes
"Love, adore, heart-to-freaking-pieces. This kind of book is why, why, why people need to look more closely at YA fantasy if they don't already. Let Jensen show you how it's done. Topping Stolen Songbird was always going to be a difficult task, but naturally Jensen manages it. The bar was set and so she vaulted over it, off into the sunset to a fanfare of praise."
– Jet Black Ink
"This is a wonderfully written story, and as the second novel in this series, it perhaps even supersedes the first as it morphs in to entirely new directions."
– Quirkathonic
"I would highly recommend this book to everyone! It's action-packed, full of magic and has great characters.  My only regret is that I'll have to wait such a long time for the third book."
– The Fictional Reader
"This was an absolutely fantastic YA fantasy novel. There is a ton of wonderful magic and intrigue in this book. I love the chemistry between Cecile and Tristan and how they are both striving to make the kingdom a better place for all involved. I really enjoyed this book a ton and am very excited to see how the story wraps up in the final book of this series. This series is highly recommended to fans of intrigue heavy fantasy."
– Hidden In Pages
"After having LOVED Stolen Songbird, Hidden Huntress had some big shoes to fill as far as expectations go. And I am happy to say that Danielle Jensen did not disappoint. Although Hidden Huntress was a different kind of story, it was every bit as exciting and wildly imaginative as its predecessor."
– The Quiet Concert
"A spectacular sequel to one of my all-time favourite books. With dark magic, a cursed kingdom, and a witch who doesn't want to be found, Cécile seems to be in more danger outside of Trollus than she was trapped within the mountain.Her quest had me racing through the story and being back in this world made me so happy. And Tristan is as dreamy as ever. I absolutely adore this series."
– Kate Ormand
"This book felt like a roller coaster to me, in the best way possible. I loved how Jensen managed to throw me off still by revealing aspects about certain characters. How she managed to change my mind on characters I felt very strongly about. In my opinion, this is a great example of a final book done right."
– The Fictional Reader
"From all the endings of series I've loved before, Warrior Witch has got to be the most painfully beautiful I've read."
– The Nocturnal Fey
"This book was so fantastic."
– Words I Write Crazy
"Battles, romance, snarky characters, and copious heart-wrenching scenes. I admittedly cried a few times – the end turned me into a blubbering fool (just warning you). It's so emotional. If you haven't had a chance to pick up this series yet, and are a fan of fantasy with lots of magic, amazing characters and a wonderful fantasy world – I would highly recommend it."
– N3rdbomber
"Warrior Witch is a fabulous conclusion to a compelling series. This is just as rich and satisfying and complex as the other ones in the series. It finishes on a very strong note and is wonderful throughout. Go and read!"
– Librarian on the Lake
"The author excels at bringing to life the Troll world and its troubles. While intrigue and mystery are skillfully woven throughout the story, the romance is what makes the story a compelling read, especially for those who recognize these characters from later installments. Readers who pick this up unknowingly will be driven to finish the series because of the cliffhanger finale."
– San Franciso Book Review
"The author challenged my preconception and presented me with a unique story. I was wrapped up into the world of Trollus and the fates of Tristan, Marc, Penelope and the King. Fans of Fantasy should give this series a try."
– Love of the Written Word
"I loved delving back into the world of Trollus and seeing a whole other side of things before Cécile arrives into the picture. I loved how this story played on my heartstrings and made me ache for the characters. I loved Danielle L Jensen and her stories and the way she writes. I love the world building and I feel like she is REALLY good at making you connect with the characters and the story. I can't wait to read more from this author. I love her books and I love this whole series. It's definitely a must own!"
– Book Nut
"Gorgeously written and incredibly bittersweet, The Broken Ones is the perfect prequel I didn't know my heart needed. Danielle L Jensen expertly comes back to the beginning, and she certainly doesn't miss a beat."
– YA Book Central
"I absolutely loved reading this book! It was so amazing to be in the world before Cecile, to see these friends together when Pénélope was still alive, when she and Marc were falling in love. That love changed the group's dynamics, and I loved reading about it!"
– Words I Write Crazy
"Jensen's ability to create a mood is nothing short of brilliant, engaging and full of torment. Her ability to track the political scheming and constant intrigues leads to finales that are both tragic and unpredictable. A wonderful addition to a brilliant trilogy!"
– Books Before Bandaids
"It was wildly unpredictable and wholly thrilling to read this book – I honestly couldn't put it down because I was so busy, my eyes burning through the pages as I was afraid what might befall the characters."
– YA On My Mind
"I do love the world. I love the intrigue, and the schemes, and evil plots. I love the magic and the messed up nature of it all. And I want everyone to go check it out!"
– The Book Cover Girls
"Both fascinating and so very heartbreaking! If you've read the Malediction Trilogy, you really NEED to read this one and if you haven't read the trilogy yet, what are you waiting for??"
– In Love With Handmade