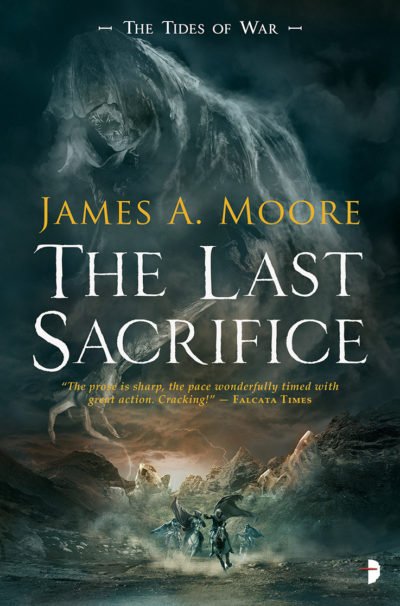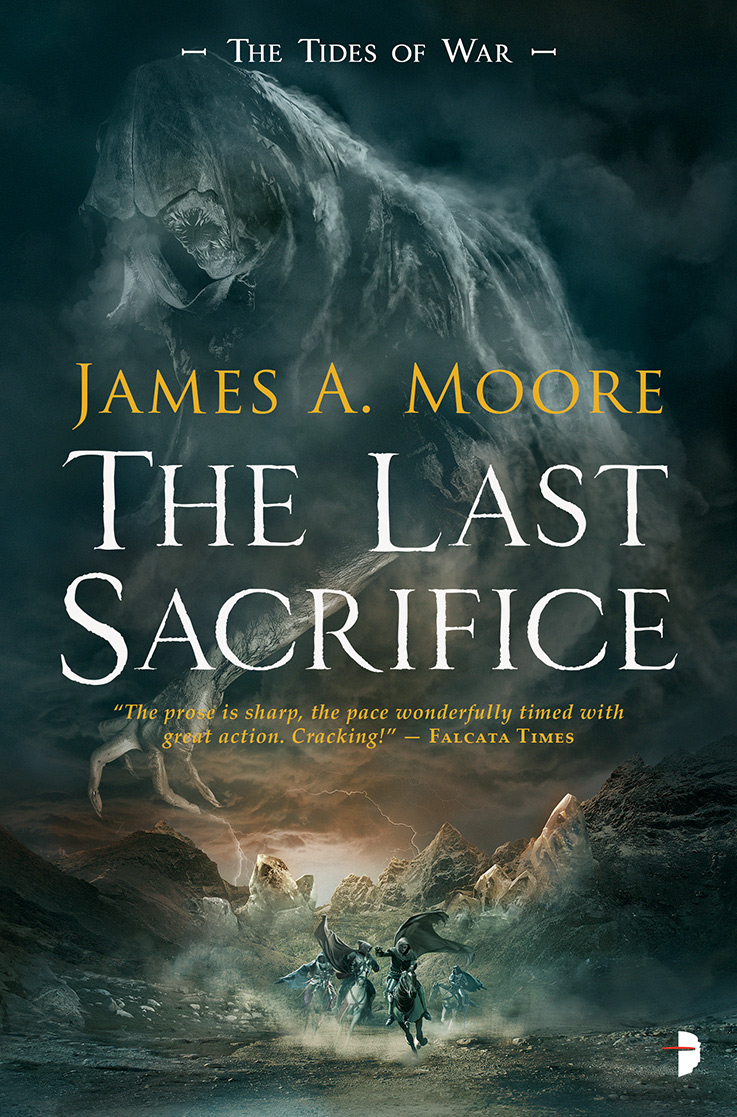 The Last Sacrifice
"Gripping, horrific, and unique, James Moore continues to be a winner, whatever genre he's writing in. Well worth your time."
– Seanan McGuire, New York Times bestselling author of the InCryptid and Toby Daye series
---
A powerful man defies the gods themselves in order to save his family from being sacrificed to divine whims.
---
File Under: Fantasy [ Hunted by the Gods | A Great Refusal | By Land and Sea | The Ultimate Sacrifice ]
---
Book one in the Tides of War series
Buy the ebook version now – only
£

2.99
SKU: AR9780857665454
Since time began the Grakhul, immortal servants of the gods who choose who lives and who dies when it comes time to make sacrifices to their deities, have been seeking to keep the world in balance and the gods appeased. When they take the family of Brogan McTyre to offer as sacrifice, everything changes.
Brogan heads off on a quest to save his family from the Grakhul. The decision this time is costlier than they expected, leading to Brogan and his kin being hunted as criminals and the gods seeking to punish those who've defied them.
| | |
| --- | --- |
| Release Date | 2017-12-05 |
| Series | Tides of War |
| Cover Art | Alejandro Colluci |
| Ebook | 3rd January 2017 | 9780857665454 | Epub & Mobi | RRP £6.99 / US$6.99 / CAN $7.99 |
| US Print | 5th December 2017 | 9780857667137 | Massmarket Paperback | $7.99/$10.99 | 3rd January 2017 | 9780857665447 | Trade Paperback | RRP US$14.99 CAN$18.99 |
| UK Print | 5th January 2017 | 9780857665430 | Paperback | RRP £8.99 |
| Goodreads URL | Discuss and review The Last Sacrifice |
"James A Moore is the new prince of grimdark fantasy. His work is full of dark philosophy and savage violence, desperate warriors and capricious gods. This is fantasy for people who like to wander nighttime forests and scream at the moon. Exhilarating as hell."
– Christopher Golden, New York times bestselling author of Snowblind
"With The Last Sacrifice, James A Moore has triumphed yet again, delivering a modern sword and sorcery tale to delight old and new fans of the genre.  With its intriguing premise, stellar cast of characters, and flavorful horror elements, this is damn good stuff."
– Bookwraiths
"This was a very good read."
– Purple Owl Reviews
"Epic fantasy at its best."
– Amanda J Spedding
"Grimdark as fuck!  So in a word "'GREAT'".
– The Blogin' Hobgoblin
"I liked The Last Sacrifice a great deal.  I've always enjoyed Moore's work and don't see that changing anytime soon.  He just keeps getting better.  Check this one out and see."
– Adventures Fantastic
"What's Moore to say? People fighting Gods? Bring it! This is a great addition to James A. Moore's line up."
– The Book Plank
"I love it. This is a story that turns the genre story arc on its head, mixes up the motives of heroes and villains, and muddies the waters of divine intervention. A fantastic, surprising start to a major new series."
– Beauty in Ruins
"The Last Sacrifice is a solid start to the sordid grim-dark tale documenting the end of a bleak violent world."
– Smorgasbord Fantasia
"I found The Last Sacrifice to be highly engaging, magical with a distinct grimdark feel and the world herein is richly imagined and cleverly wrought and brought to life. I can't wait to read the sequel and I am now also eager to check out the other works by this author. I highly recommend this book to all lovers of fantasy."
– Cover 2 Cover
"I'd recommend this and I'll be keeping an eye out for the next one. More evil Grakhul/He-Kisshi action please Mr Moore!"
– Ribaldry's Books
"I was just turning pages as fast as my eyes could devour the words."
– On A Dark Stormy Review
"Moore has laid the groundwork for a trilogy that promises to be loaded with terrifically grim fantasy storytelling. I might even call it epic. There is a lot of swift, merciless violence in this book, mingled with an undercurrent of very welcome, if very dark, humor. All of it together takes me back to what made me giddy about epic fantasy way back when. I'd say I'm happy to be back, but I'm not sure that's quite the right word for a book packed with this much violent incident. Let's say instead that I'm bloody satisfied."
– Rich Rosell for the B&N Sci-Fi & Fantasy Blog
"Fast-paced fantasy that you simply can't put down. Great action adventure."
– Morpheus Tales
"The Last Sacrifice is an enthralling fast-paced book with ass-kicking characters who could only grow stronger as the series progresses."
– Zirev
"James A Moore throws in elements of horror, dark fantasy, low magic and some amazing world-building into this boiling mix that somehow seems to work. Spinning off the staid old genre story-lines into a new direction with this epic take on God versus Man, The Last Sacrifice is a solid start to the sordid grim-dark tale documenting the end of a bleak violent world."
– Fantasy Smorgasbord
"The Last Sacrifice will tickle the fancy of any fans of Grimdark fantasy, with its large cast of characters and earth-shattering consequences."
– The Warbler Books
"Fantasy lovers will enjoy this book, and while an emphasis on gritty storytelling and horror elements elevates this from more standard magical creatures or hocus-pocus, it is still an absolute page-turner."
– LeftLion
"The Last Sacrifice is dark and violent with no punches pulled. The worldbuilding is epic in scope but focuses on a select few individuals to flesh out the story." 4.5/5 stars
– San Francisco Book Review
"James A Moore dove into the new series with his unique sense of characters, and built up the story to achieve new concepts while taking elements from some other subgenres to enrich the experience for his readers."
– Fantasy Faction
"4 out of 5 stars"
– I Hate Critics