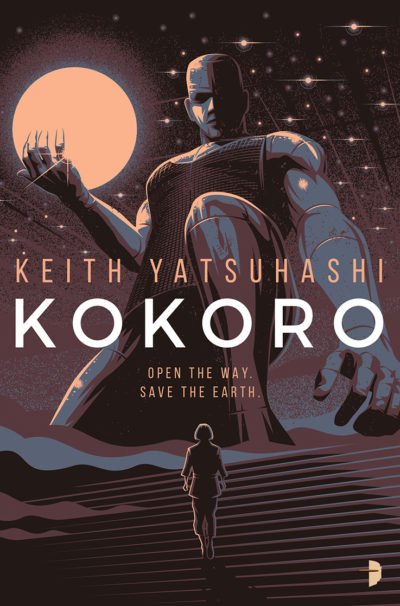 Kokoro
The Prince of Higo wishes to leave his responsibilities and war behind after he accidentally causes the death of his mother and is betrayed by his brother, but his actions will lead him to a war of succession with giant monsters and immense engines of war.
---
File Under: Science Fiction [ Worlds Beyond | The God Machines | Through the Portal | A Singular Girl ]
---
The sequel to Kojiki
Buy the ebook version now – only
£

3.99
SKU: AR9780857666192
On the planet of Higo, without the guidance of the Great Spirits, its people are descending into religious civil war. Baiyren Tallaenaq, Prince of Higo, is exiled after causing the death of his mother.
Freed from his responsibilities and the looming war, he steals their greatest weapon – a giant, sentient, armoured suit – and uses it to open a Portal to a world he never knew existed. A world called "Earth"… home of a magical young woman called Keiko.
| | |
| --- | --- |
| Release Date | 2017-04-04 |
| Cover Art | Thomas Walker |
| Ebook | 4th April 2017 | 9780857666192 | Epub & Mobi | RRP £6.99 / US$6.99 / CAN $7.99 |
| US Print | 4th April 2017 | 9780857666185 | Massmarket Paperback | RRP US$7.99 / CAN$10.99 |
| UK Print | 6th April 2017 | 9780857666178 | Paperback | RRP £8.99 |
| Goodreads URL | Discuss and Review Kokoro |
"If you're interested in fantasy, giant mechs, or even love stories with strong characters, I highly recommend Kokoro. 5 hoots!"
– Purple Owl Reviews
"Kokoro promises a gorgeous, rich new world and an exciting story."
– Syfy Wire
"Ultimately, Kokoro delivers a fast-paced adventure, sweeping us off our feet and into the world of Higo. Delving into new worlds and characters, we see through their eyes and they make their way into our hearts astonishing us with their love, humbling us with their bravery, and making us weep with their pain. While on the surface we see a tale about heroism, action, and finding your calling, beneath we find a story of forgiveness, inner truth, and finding our family."
– Utopia State of Mind
"I recommend this book for readers who like a mix of fantasy and science fiction."
– A Bohemian Mind at Work
"Kokoro is the sequel to Keith Yatsuhashi's book Kojiki and continues where it ended with its masterful blend of Japanese folklore and science fiction. In many ways it is a manga or anime in purely written form and those familiar with that form of storytelling and the tropes that guide that very genre will enjoy it immensely. The difference between the sequel and its predecessor is that Kojiki more felt like an adventure novel, related to tales like Spirited Away, while Kokoro is more reminiscent of Robotech or Knights of Sidonia."
– WARG
"Kokoro is a loving homage to mecha anime and manga. I got really strong Neon Genesis Evangelion vibes throughout the whole book, which was not a bad thing… Really fast, and really engaging."
– Crosshatches
Praise and Reviews for Kojiki:
"I'm a huge fan of books that send me on spiraling internet searches, digital walkabouts that start in one place, and wind up somewhere completely different. Kojiki is one of those books, spinning away from a neat, accessible introduction into an exploration of a myriad of creatures and the worlds to contain them."
– B&N Sci-Fi & Fantasy Blog
"In many ways, Kojiki is a metaphor for discovering your heritage and engaging with your roots, especially as a second-generation immigrant. Rooting the novel in Keiko's real world, relatable struggles gives the story depth and helps anchor its wonderful flights of fancy."
– Fantasy Faction