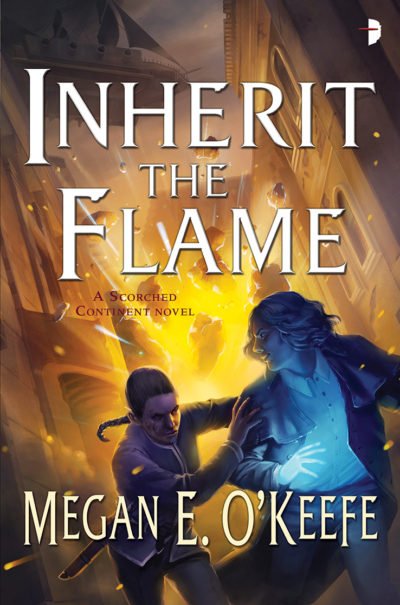 Inherit the Flame
Detan and company return to his aunt's city to find it under seige by several factions. His aunt strikes a bargain with Thratia to protect the city from the imperial army, but Detan won't have it and launches a desperate plot to make sure that in the end, Thratia loses as well. 
---
"Read the trilogy; it is very much worthy of your attention."
– Morpheus Tales
---
File Under: Fantasy [ Fire With Fire | Doppel Trouble | Worldbreaker | A Cunning Plan ]
---
The third book in the Scorched Continent series
Buy the ebook version now – only
£

3.99
SKU: AR9780857664976
Detan Honding is determined to survive this war, even when caught between not one but two besieging armies! After rescuing the renowned engineer Nouli from the clutches of the empire, the valiant rogue has returned to his aunt's city – to find it under siege by Thratia's army. With Nouli's help, they manage to turn back the tide, at least until imperial forces descend, prepared to hammer the Thratian force against the anvil of the city's walls. Worse yet, the imperial advance is aided by an elite force of dark magicians.
His aunt is forced to forge an uneasy alliance with Thratia to keep the city from falling back under imperial control – but Detan's wary. While Thratia and his aunt bring their forces to bear against the new threat, Detan puts his own plans into motion – to ensure that when the final blow is dealt, Thratia and her army will find themselves on the other side of the city's walls.
| | |
| --- | --- |
| Series | Scorched Continent |
| Release Date | 2017-04-04 |
| Cover Art | Kim Sokol |
| Ebook | 4th April 2017 | 9780857664976 | Epub & Mobi | RRP £6.99 / US$6.99 / CAN $7.99 |
| US Print | 4th April 2017 | 9780857664969 | Massmarket Paperback | RRP US$7.99 / CAN$10.99 |
| UK Print | 6th April 2017 | 9780857664952 | Paperback | RRP £8.99 |
| Goodreads URL | Discuss and Review Inherit the Flame |
"A worthy conclusion to the series."
– Sci-Fi and Fantasy Reviews
"This is the ending that the series deserved."
– Ever the Crafter
"Great chases, grand uses of magic, and great banter."
– Mental Megalodon
"Read the trilogy; it is very much worthy of your attention."
– Morpheus Tales
Praise and Reviews for the Scorched Earth series
"Blend two lovable rogues, a magical doppelganger, and a nasty empire, and you have O'Keefe's Steal the Sky. It's like an epic steampunk Firefly."
– Beth Cato, author of The Clockwork Dagger
"The storyline and world building were impeccable as were the depth of the characters that inhabited it. I am really looking forward to more from this author."
– Koeur's Book Reviews
"The tension rises throughout, leading up to an action packed third act, with some characters living up to their full potential. Mysteries keep unfolding, and you never truly learn the whole story, which means that there is now yet another series that I'm eagerly anticipating the follow up to."
– Fantasy Faction
"It's a buddy tale, a heist caper, a socioeconomic thriller and a steampunk-seasoned fantasia all at once. And it fires beautifully on all cylinders."
– Jason Heller for NPR
"Megan O'Keefe's stories are always vivid and compelling."
– Tim Powers, author of Declare and Three Days to Never
"Megan O'Keefe's prose is so full of fascinating twists and delights, you won't want to put it down. Go ahead, open it up: I dare you!"
– David Farland, author of the bestselling Runelords series
"Come for the heist, stay for the inventive world building."
– Kirkus Reviews
"The tension rises throughout, leading up to an action packed third act, with some characters living up to their full potential. Mysteries keep unfolding, and you never truly learn the whole story, which means that there is now yet another series that I'm eagerly anticipating the follow up to."
– Fantasy Faction
"Steal the Sky is a fun secondary-world adventure with plenty of exciting action, surprising twists, and wonderful payoffs to small seeds skillfully laid throughout the story."
– Lightspeed Magazine
"I must confess that I tore through this instalment, and I'm really looking forward to the next one."
– Sci-Fi and Fantasy Reviews
"I am so glad to say that this book lived up to my pretty high expectations perfectly. I loved it. Detan is back and just as cocky as ever."
– Ever the Crafter
"Break the Chains is a fantastic follow up to Steal the Sky. This is what anticipating a new fantasy series should feel like!"
– The Conversationalist
"An excellent sequel to the excellent Steal The Sky."
– Reading Trance