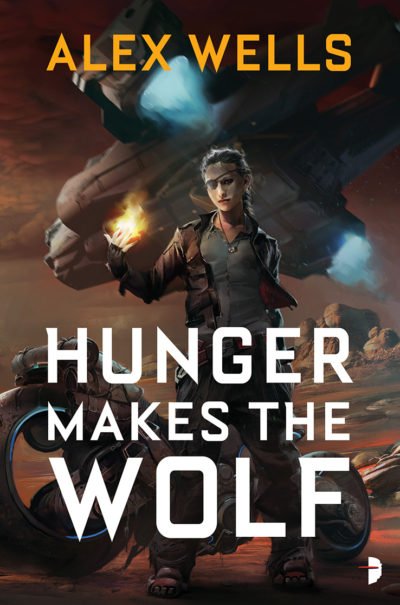 Hunger Makes the Wolf
WINNER OF THE KITSCHIES' GOLDEN TENTACLE AWARD 2017
"Gritty and engrossing, I definitely want Hob on my side when the revolution comes."
– Mur Lafferty, John W Campbell Award-winning author of The Shambling Guide to New York City
---
When Hob Ravani's uncle turns up dead, and her childhood friend gone without a trace, Hob will put everything on the line to find out what happened. With her adoptive father, the leader of the mercenary company the Ghost Wolves, Hob will defy TransRift, the company that owns their entire world.
---
File Under: Science Fiction [ Road of Fury | Hob's Angels | Ghost on the Highway | The Weatherman Says ]
Buy the ebook version now – only
£

2.99
SKU: AR9780857666451
The strange planet known as Tanegawa's World is owned by TransRifts Inc, the company with the absolute monopoly on interstellar travel. Hob landed there ten years ago, a penniless orphan left behind by a rift ship. She was taken in by Nick Ravani and quickly became a member of his mercenary biker troop, the Ghost Wolves.
Ten years later, she discovers that the body of Nick's brother out in the dunes. Worse, his daughter is missing, taken by shady beings called the Weathermen. But there are greater mysteries to be discovered – both about Hob and the strange planet she calls home.
| | |
| --- | --- |
| Release Date | 2017-03-02 |
| Series | Ghost Wolves |
| Cover Art | Ignacio Lazcano |
| Ebook | 2nd March 2017 | 9780857666451 | Epub & Mobi | RRP £6.99 / US$6.99 / CAN$7.99 |
| US Print | 7th March 2017 | 9780857666444 | Massmarket Paperback | RRP US$7.99 / CAN$10.99 |
| UK Print | 2nd March 2017 | 9780857666437 | Paperback | RRP £8.99 |
| Goodreads URL | Discuss and Review Hunger Makes the Wolf |
"While the backdrop may be arid and dusty, Alex Well's debut is lush with ideas, characters and invention. A story of chosen families, the different battlefields we choose and that are chosen for us and what it means to be more or less than human, Hunger Makes The Wolf does the near impossible; takes a sub genre that was looking largely played out and uses it as the foundation stone for something new, rich and strange."
– Winner of The Kitschies' Golden Tentacle Award for Best Debut 2017
"Gritty and engrossing, I definitely want Hob on my side when the revolution comes."
– Mur Lafferty, John W Campbell Award-winning author of The Shambling Guide to New York City
"It has a wonderful weird west vibe and some of the phrasing is simply delicious. Hob is a wonderful character to follow – hers is a solid journey and I got a bit choked up when Hob stood up for what she wanted. Alex crafts a host of fascinating characters here – the Weathermen, the Bone Collector – and I reckon you're going to love their adventures."
– E Catherine Tobler, author of the Folley & Mallory Adventures
"Take a dash of Dune, a bit of Fury Road, and a whole lot of badass female characters and you've got Hunger Makes the Wolf – a really, really bloody awesome debut from Alex Wells."
– Emma Maree Urquhart, author of Dragon Tamers
"This thing drips with tension – between characters, within the story itself – that makes it impossible to put down. I needed to know what would happen next, what would Hob do. Tanegawa's World may be a desolate and uninviting terrain, but it provides fertile ground for the characters,who truly blossom on the page."
– Shana DuBois for B&N Sci-Fi & Fantasy Blog
"If you're craving an inclusive found family story that's also an outerspace Western, and/or a new read in the vein of Becky Chambers' Wayfarer series, Felix Gilman's The Half-Made World, and Firefly, you need this on your shelf."
– Book Riot
"It's a science fiction Western thriller, and it is great, and I'm really, intensely, eagerly looking forward to the sequel. This is the sort of thing I really like. UP WITH THIS SORT OF THING."
– Liz Bourke, for Tor.com
"Hunger Makes the Wolf is an exhilarating ride that makes you think, with characters who practically demand rereading. If you care about genre, or labor rights, or female friendships, or having a really good time with a book, read it."
– Strange Horizons
"A fast, fun, enormously compelling science fiction novel in the 'space western planetary opera' mode."
– Locus
"The story is a fast-paced, edge-of-your-seat space opera, tied together with the characters' struggles, adventures, and mishaps. If you've ever thought, 'You know what Dune needed more of? More magic and a biker gang!' then this book was written for you."
– The Canary Review
"I was expecting a fun, quick space adventure read, but this story is so much more than that."
– Helen Lindley
"This one definitely makes it into my 'Highly Recommended' stack. I'd pick this one up for sure if you're looking for a fun action romp with some unique and amazing female characters."
– All Booked Up Blog
"I'm always excited when I find a new book that makes me stay up all night reading because I simply can't put it down. I'm doubly excited when that book is the first in a brand new series. Hunger Makes the Wolf is both those things. Needless to say that I'm absolutely in love." 5/5*
– Elena Linville's Tower of Winds
"This is a very cool novel. Hunger Makes the Wolf is a fun, fast, gripping read."
– The Irresponsible Reader
"Hunger Makes the Wolf is an entrancing addition to any science-fiction lover's collection. The clever prose alone is enough to grab your attention, but what really makes this novel shine is how immersive it is. The worldbuilding is meticulous, the characters are multifaceted and original, and the present themes are timely and inspiring."
– RT Book Reviews
"I have to commend Alex Wells, this book was a genuine pleasure. Just goes to prove, irrespective of genre, you can't go wrong with well-rounded characters and a plot that zips along at a good pace."
– The Eloquent Page
"Grab any science fiction book and you'll see they all have the exact same thing in common: the plots and devices of the stories are all predictable and never stray out of bounds. They hardly even push the envelope and, with great joy, I'm glad the author never got that memo. Here's why: Wells adds magic to the mix. It's a stroke of genius I've been waiting for Peter F Hamilton or Alastair Reynolds to pull off to no avail."
– The Splattergeist
"It's a well-conceived, smartly plotted, enthusiastically fast-paced sci-fi adventure with some cool ideas and a couple of excellent lead characters who've got plenty growing still to do in future books."
– SF Bluestocking
"This is one gem of a story you shouldn't miss out on."
– Smorgasbord Fantasia
"I will be picking up future volumes."
– James Nicoll Reviews
"Sharp, honed, and brilliant."
– Skiffy & Fanty
"Obvious parallels to Frank Herbert's Dune will draw readers into this action-packed tale of tyranny and rebellion, but Wells's character developments take the plot in new directions, leaving the possibility of a sequel."
– Library Journal
"Hunger Makes the Wolf is a great bit of sci-fi with a dash of fantasy, all cleverly disguised as a brutal, kick-ass western. I want more!"
– Michael Patrick Hicks
"Angry Robot has really upped its game lately; this is one of their best recent releases. Strong debut and I hope for a sequel to start answering a few more of my questions."
– Fantasy Review Barn
"Action, atmosphere, great characterisation, pretty damn cool worldbuilding. And explosions. I enjoyed the hell out of Hunger Makes the Wolf. Give me more soon, please."
– Liz Bourke for Locus
"Hunger Makes The Wolf can perhaps best be described in musical terms: imagine the powerful, punchy, awesome death'n'roll of latter-day Satyricon married to the lyrical sensibilities of Billy Bragg in his most pro-trade union and leftist moments. Alex Wells managed to write a 400 page book with that kind of power and political urgency and heart, and I am so very much hoping for a sequel."
– Intellectus Speculativus
"It's good, old fashioned, new fangled entertainment that goes down easy and delivers enough kick to make you want to come back for more."
– Lit Stack
"The story gets tighter as it progresses and the novel stakes out its territory as its own. Really enjoyable."
– Camestros Felapton
"Wells' characters are realistic if hard-bitten, and the whole thing left me waiting for the sequel. Highly recommended."
– Private Mars Rocket
"Hunger Makes the Wolf by Alex Wells is as tasty as a Saturday morning cartoon."
– Out of that World
"A kick-ass science fiction story with a great world and two female leads who are both strong in their own way."
– The Illustrated Page
"I enjoyed this action adventure thoroughly."
– Deborah J Ross
"Wells excels at creating memorable characters and a memorable planet for them to inhabit. They have a tough, punchy prose style that lends itself to action."
– The 1000 Year Plan
"Wow. Imaginative, compelling, and utterly brilliant."
– Morpheus Tales
"Wells has an excellent sense of pacing which makes it hard to put this book down. The characters are well-crafted: full of surprises and tough as nails, but not too over-the-top."
– Cowering King
"A good story and worth reading."
– Red Headed Femme
"It's a mysterious and action-packed story with a western twist that I never wanted to put down."
– Auroralibrialis
"2017 seemed to be the year of specfic and sci-fi for me, and holy hell, Alex Wells was a crowning glory with Hunger Makes the Wolf. Down-and-dirty space biker witchery with a messy female lead, diverse characters, found families, excellent world building, and unexpected moments of beautifully crafted prose. I'm interested to see if Wells can top Hunger, which as a first novel was pretty dang flawless."
– The Coil
"Recommended. I expect to see this on the ballot for at least the Philip K Dick Award next year."
– The Templeton Gate
"I loved it! … The characters are rich with depth, and diverse, and they feel real, which is very important to me. I can't wait to read the next one!"
– Evaine's Books, Books and More Books
"Enormous amounts of fun as a science fantasy adventure. Highly recommended."
– Binge on Books