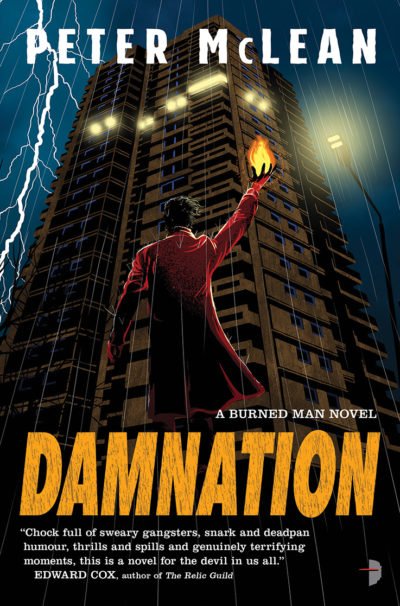 Damnation
"Snarky, pacy and hellishly fun. Don Drake is just the sort of hero, with just the sort of life, to make you feel good about yourself."
– Francis Knight, author of the Rojan Dizon series
---
Shambolic demon-hunting hitman Don Drake is teetering on the edge of madness in this smart, witty urban fantasy novel.
---
File Under: Dark Fantasy [ Fallen So Far | Smacked Up | Devil Don't Care | Hell or Heaven ]
---
The third book in the Burned Man series
Buy the ebook version now – only
£

3.99
SKU: AR9780857666659
Don Drake is living rough in a sink estate on the outskirts of Edinburgh, doing cheap spells for even cheaper customers while fending off the local lowlifes. Six months ago, Don fled from London to Glasgow to track down his old girlfriend Debbie the alchemist.
With the Burned Man gradually driving him mad, Don meets with an ancient and mysterious tramp-slash-magician, with disastrous consequences. Now his old accomplices must step in to save Don from himself, before he damns himself for good this time.
| | |
| --- | --- |
| Series | Burned Man |
| Release Date | 2017-05-02 |
| Cover Art | Raid71 |
| Ebook | 2nd May 2017 | 9780857666659 | Epub & Mobi | RRP £6.99 / US$6.99 / CAN $7.99 |
| US Print | 2nd May 2017 | 9780857666642 | Massmarket Paperback | RRP US$7.99 / CAN$10.99 |
| UK Print | 4th May 2017 | 9780857666635 | Paperback | RRP £8.99 |
| Goodreads URL | Discuss and Review Damnation |
"Dark, bitter, bloody and with a streak of black humour, this series continues to deliver."
– Scifi Now
"This is a cracking book that is part of a cracking series. Highly recommended."
– The Eloquent Page
"The writing is addictive, the prose apt and when you throw into the mix a kick ass plot that has our hero alongside his friends forced into a situation that no one likes, we get to see just how dark his world has become with his only light against it being used as a pawn. Future outings are going to see one hell of a reckoning (literally) and I for one can't wait to see how events will play out. Definitely a series to read."
– Falcata Times
"Don Drake continues to be an enjoyable fuck-up. Damnation is a solid, entertaining read, but beware of the author's cruel nature in leaving us with one almighty cliff-hanger ending."
– Pop-Verse
"A nasty dark realism feel."
– The Speculative Herald
"Peter McLean continues to knock it out of the park with the Burned Man series. This is urban fantasy at its best, and it perfectly blends fantasy with modern society. 5 stars"
– San Franciso Book Review
"McLean's punchy writing is what draws you in and Drake is what keeps you reading. This is dark, brooding, with a wicked sense of humour."
– Morpheus Tales
"A terrific story."
– Rambles, Writings and Amusing Musings
Praise and Reviews for the Burned Man series:
"Snarky, pacy and hellishly fun. Drake is just the sort of hero, with just the sort of life, to make you feel good about yourself. Dark and delightful, like a naughty treat, this is a rollicking story."
– Francis Knight, author of the Rojan Dizon series
"McLean has crafted a refreshing urban fantasy, with a wonderfully flawed, foul-mouthed protagonist who, despite some dubious life choices, is not quite beyond redemption. Imagine Mal Reynolds had dabbled in the occult and this would have been the result. Drake features equally complex female characters, ensuring the Burned Man is one series I shall be certain to follow."
– Susan Murray, author of The Waterborne Blade and Waterborne Exile
"Fug, this was good. The movement is non-stop and the characters, myriad. The author does a great job developing characters that reside in a fantastic world. I WANT MORE!"
– Koeur's Book Reviews
The plot is intriguing and the pace is fast. There is plenty of action, in fact, frankly, never a dull moment."
– The Speculative Herald
"A darkly funny and violent tale with black magic, fallen angels, demons and angry girlfriends, complete with some loathsome characters you will love to hate."
– Books, Bones & Buffy
"Peter's writing is refreshing as it slams you squarely between your eyes without any preamble. I went in without any expectation and then I just couldn't stop myself as I went with the flow. I really liked this dark debut from this highly talented find from the stables of Angry Robot. Peter McLean makes an emphatic statement of things to come in the future with this first instalment of the Burned Man series. And I cannot wait to see where he drives this one to, setting things up nicely for the next books in the series."
– Smorgasbord Fantasia
"What connects Chandler, Guy Ritchie, Harry Potter and Buffy the Vampire Slayer? "Not much" is probably the answer, until now. A punchy debut novel."
– SFX Magazine
"Who wouldn't want to read a book narrated by a foul-mouthed demon-botherer called Don? From dark streets to sticky sewers, Dominion is a belting urban fantasy that takes you on a breakneck tour of London's under-underworld, with plenty of evil laughs (and F-bombs) along the way."
– Matt Hill, author of Graft
"Fans of Richard Kadrey's Sandman Slim will dig this series."
– The B&N Sci-Fi & Fantasy Blog
"The story is delivered with the same excellent wit as the first. Its humour is still the main strength here, at times delivered so spectacularly subtly and at others with a brilliant punch. McLean conveys a shining example of dry British humour and a character that glows with it."
– British Fantasy Society
"Snarky, pacy and hellishly fun. Don Drake is just the sort of hero, with just the sort of life, to make you feel good about yourself. Dark and delightful, like a naughty treat, this is a rollicking story."
– Francis Knight, author of Fade to Black
"Dominion is one of those books that I just didn't want to end but couldn't stop turning the pages. Another fantastic Burned Man novel by Pete McLean."
– Sue Tingey, author of Marked and Cursed
"With the engaging writing and the huge number of avenues Don Drake's world offers in terms of exploration, this series has a long way to go before running out of steam."
– Strange Alliances