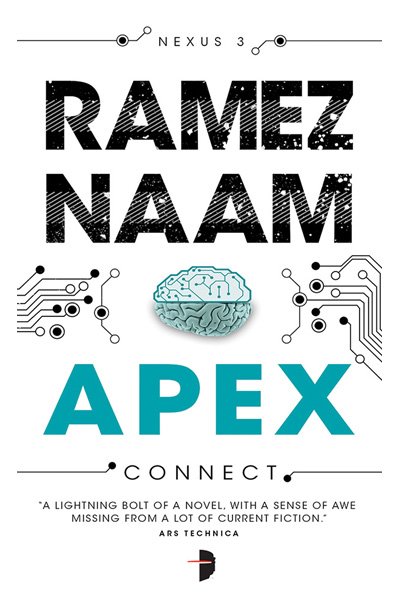 Apex
PHILIP K DICK AWARD WINNER 2016.
The Explosive conclusion to the trilogy that began with Nexus and Crux.
Called the Apex, powerful and hyper-intelligent transhumans are rising up against repressive regimes that stand in the way of humanity's upgraded future.
---
File Under: Science Fiction [ Disperse or Die | Repeat Repeat | Ghost in the Machine | Apex and Avatar ]
---
Book 3 of the Nexus Trilogy
Buy the ebook version now – only
£

3.99
SKU: AR9780857664020
2Global unrest spreads through the US, China, and beyond. Secrets and lies set off shockwaves of anger, rippling from mind to mind. Riot police battle neurally-linked protestors. Armies are mobilized. Political orders fall. Nexus-driven revolution is in here.
Against this backdrop, a new breed of post-human children are growing into their powers. And a once-dead scientist, driven mad by her torture, is closing in on her plans to seize planet's electronic systems, and re-forge everything in her image.
A new Apex species is here. The world will never be the same.
First published May 2015 in US trade paperback ISBN: 9780857664013
| | |
| --- | --- |
| Series | Nexus Arc |
| Publication date | |
| Cover Art | Steven Meyer-Rassow |
| Ebook | 5th May 2015 | 9780857664020 | Epub & Mobi | RRP £6.99 / US$6.99 |
| US Print | 3rd May 2017 | 9780857665133 | Massmarket Paperback | $7.99/$10.99 |
| UK Print | 7th May 2015 | 9780857664006 | Paperback | RRP £8.99 |
| Goodreads URL | Discuss and Review Apex |
"As with the first two volumes, Apex is a fat book that reads like a skinny one, racing through its well-turned plot to a conclusion that ties together every loose thread of every one of the trilogy's cast of thousands. From next-generation protest techniques to warfare in the age of autonomous weaponry to the nature of human rights in a world of transhumanism, Apex has ideas, eyeball kicks, and rollercoaster thrills to spare."
– Cory Doctorow, BoingBoing
"The best books are often the hardest to review, because it's at those times that I just want to throw my usual attempts at objectivity out the window and reduce my review to, "Holy crap, you guys, you all need to be reading this series right now!" That's Nexus, Crux, and Apex in a nutshell. It's wonderfully intelligent, it speculates on amazing advances in technology that we're already seeing the early stages of in the real world, and it's all written by a master of the craft. It's a phenomenal exploration of humanity, one that could pave the way for a new future in sci-fi. 5/5″
– Bibliotropic
"If the events of Nexus and Crux seem intense and complex, Apex takes them up to and over the edge."
– Geeky Library
"An excellent trans-humanist novel, raising questions of humanity and morality, and maybe the next evolution of humankind."
– Libromancer's Apprentice
"Apex is a great ending to a great trilogy, and I've been very happy to read all of it."
– I, Fat Robot
"I think the Nexus trilogy will become a classic in much the same way the Dune series and other great science fiction series have before it. It's the kind of series you carry with you after you've read the last page and find you have to discuss with other readers because its implications are too profound to keep to yourself. Do I recommend it – if you're a sci-fi fan, or want an edge-of-your-seat smart-as-hell ride, definitely!"
– Popcorn Reads
"An awesome and exciting SF read!"
– The Mad Professah Lectures
"This final book of the series had everything going for it – great character development, enough action to keep things exciting and a complex plot line. I also thought Naam's chapter at the end  – the Science of Apex – was really interesting and really added credibility to his science fiction based plot. This is a must read for any and all science fiction fans."
– The Qwillery