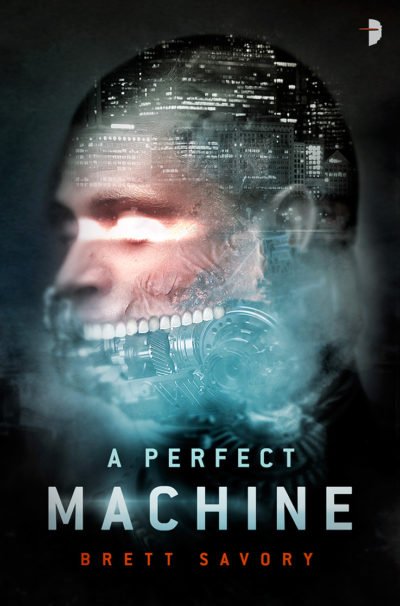 A Perfect Machine
"A destabilizing gutshot of science fiction, crime, and existentialism that will leave your head spinning well beyond the final pages of Henry Kyllo's apotheosis. Savory truly delivers an inventive, disturbing, and unforgettable thrill ride."
– Paul Tremblay, author of A Head Full of Ghosts and The Little Sleep
---
In a future city, Runners and Hunters carry out a sacred ritual chase every night. Runners survive being shot and grow more and more metallic. But when two such Runners transform into something much more (or less) than human, their worlds will change forever.
---
File Under: Science Fiction [ Hunter / Killer | The Man Machine | Over and Over | Run, Rabbit, Run ]
Buy the ebook version now – only
£

3.99
SKU: AR9780857666314
Henry Kyllo is a member of a secret society called the Inferne Cutis. A Runner whose goal is to achieve full-body lead content. He is chased through the city every day by Hunters whose goal is to shoot the Runners — with the threat to both sides that if they do not participate, through a mysterious force no one understands, one of their loved ones will simply vanish from the face of the earth.
Rumours abound about what happens when a Runner achieves "ascension", but it has supposedly never happened before, so no one knows for sure.
Except that it has happened before. And it is happening again. This time, to Henry Kyllo.
| | |
| --- | --- |
| Release Date | 2017-02-02 |
| Cover Art | Erik Mohr |
| Ebook | 2nd February 2017 |  9780857666314 |  Epub & Mobi | RRP £6.99 / US$6.99 / CAN $7.99 |
| US Print | 7th February 2017 |  9780857666307 |  Massmarket Paperback | RRP US$7.99 / CAN$10.99 |
| UK Print | 2nd February 2017 |  9780857666291 |  Paperback | RRP £8.99 |
| Goodreads URL | Discuss and review A Perfect Machine |
"A destabilizing gutshot of science fiction, crime, and existentialism that will leave your head spinning well beyond the final pages of Henry Kyllo's apotheosis. Savory truly delivers an inventive, disturbing, and unforgettable thrill ride."
– Paul Tremblay, author of A Head Full of Ghosts and The Little Sleep
"Brett Savory writes like every tap of his keyboard is an assault on the system, and who are we to say he's wrong? With horror in his heart, anarchy in his soul, and a keen and wary sense of what the future holds, Brett Savory is the kind of writer the world needs more of."
– Christopher Golden, New York Times bestselling author of Tin Men and Snowblind
"A Kafkaesque gem of a novel, Savory's A Perfect Machine is deeply allegorical science fiction cloaked in the guise of an existential horror story featuring a monster robot—the illegitimate lovechild of David Cronenberg and Isaac Asimov."
– Paul Goat Allen
"A Perfect Machine hits the ground running—literally—and never lets up, turbocharged by some wild recombinant DNA. If you've ever wondered what would happen if H.R. Giger swallowed the soul of a gonzo crime writer and penned Fight Club after a week-long binge huffing gun oil and fumes from Tetsuo: The Iron Man, then you are so in luck."
– Brian Hodge, author of Picking the Bones and Whom the Gods Would Destroy

"With prose as sharp and hard as a Monday morning, Savory pulls you along, page by flippin' page, into a world much stranger, much more exotic than it was a moment before. A cool practitioner of the rapid read and the bizarre speculation."
– Tony Burgess, author of Pontypool Changes Everything and People Live Still in Cashtown Corners
"A Perfect Machine is like stepping out of a plane with a blindfold on and finding yourself in a bobsled tube that slithers and loops you down into a sensory deprivation tank where you didn't think to take one last breath first, but it's pretty down here, isn't it? Either that or all the blood vessels in your eyes just burst."
– Stephen Graham Jones, author of Mongrels
"A wild and exuberant concoction of horror, science-fiction and crime thriller, Brett Savory's A Perfect Machine hurtles along like a runaway train, picking up speed, belching smoke and shooting out sparks before erupting into an explosive, mind-shattering finale. Terrific stuff!"
– Mark Morris, author of the Obsidian Heart series and Wrapped in Skin
"A wildly inventive, swiftly paced, brutally fun mind-bender of a novel. A Perfect Machine envisions a future gone crazy with unsettling parallels to our own world."
– Benjamin Percy, author of The Dead Lands, Red Moon, The Wilding, and Refresh, Refresh
"Savory deserves to make a great impression on both our highly mutable genre and the reading public."
– Peter Straub, multi award-winning author of Ghost Story and The Talisman
"Imagine that the god-like aliens from 2001 paid a visit to Dark City—except instead of uplifting us to sapience, they got their shits and giggles by pulling off our arms and legs and forcing us to kill each other. Welcome to A Perfect Machine."
– Peter Watts, author of Blindsight and Echopraxia
"If there is any darker thrill than spending time in the broken mind of Brett Savory, I don't want to know about it."
– Robert Shearman, author of Remember Why You Fear Me and They Do the Same Things Different There
"With A Perfect Machine, Savory's writing is sharper than ever before. Few writers can take a surreal concept like this and turn it into something so humorous, edgy and thrilling, creating a rich and moving novel which is surely destined to become a classic."
– Tim Lebbon, author of Relics and The Silence
"Savory has a vivid prose style, along with a good eye for striking images."
– SFX magazine
"A Perfect Machine not only upends the conventions of science fiction, but renders the concept of 'genre' obsolete and slightly quaint. This is a brave, thoroughly modern, highly literary view of a dystopian future, penned by a skilled novelist who clearly knows his way around sharp edges in the dark. This is not a novel for an unimaginative or placid reader, but rather a steel-encased work for the fiercely intelligent and the brave. A superb achievement in every sense."
– Michael Rowe, Shirley Jackson Award-nominated author of Wild Fell and Enter, Night
"If you gave me ten words to describe Brett Savory's writing style, I'd only need five: Like A House On Fire."
– Nick Cutter, author of The Troop, The Acolyte, and Little Heaven
"A fair warning: be prepared to get sucked into this story from the moment you start reading, because you won't be able to put your book down. This is what happened to me. This book is incredibly good, on every level."
– Where Are The Books?
"Stop reading this and go grab your copy!"
– The Splattergeist
"A vivid, violent, and propulsive novel that grabs you by the throat and breathlessly yanks you along at frankly unsafe speeds."
– B&N SF & F Blog
"Brett Savory may be addressing our anxiety that technology, which most of us can neither understand nor control, is experimenting with us, and forcing us to adapt in evolve into something new and very different."
– The Toronto Star
"Brett Savory's prose is excellent, the dialogue crisp and urgent."
–  Strange Alliances
"A Perfect Machine is one weird engine. This world is a surreal, bullet-ridden nightmare that obeys no laws save its own. Like the best of mindjob lit, this gloriously odd monster mash practically demands a revisit, a trip methinks I'll be taking sooner rather than later."
– Corey Redekop
"Dark, creepy, and by no means happy."
– Crosshatches
"This is not a book for the casual reader, but one for people who like to have something to think about long after they've put it down."
– The British Fantasy Society
"Through the years there have always been those who claim that breaking the norms of classification is bad and that has always been the battle between the old guard and the young lions when it comes to culture. Brett Savory's new book is a perfect example of how one might break the norm."
– WARG
"A novel that raises more questions than it provides answers. However, if you're not afraid of something different that will give you pause for thought about the institutions in our real world, then this novel is worth a look."
– Grimdark Magazine
"A head trip, but very cool."
– Scary Monkeys and other Childhood Phobias