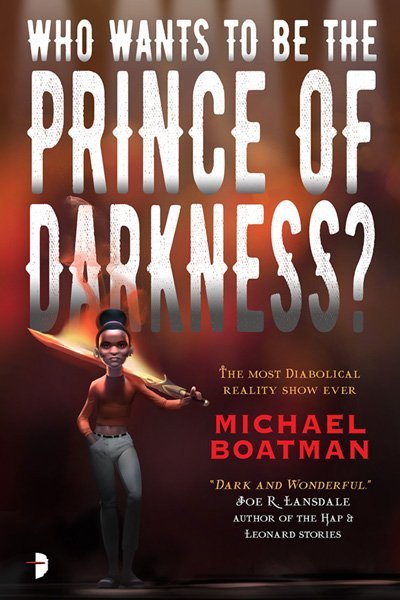 Who Wants To Be The Prince of Darkness?
"Michael Boatman writes like a visitor from hell. Someone out on short term leave for bad behavior. I love this stuff. He's one of the new, and more than promising, writers making his mark, and a dark and wonderful mark it is."
– Joe R Lansdale
---
Lucifer has called it quits, and a dark force is using a reality TV show to capture the souls of millions in order to carry out a hellish contest to pick his successor.
---
File Under: Fantasy [ Down Among The Dead Men | Fifteen Minutes For Eternity | Damned If You Do | The Morningstar]
Buy the ebook version now – only
£

3.99
SKU: AR9780857663993
Lucifer is enjoying his retirement in an obscure corner of Limbo when he learns of a plot by Gabriel, the current ruler of Hell, to use humanity's greatest weapon against it ' Television! Cue the hottest reality game-show ever conceived: Who Wants To Be The Prince Of Darkness? Gabriel orchestrates an "Infernal takeover" of Earth by stealing unwitting mortal souls and sending them to a mostly empty Hell, hoping to reinvigorate the Infernal Realm.
Now Lucifer must find a living champion to seize control of Hell and free millions of stolen mortal souls before the theft becomes permanent. But who would ever want to be Hell's champion?
"A sharp, witty tale about one flawed human with an attitude problem caught up in the middle of an epic battle of good vs. evil, filled with enough demons, angels, dark gods, exorcists, and game show hosts to start the apocalypse."
– S.G. Browne, author of Fated and Less Than Hero
"You've got to admire the audacity of writing a dark urban fantasy comedy that mashes up reality television with the fiery pits of hell."
– Kirkus Reviews
a story that will give you something completely different to a lot of other books out there. Good fun.
– Falcata Times