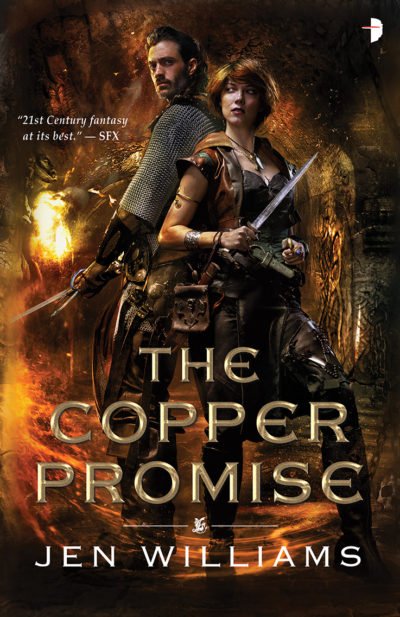 The Copper Promise
"A fast-paced and original new voice in heroic fantasy."
– Adrian Tchaikovsky, author of Children of Time and the Shadows of the Apt series
---
Wydrin, The Copper Cat, takes a job to escort a noble into The Citadel – a forbidden and dangerous fortress – with the help of Sir Sebastian, her exile knight companion. There, they awaken an elder god, unleashing chaos on the nearby countryside. Why can't it ever be a *simple* job?
---
File Under: Fantasy  [ Beware of the Gods | Dungeon Crawlers | The Brood Rises | Prince of Wounds ]
---
The first book in the Copper Cat series
Buy the ebook version now – only
£

3.99
SKU: AR9780857665775
There are some tall stories about the caverns beneath the Citadel – about magic and mages and monsters and gods.
Wydrin of Crosshaven has heard them all, but she's spent long enough trawling caverns and taverns with her companion Sir Sebastian to learn that there's no money to be made in chasing rumours.
But then a crippled nobleman with a dead man's name offers them a job: exploring the Citadel's darkest depths. It sounds like just another quest with gold and adventure … if they're lucky, they might even have a tale of their own to tell once it's over.
These reckless adventurers will soon learn that sometimes there is truth in rumour. Sometimes a story can save your life.
| | |
| --- | --- |
| Release Date | 2016-07-07 |
| Series | Copper Cat |
| Cover Art | Gene Mollica |
| Ebook | 7th July 2016 |  9780857665775 |  Epub & Mobi | RRP US$6.99 |
| US Print | 7th July 2016 |  9780857665768 |  Trade Paperback | RRP US$14.99 CAN$18.99 |
| UK Print | Published in the UK by Headline |
| Goodreads URL | Discuss and review The Copper Promise |
"Fresh and exciting, full of wit and wonder and magic and action, The Copper Promise is *the* fantasy novel we've been waiting for."
– Adam Christopher
"The Copper Promise is near-perfect fantasy adventure fun and a breath of fresh air in a genre choking on its own grittiness. Read it and remind yourself what made you fall in love with fantasy books."
– Starburst Magazine 10/10
"There are pirates and magic, demons and disciples, undead soldiers and noble knights. If you're thinking this sounds like a lot of fun you'd be gods damned right."
– Den Patrick
"…a killer of a fantasy novel that is indicative of how the classic genre of sword and sorcery is not only still very much alive, but also still the best the genre has to offer."
– Jet Black Ink
"Williams' fast-paced narrative never leaves room for a pause and captivates from page one."
– Sci-Fi Now
"You guys need to read this book. Sooner, rather than later."
– Booksnobbery
"…an excellent book, stuffed with all the ingredients of sword and sorcery mixed to a fresh new recipe."
– Joanne Hall
"…trust me when I say that you do not want to let this one pass you by."
– Over the Effing Rainbow
"The Copper Cat trilogy is the kind of swords and sorcery fantasy which will make you remember why you became a fan of the genre in the first place, and fall in love with it all over again."
– Geek Syndicate
"The Copper Promise didn't so much arrive as kick the door in and demand to know why it wasn't already drunk… the most exuberant, light on its feet, smarter than it wants you to think novel on the shelves this year. Pick it up, before it picks your pocket and sells your stuff back to you."
– Alasdair Stuart
"If you're looking for a swashbuckling adventure, look no further than The Copper Promise. The characters shine throughout the book, but there is enough action and drama to keep even those non-character driven readers entertained. Happily, the ending leaves readers with the sense that more adventures for our trio are in store."
– The Book Adventures
"Swashbuckling, magic-ridden fun."
– In Pursuit of my Own Library
"Enjoyable foray into heroic fantasy."
– Strange Currencies
"The Copper Promise is a fantasy adventure with a lot going on. It's awesome…It's a self-aware raised eyebrow, and I like it a lot."
– I, Fat Robot
"This is one of those books that is filled with things I truly love."
– Gizmo's Reviews
"The Copper Promise is an epic fantasy story with some admirable traits and tropes."
– Looking For a Good Book
"The Copper Promise is an absolute blast of a novel."
– SFF World
"Tremendous fun."
– Astounding Yarns
"The Copper Promise doesn't just promise a quality, old-school fantasy adventure – it delivers."
– Mutt Cafe
"Without a shadow of a doubt, some of the most fun you can have reading words on a page."
– Tor.com
"I wanted more dammit!"
– Ever the Crafter
"A really versatile book, filled with great characters and a throwback to that old style of sword and sorcery adventures."
– Street Lamp Halo
"Pure escapism in a traditional fantasy world."
– Bibliophibian Inc
"The reverse of Grimdark, this book reminded me that fantasy could be fun. Wydrin, Frith and Sebastian are wonderfully rounded characters, and the world they inhabit beautifully drawn."
– The Big Issue
"5 stars – An amazingly well written debut novel."
– Rapture in Books
"The Copper Promise is a classic fantasy romp; a sword and sorcery tale of epic quests, fallen heroes, plucky sellswords and fearsome dragons."
– Laura M Hughes