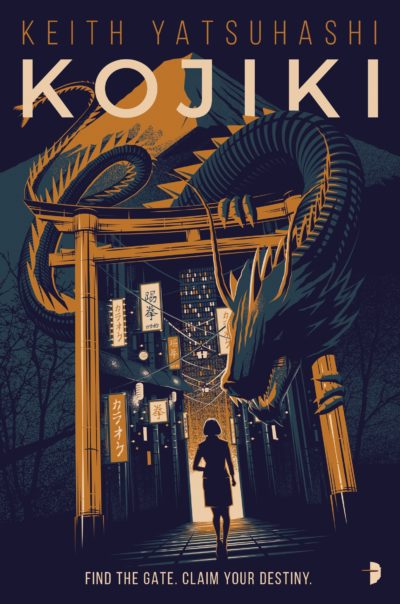 Kojiki
A young woman travels to Japan to fulfill her father's dying wish and stumbles into a mythic struggle between divine forces.
---
File Under: Fantasy [ Gods and Guardians | A Father's Secret | Longing for More | Cosmic Reinvention ]
Buy the ebook version now – only
£

2.99
SKU: AR9780857666161
Every civilization has its myths. Only one is true. When eighteen year old Keiko Yamada's father dies unexpectedly, he leaves behind a one way ticket to Japan, an unintelligible death poem about powerful Japanese spirits and their gigantic, beast-like Guardians, and the cryptic words: "Go to Japan in my place. Find the Gate. My camera will show you the way." Alone and afraid, Keiko travels to Tokyo, determined to fulfil her father's dying wish.
There, beneath glittering neon signs, her father's death poem comes to life. Ancient spirits spring from the shadows and chaos envelops the city. As Keiko flees its burning streets, her guide, the beautiful Yui Akiko, makes a stunning confession – that she, Yui, is one of a handful of spirits left behind to defend the world against the most powerful among them: a once noble spirit now insane. Keiko must decide if she will honour her father's heritage and take her rightful place among the gods.
| | |
| --- | --- |
| Publication date | |
| Cover Art | Thomas Walker |
| Ebook | 2nd August 2016 | 9780857666161 | Epub & Mobi | RRP £6.99 / US$6.99 / CAN $7.99 |
| US Print | 2nd August 2016 | 9780857666154 | Massmarket Paperback | RRP US$7.99 / CAN$10.99 |
| UK Print | 4th August 2016 | 9780857666147 | Paperback | RRP £8.99 |
| Goodreads URL | Discuss and review Kojiki |
"Great. Beautifully crafted; well-written, with a loving attention to detail. Among the best of its genre."
– Japanator
"If you are looking for an exciting fantasy novel, I definitely recommend that you give Kojiki a try. You won't be disappointed."
– Masquerade Crew
"I had a great time reading this book". 5/5*
– Blogger's Bookshelf
"I genuinely enjoyed this book."
– Crosshatches
"A unique spin on fantasy, a space where dragons and elementals war with each other over broken Tokyo – then this book is worth your time."
– Sci-Fi & Fantasy Reviews
"Recommended."
– The Curious SFF Reader
"I'm a huge fan of books that send me on spiraling internet searches, digital walkabouts that start in one place, and wind up somewhere completely different. Kojiki is one of those books, spinning away from a neat, accessible introduction into an exploration of a myriad of creatures and the worlds to contain them."
– B&N Sci-Fi & Fantasy Blog
"In many ways, Kojiki is a metaphor for discovering your heritage and engaging with your roots, especially as a second-generation immigrant. Rooting the novel in Keiko's real world, relatable struggles gives the story depth and helps anchor its wonderful flights of fancy."
– Fantasy Faction
"A win for Keith Yatsuhashi."
– The Silver Words
"I am a big fan of Anime and any book that makes me feel like I'm watching an Anime movie…well it gets the immediate thumbs up from me!"
– Fiery Fantasy
"Definitely a fun read."
– It's A Long Story
"Reading Kojiki is like watching an anime movie in your head.  Great fun!"
– Cowering King
"Intelligent, thrilling, and charming."
– Morpheus Tales
"This is a great beach book, and if you're a fan of anime and manga, you'll be delighted to see the elements you love in it transported to a different media. B+"
– The Fandom Post