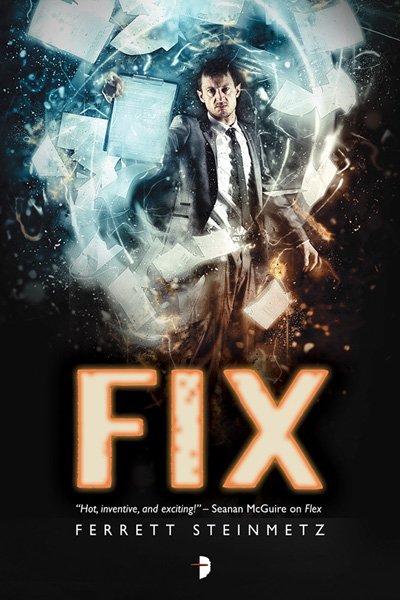 Fix
"This one-of-a-kind series … is what might result if you put Breaking Bad and Reddit in a blender and hit 'frappe.'"
– Barnes & Noble Sci-Fi Blog
---
After the explosive events of The Flux, Our Surviving Heroes will be reluctantly dragged into fixing the catastrophic shitstorm that is Europe. And man, won't that be messy. Gloriously, gloriously messy.
---
File Under: Urban Fantasy [ Healing the Rift | Soccer Game Blues | Last Tango in Europe | Fireworks and Paperwork ]
---
The third book in the 'Mancer series
Buy the ebook version now – only
£

3.99
SKU: AR9780857665744
"America's long sent its best SMASH agents overseas to deal with the European crisis. As of today, they decided dismantling your operation was more important than containing the Bastogne Broach. Now you're dealing with the real professionals."
Paul Tsabo: Bureaucromancer. Political activist. Loving father. His efforts to decriminalize magic have made him the government's #1 enemy ' and his fugitive existence has robbed his daughter of a normal life.
Aliyah Tsabo-Dawson: Videogamemancer. Gifted unearthly powers by a terrorist's magic. Raised by a family of magicians, she's the world's loneliest teenager- because her powers might kill anyone she befriends.
The Unimancers: Brain-burned zombies. Former 'mancers, tortured into becoming agents of the government's anti-mancer squad. An unstoppable hive-mind.
When Paul accidentally opens up the first unsealed dimensional broach on American soil, the Unimancers lead his family in a cat-and-mouse pursuit all the way to the demon-haunted ruins of Europe ' where Aliyah is slowly corrupted by the siren call of the Unimancers…
| | |
| --- | --- |
| Series | 'Mancer |
| Publication date | |
| Cover Art | Steven Meyer-Rassow |
| Ebook | 1st September 2016 | 9780857665744 | Epub & Mobi | RRP £6.99 / US$6.99 |
| US Print | 6th September 2016 | 9780857665737 | Massmarket Paperback | RRP US$7.99 / CAN$10.99 |
| UK Print | 1st September 2016 | 9780857665720 | Paperback | RRP £8.99 |
| Goodreads URL | Discuss and Review Fix |
"A beautiful conclusion to the series."
– Pop Culture Beast
"Fix is a nice wrap-up to the story of Paul Tsabo and his family."
– The Geeky Guide to Nearly Everything
"I've said it before and I'll say it again: Ferrett Steinmetz's Flex series is one of the most imaginative and unique urban fantasies I've encountered. If you've read the other books in the series, then I don't need to recommend Fix to you–you're going to pick it up anyway."
– Bookaneer

"If you're interested in stories about magic in the real world, a father who'd give the world to save his daughter, video game magic, and restoring the world, this is a great series to pick up."
– Blogger's Bookshelf
"The perfect ending to the Tsabo story."
– Lynn's Books
"Flex was great, as was its sequel, but this really brings the series into a solid cohesive unit that's worth a slot on anyone's shelf."
– The Artolater
"I'm so hooked to this series, but that's hardly the half of it. Ferrett continues to shock and amaze and simply improve upon everything he's accomplished so far."
– Brad K Horner
"Fix is an incredible end to an amazing trilogy."
– Morpheus Tales
"It's a powerful story, a take on magic and obsession that crosses boundaries and paints new pictures of a reality that could have been and could yet be. It's a brilliant piece of urban fantasy, and adventure that stays with you long after the last page has been read and the cover closed, and Steinmetz has done something great here."
– Bibliotropic
"Fix is a book that has to be read by fans of the series….in fact everyone needs to read this series. I loved everything about this book and I really did not want it to end. This series is one I have devoured, and I am sad to see it all end, but I will not hesitate to pick up more books by Ferrett Steinmet in the future."
– Much Loved Books
"I love all three of these books. I cannot recommend them enough. This one is even more epic and heartbreaking and wonderful and amazing than the others."
– Diabolical Plots
"Man, what a ride…Steinmetz has created one of the most unique magical systems I've ever had the pleasure of reading about, not to mention some badass female characters that I adored."
– Geek Girl Riot
"I will happily read anything this man writes."
– The Little Red Reviewer
"I freaking adored this whole series and it just got better as it went on."
– Bibliotropic – Top Eleven Outstanding Books of 2016
"A spectacular end to an interesting trilogy. If Wes Craven can find a copy in the afterlife he'd approve."
– Bart Calendar