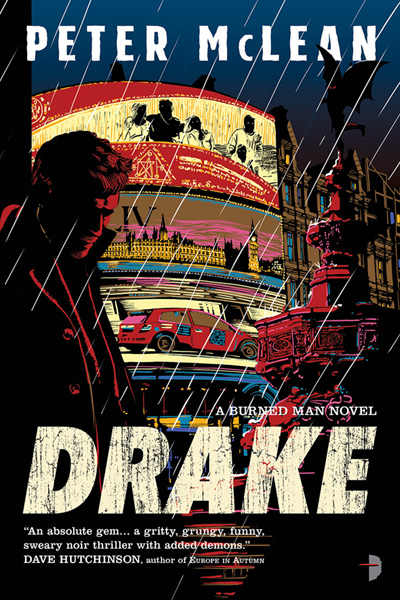 Drake
"Peter McLean's debut novel is an absolute gem that hits the ground running, a gritty, grungy, funny, sweary noir thriller with added demons. Don Drake is a wonderful creation. You wouldn't trust him with your life – he can't even be trusted with his own life. It's a wonderful, headlong read and I enjoyed it immensely. Very near the top of the half dozen best books I've read this year."
– Dave Hutchinson, author of Europe in Autumn and Europe at Midnight
---
A sorcerer hitman in South London takes out the wrong target and ends up in the crosshairs when he tries to do the right thing for once.
---
File Under: Dark Fantasy [ One Last Hit | Both Ends Burning | Going Underground | London's Finest ]
---
The first book in the Burned Man series
Buy the ebook version now – only
£

2.99
SKU: AR9780857665126
Hitman Don Drake owes a gambling debt to a demon. Forced to carry out one more assassination to clear his debt, Don unwittingly kills an innocent child and brings the Furies of Greek myth down upon himself.
Rescued by an almost-fallen angel called Trixie, Don and his magical accomplice the Burned Man, an imprisoned archdemon, are forced to deal with Lucifer himself whilst battling a powerful evil magician.
Now Don must foil Lucifer's plan to complete Trixie's fall and save her soul whilst preventing the Burned Man from breaking free from captivity and wreaking havoc on the entire world.
| | |
| --- | --- |
| Series | Burned Man |
| Release Date | 2016-01-05 |
| Cover Art | Raid71 |
| Ebook | 5th January 2016 | 9780857665126 | Epub & Mobi | RRP £6.99 / US$6.99 |
| US Print | 5th January 2016 | 9780857665119 | Massmarket Paperback | RRP US$7.99 / CAN$9.99 |
| UK Print | 7th January 2016 | 9780857665102 | Paperback | RRP £8.99 |
| Goodreads URL | Discuss and Review Drake |
"Peter McLean's debut novel is an absolute gem that hits the ground running, a gritty, grungy, funny, sweary noir thriller with added demons. Don Drake is a wonderful creation. You wouldn't trust him with your life – he can't even be trusted with his own life. It's a wonderful, headlong read and I enjoyed it immensely. Very near the top of the half dozen best books I've read this year."
– Dave Hutchinson, author of Europe in Autumn and Europe at Midnight
"Snarky, pacy and hellishly fun. Drake is just the sort of hero, with just the sort of life, to make you feel good about yourself. Dark and delightful, like a naughty treat, this is a rollicking story."
– Francis Knight, author of the Rojan Dizon series
"McLean has crafted a refreshing urban fantasy, with a wonderfully flawed, foul-mouthed protagonist who, despite some dubious life choices, is not quite beyond redemption. Imagine Mal Reynolds had dabbled in the occult and this would have been the result. Drake features equally complex female characters, ensuring the Burned Man is one series I shall be certain to follow."
– Susan Murray, author of The Waterborne Blade and Waterborne Exile
"Fug, this was good. The movement is non-stop and the characters, myriad. The author does a great job developing characters that reside in a fantastic world. I WANT MORE!"
– Koeur's Book Reviews
The plot is intriguing and the pace is fast. There is plenty of action, in fact, frankly, never a dull moment."
– The Speculative Herald
"A darkly funny and violent tale with black magic, fallen angels, demons and angry girlfriends, complete with some loathsome characters you will love to hate."
– Books, Bones & Buffy
"Peter's writing is refreshing as it slams you squarely between your eyes without any preamble. I went in without any expectation and then I just couldn't stop myself as I went with the flow. I really liked this dark debut from this highly talented find from the stables of Angry Robot. Peter McLean makes an emphatic statement of things to come in the future with this first instalment of the Burned Man series. And I cannot wait to see where he drives this one to, setting things up nicely for the next books in the series."
– Smorgasbord Fantasia
"What connects Chandler, Guy Ritchie, Harry Potter and Buffy the Vampire Slayer? "Not much" is probably the answer, until now. A punchy debut novel."
– SFX Magazine
"A great read."
– A Book Drunkard
I have to say, I really enjoyed this novel. When the story first opened, I thought Drake was going to be just another stoic Sam Spade type. Not so! Imagine if Jesse Pinkman, the young, sensitive delinquent hero of Breaking Bad, was in the soul-destroying business of dark magic instead of making meth. Drake is a bang-up job indeed."
– Village Book Review
"McLean's vision of London is a city of violence, substance abuse and foul language. Personally, I loved it all. I'm all for demons embracing their demonic side and if that means them ripping off someone's arm and then smacking them with the wet end, then so be it."
– The Eloquent Page
"Peter McLean has written a gripping tale full of action, mystery and death."
– Rambles, Writings and Amusing Musings
"I really enjoyed this novel and I highly recommend it to anyone who loves noir urban fantasy with a different twist than the usual."
– Best Fantasy Books
"The ending is a far different place from where this book began, which is a testament to the author and the plot threads that evolve through the book and stellar worldbuilding."
– Pop.Edit.Lit
"The plot moves quickly and consistently to the end where – pleasingly unpredictably – the story is left happily concluded yet unresolved enough to welcome in the next Don Drake adventure, which no doubt will be as entertaining as this one."
– The British Fantasy Society
"This is a really good book, especially for the start of a series, and from a new writer."
– Sci-Fi and Fantasy Reviewer
"The Burned Man books are shaping out to be an interesting spin on the urban fantasy tale. You have the elements of a classic noir story like a down on his luck guy, a mysterious beautiful woman and a sort of mob boss figure. But then you have the whole demonic angle to things that turns things on its head and makes it unique."
– The Geeky Guide to Nearly Everything
"A grimy, morally ambiguous tale, packed full of action and ideas. It's blunt and brutal and very compelling."
– Geek Dad