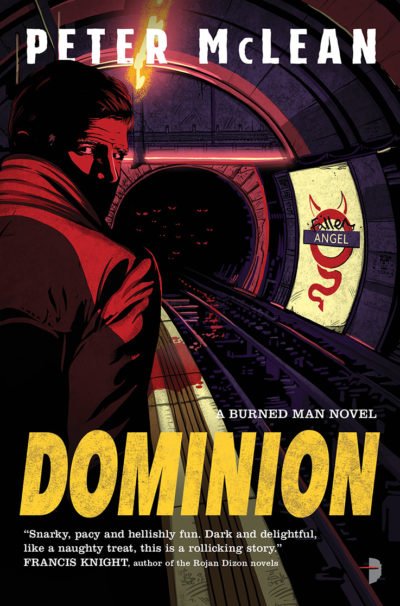 Dominion
"Chock full of sweary gangsters, snark and deadpan humour, thrills and spills and genuinely terrifying moments, this is smart and fun storytelling, a novel for the devil in us all… Dominion is mad, bad and glorious to read."
– Edward Cox, author of the Relic Guild series
---
A dark neo noir set beneath London, written with all the charm of your favourite British gangster movies.
---
File Under: Dark Fantasy [ The Devil You Knew | Deeped & Down | Great Irresponsibility | London's Burning ]
---
The Second book in the Burned Man series
Buy the ebook version now – only
£

3.99
SKU: AR9780857666130
In the tunnels deep under London, the Earth Elementals are dying.
Hunted by something they know only as the Rotman, the Elementals have no one trustworthy they can turn to. Enter Don Drake, drunken diabolist and semi-reformed hitman, and an almost-fallen angel called Trixie.
When Don learns that Rotman is actually the archdemon Bianakith, he knows this is going to be a tough job. The fiend is the foretold spirit of disease and decay whose aura corrupts everything it comes near, and even the most ancient foundations of London will crumble eventually. Now Don, Trixie and his ever-annoying patron the Burned Man have to hatch a plan to keep Bianakith from wiping out the Elementals and bringing down the city. But the Burned Man has other plans and those may have dire consequences for everyone.
The past never stays buried, and old sins must be atoned for. Judgement is coming, and its name is Dominion.
| | |
| --- | --- |
| Release Date | 2016-11-01 |
| Series | Burned Man |
| Cover Art | Raid71 |
| Ebook | 1st November 2016 | 9780857666130 | Epub & Mobi | RRP £6.99 / US$6.99 / CAN $7.99 |
| US Print | 1st November 2016 | 9780857666123 | Massmarket Paperback | RRP US$7.99 / CAN$10.99 |
| UK Print | 3rd November 2016 | 9780857666116 | Paperback | RRP £8.99 |
| Goodreads URL | Discuss and review Dominion |
"Who wouldn't want to read a book narrated by a foul-mouthed demon-botherer called Don? From dark streets to sticky sewers, Dominion is a belting urban fantasy that takes you on a breakneck tour of London's under-underworld, with plenty of evil laughs (and F-bombs) along the way."
– Matt Hill, author of Graft
"Fans of Richard Kadrey's Sandman Slim will dig this series."
– The B&N Sci-Fi & Fantasy Blog
"The story is delivered with the same excellent wit as the first. Its humour is still the main strength here, at times delivered so spectacularly subtly and at others with a brilliant punch. McLean conveys a shining example of dry British humour and a character that glows with it."
– British Fantasy Society
"Snarky, pacy and hellishly fun. Don Drake is just the sort of hero, with just the sort of life, to make you feel good about yourself. Dark and delightful, like a naughty treat, this is a rollicking story."
– Francis Knight, author of Fade to Black
"Dominion is one of those books that I just didn't want to end but couldn't stop turning the pages. Another fantastic Burned Man novel by Pete McLean."
– Sue Tingey, author of Marked and Cursed
"With the engaging writing and the huge number of avenues Don Drake's world offers in terms of exploration, this series has a long way to go before running out of steam."
– Strange Alliances
"A really firm instalment and definitely added some more meat to the bones of McLean's world. It's fast paced and entertaining with a conclusion that definitely makes me want to read more."
– Lynn's Books
"A fun read."
– Pop Verse
"You'll enjoy the journey – I know I did!"
– Ebookwyrm's Blog Cave
"Urban fantasy doesn't often get this dark, or this much fun."
– Morpheus Tales
"Dominion has absolutely everything I am looking for in a good sequel. The main characters continue to evolve and the universe they inhabit grows with them. The plot whips along a cracking pace and there are enough twists and turns to keep any reader more than happy. I haven't even gotten around to mentioning the gnomes. Yes, there are gnomes. Just go with it, trust me. You can thank me later."
– The Eloquent Page
"I love it. This is such a terrific series and I am totally hooked."
– Rambles, Writings and Amusing Musings
"Swimmingly good dark urban fantasy that would blitz your mind."
– Smorgasbord Fantasia