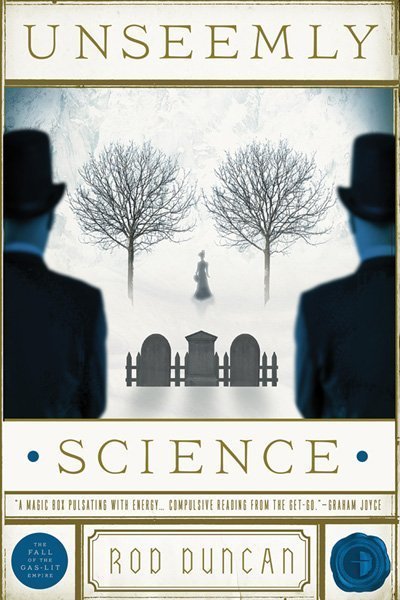 Unseemly Science
The arrival of a suspicious charitable organization prompts Elizabeth to bring her brother out of retirement for one more investigation, with body-snatching, unseemly experimentation, and more!
---
File Under: Fantasy [ Codes and Killers | Keep it Cool | Spirit of the Law | From Revolution ]
---
The Second Book in the Fall of the Gas-Lit Empire Series
Buy the ebook version now – only
£

3.99
SKU: AR9780857664280
In the divided land of England, Elizabeth Barnabus has been living a double life – as both herself and as her brother, the private detective. Witnessing the brutal hanging of someone very close to her, Elizabeth resolves to throw the Bullet Catcher's Handbook into the fire, and forget her past. If only it were that easy!
There is a new charitable organisation in town, run by some highly respectable women. But something doesn't feel right to Elizabeth. Perhaps it is time for her fictional brother to come out of retirement for one last case? Her unstoppable curiosity leads her to a dark world of body-snatching, unseemly experimentation, politics and scandal. Never was it harder for a woman in a man's world…
"Books work on several levels. A good story is complete in itself yet, at the same time, reading is a dynamic process: readers are not passive consumers of words. I've no idea what Duncan intended when writing, other than to invent a world and tell a story. Yet, for this reader at least, the subtexts and resonances of a divided Britain run by capricious aristocrats and politicians with vested interests were as entertaining as the story."
– Heroines of Fantasy
"5 out of 5 stars with a high recommendation to anyone who has read the first book of the series.  If not, I would definitely recommend they be read in order. Great for fans of Steampunk, character and plot-driven stories, alternate history, mystery, or a well-written adventure tale."
– Yvette at Bookworlder
"I didn't predict the twists that Unseemly Science threw at me. Not only is this book much darker than its predecessor, it also keeps you in more suspense, which is a feat considering I compared The Bullet-Catcher's Daughter to a spy novel. 4.5 of 5 Stars for a sequel that takes a macabre turn!"
– Victorian Soul Critiques
"Let's just say I haven't been this impressed by a book in a while… Unseemly Science is a beautifully written steampunk, alternate history style novel that manages to evoke the aesthetic without turning itself into a reflection of the rest of the trope out there. Elizabeth, the main protagonist, is a feminist heroine I can get behind — smart, intelligent, and void of the typical fantasy heroine. It's a slow burn mystery but so intelligently written and with a well developed world, I barely put it down… If I were to recommend you pick up anything this week, The Bullet Catcher's Daughter and Unseemly Science are it."
– Adventures in Sci Fi Publishing
"They say the devil is in the details, and the sinister feel of Unseemly Science is perfectly shown with minute details. It's very visual, with an underlying sense of urgency and terror driving the plot. I would even call it a Gothic novel akin to Ripper series by Amy Carol Reeves."
– Nocturnal Book Reviews
"Rod Duncan weaves a fascinating tale. The plot is complex, but the various threads of the story can be followed, though their conclusion can't be guessed."
– Geeky Library
"Five stars. A worthy follow up to The Bullet Catcher's Daughter."
– Cayocosta 72
"Fans of steampunk and alternate history are going to dig this mystery novel – that has shades of horror as well liberally thrown in towards the end. A solid addition to the Gas-Lit Empire series and I'm purchasing the ticket for the next stop for sure!"
– Smorgasbord Fantasia
"The writing is as crisp, world-building deep, and characters as nuanced as the first book. This is a worthy second volume in what is turning out to be a fantastic series."
– Online Eccentric Librarian
"Slipping back into the world Rod Duncan has created for his characters to play in was a bit like putting on a well-worn, comfortable, pair of gloves."
– Frank Michael Serrington
"It's darker and creepier than the first novel, a little less straight up action-adventure and a little more gradually building tension, but that worked. A thoroughly worthy sequel."
– Lulu's Bookshelf
"Every element in Unseemly Science make this book a terrific addition to The Fall of the Gas-Lit Empire series. With Unseemly Science Rod Duncan ventures into a new direction when it comes to the setting of the book, it is darker it is grimmer and I think that with the third book it might become even more so, as the world that Elizabeth lives in, is on the brink of a change, of a revolution. The world that Rod Duncan showed in the first book is is greatly built upon and explored further. Just as with the world, Rod Duncan neatly keeps on developing his characters to the fullest and makes them even more lovable. Rod Duncan is definitely on the right track with this series."
– The Book Plank
"I got the shivers soon after I began reading and they didn't go away until after I finished. I thought I was hooked after reading Book #1 – now I am really hooked. If you're a steampunk fan, I need to let you know that its use is different from some of the in-your-face elements found in other steampunk novels, and I liked that. Bottom line: If you like alternate history, Holmes-style mysteries with nasty villains, sci-fi/fantasy, or just a nail-biting read, I recommend both books in this series. Okay, Rod Duncan, I hope you're busy writing Book #3 because I'm tapping my foot in anticipation of what Elizabeth is going to get into next!"
– Popcorn Reads
"A steampunk mystery novel! Two genres in one! It's just like having a double-scoop ice cream cone."
– Heights Libraries
"This book provides a very unique world that is part steampunk and part alternate history.  It is part sci-fi and part adventure/thriller.  It features a very strong, wholly original female protagonist that is sure to be admired by many.  I recommend this book very highly."
– Looking For a Good Book
"In my years of reading, I often find that sequels are sub-par compared to their debut counterparts. Unseemly Science is an exception to that idea. This book is fantastically written to the point where it sucks you in and you forget that you are in fact, not a part of the world but actually reading a book."
– Charlotte Reads Things
"This is powerful storytelling talent working so smoothly you can't feel the strain"
– Expendable Mudge Muses
"A compelling page-turner of a novel."
– Bristol Bookworm
"The world [Duncan] has created is such an exuberant, lively, richly detailed place, and peopled with such wonderful people, and so much darned fun to enter, how can you resist running directly to the bookery of your choice and buying all three (yes, three!) volumes?"
– Expendable Mudge Muses Aloud
"Rod Duncan has crafted an amusing, well-drawn story with a wonderful protagonist."
– The Speculative Shelf
"The ending was an experience. I didn't know who was going to die, how certain characters were going to make it out alive, it was a lot."
– Flying Paperbacks