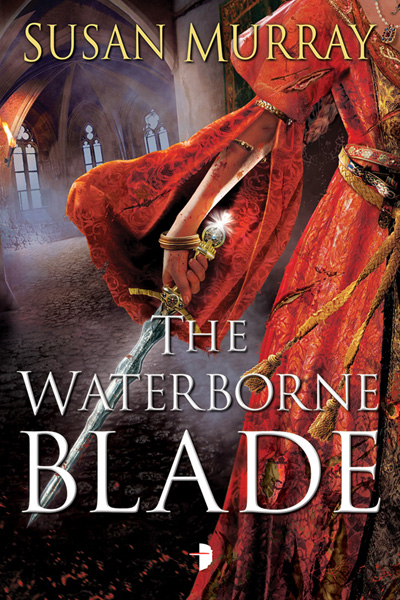 The Waterborne Blade
"The Waterborne Blade is an intriguing and compelling fantasy woven from a fascinating story set in a vibrant world inhabited by vivid characters. Susan Murray is a consummate storyteller who fulfills everything you could desire of a book and leaves you wanting more."
– Graeme K. Talboys, author of Stealing into Winter
---
A traitor marches on the throne, and so Queen Alwenna escapes with a loyal bodyguard. But when she gets a vision of her husband's impending doom, she risks her life to return in hopes of saving the King and the Kingdom.
---
File Under: Fantasy [ A Magical Awakening | Kissing Cousins | The King Must Die | Pregnant With Danger ]
---
The first book in the Waterborne Series
Buy the ebook version now – only
£

2.99
SKU: AR9780857664372
The citadel has long been the stronghold of Highkell. All that is about to change because the traitor, Vasic, is marching on the capital. Against her better judgement, Queen Alwenna allows herself to be spirited away by one of the Crown's most trusted servants, safe from the clutches of the throne's would-be usurper.
Fleeing across country, she quickly comes to learn that her pampered existence has ill-equipped her for survival away from the comforts of the court. Alwenna must toughen up, and fast, if she is even to make it to a place of safety. But she has an even loftier aim – for after dreaming of her husband's impending death, Alwenna knows she must turn around and head back to Highkell to save the land she loves, and the husband who adores her, or die in the attempt.
But Vasic the traitor is waiting. And this was all just as he planned.
| | |
| --- | --- |
| Series | Waterborne |
| Publication date | |
| Cover Art | Paul Young |
| Ebook | 5th May 2015 |  9780857664372 |  Epub & Mobi | RRP £6.99 / US$6.99 |
| US Print | 5th May 2015 |  9780857664365 |  Massmarket Paperback | RRP US$7.99 / CAN$9.99 |
| UK Print | 7th May 2015 |  9780857664358 |  Paperback | RRP £8.99 |
| Goodreads URL | Discuss and Review The Waterborne Blade |
"This is a wonderful thing, a sweeping fantasy which somehow manages to pull off the trick of being intimate and very human at the same time. It begins with a realm in peril, and then puts its shoulders back and strides confidently towards a horizon packed with magic and love and abandoned palaces and a huge and very real evil. Susan Murray has written a debut novel of great skill and depth, and I loved it."
– Dave Hutchinson, author of Europe in Autumn
"In this sometimes dark fantasy adventure, Queen Alwenna is secretly pregnant and in danger from King Tresilian's brother Vasic, who has started a revolution. King's Man Ranald Weaver is ordered to get the queen to someplace safe – only no place is safe. Vasic has infiltrated too many places, seduced too many players, and treachery forces the queen to run again. Monks at a sanctuary do something that augments the queen's psychic powers, giving her visions she can't ignore and sending her back to the palace, only to run again. The story goes in circles, with increasing threats – including a cursed dagger. It's an engrossing read, with a dramatically convoluted plot and plenty of action, to the point that it's occasionally hard to remember who did what. Still, it makes for an impressive first novel, and an intriguing start to a series. "
– Carolyn Cushman, Locus Magazine
"This is a well-paced, enjoyable read with characters that feel rounded and real…the writing shines."
– Rian Drinkwater, SFX Magazine
"This thrilling tale of sword and sorcery thrusts us right into the action.  When we meet the protagonists, we are given no background on them, or on the situation they find themselves in. We are told they need to flee, now, and we follow."
– Science Fiction & Fantasy Book Corner
"The plot moves at just the right pace, keeping it exciting while also allowing some time to develop Alwenna and Weaver as characters. This makes it really easy to become invested in the outcome since you actually know them well. I never felt like it was dragging and it was difficult for me to put it down. I almost missed my MAX stop on my way home because of this book. It's totally engrossing, which makes this book go by pretty quickly, and leaves you wanting more."
– Roberta's Literary Ramblings
"I have to hand it to Murray, she certainly knows when to kick in the exciting developments in plot and character to keep you on the edge of your seat. Just when you think you've reached the right place to set it down, you end up reading right through the night to find out where exactly the plot is about to take you. It pretty much blind sighted me and I read a lot of fantasy!"
– Book Frivolity
"The Waterborne Blade is an exciting medieval adventure and I would definitely recommend this book to people who like fantasy and enjoy intrigue, magic, romance, and an interesting female lead."
– The Qwillery
"This is epic, intelligent fantasy that doesn't rely on excessive sex and violence to pad it out. Read it!"
– Flying, Not Falling
"An epic fantasy that's easy to read."
– Talk Supe
"An interesting high fantasy with great characters."
– Syntax Reviews
"You know when you love a book so much that you're like 'Oh, well I need to wait 3 seconds for ____ to be ready for dinner. I can get another page read before then.' That was this kind of book for me, and I loved every second of it."
– Find Your Next Book