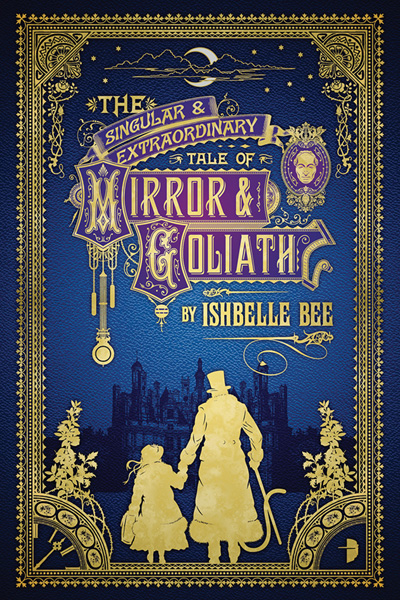 The Singular and Extraordinary Tale of Mirror and Goliath
A girl named Mirror has been irrevocably changed by her time locked in a clock painted over with Ladybirds, so she and her shapeshifting guardian Goliath must solve the mystery of her imprisonment while escaping the pursuit of the dangerous Mr. John Loveheart, Esq.
---
"An enthralling multi-layered whimsical fantasy with a deep dark heart lurking beneath the surface."
– Jim McLeod, Ginger Nuts of Horror
---
File Under: Fantasy [ Shapes Shifting | Inside the Clock | A Tasty Little Girl | 12 Dancing Princesses ]
---
The Peculiar Adventures of John Loveheart, Esq. Volume One
Buy the ebook version now – only
£

3.99
SKU: AR9780857664433
1888. A little girl called Mirror and her extraordinary shape-shifting guardian Goliath Honeyflower are washed up on the shores of Victorian England. Something has been wrong with Mirror since the day her grandfather locked her inside a mysterious clock that was painted all over with ladybirds. Mirror does not know what she is, but she knows she is no longer human.
John Loveheart, meanwhile, was not born wicked. But after the sinister death of his parents, he was taken by Mr Fingers, the demon lord of the underworld. Some say he is mad. John would be inclined to agree.
Now Mr Fingers is determined to find the little girl called Mirror, whose flesh he intends to eat, and whose soul is the key to his eternal reign. And John Loveheart has been called by his otherworldly father to help him track Mirror down…
An extraordinary dark fairytale for adults, for fans of Catherynne Valente and Neil Gaiman.
"I loved it dearly. It was complex, filled with strong images and characters, swerving in unexpected and wonderful ways."
– Karen Heuler, author of The Inner City
"Bee, the author who loves Victorian Top Hats and Cake Tents, incorporates both these elements and a lot more from her favourite era into the novel – beautifully entwining them into a tight little fairy tale of her own. By parts lyrical and scary, it's a gem of a novel that stands apart from other titles in today's world."
– Smorgasbord Fantasia
"Oh what a jolly ride this was! Magic and monsters and demons, oh my! A highly recommended read for YA and adult audiences."
– CayoCosta72
"The whole ambiance that Ishbelle Bee created in this debut is stunning, the world feels vibrant and alive, it does true justice to the proposed Victorian setting. The whole fairytale, dark magical setting is one that sticks with you for a long long time. You will find yourself – after finishing the book – daydreaming about the world that Ishbelle Bee has created. Beautiful."
– The Book Plank
The fantastical style is reminiscent of Neil Gaiman and has the charming curiosity of old Victorian fairytales.
– Christoria
"The level of creativity in this book is just dazzling."
– SFCrowsnest
"This book certainly captivated me and  is a roller coaster of colour and imagination,  I just devoured the text, letting myself be swallowed up into the world that the author has created,  I would love to enter the mind of Ishbelle Bee, to have a little rummage around, check out her fertile imagination, perhaps steal a few drops of inspiration along the way."
– Black Tea & Milk
"Dark and delicious. Devious and tricksy. Not what it seems. All thoughts that were running through my head as I read The Singular and Extraordinary Tale of Mirror & Goliath."
– Magic, Ink, and Stardust
"This will probably be ranking as one of my favorite books of the year, but I can't tell you a thing about it! I loved every minute of it."
– From My Bookshelf
"The Singular and Extraordinary Tale of Mirror and Goliath
is an exceptional book, a real fairy tale for adults.  It has great flights of fancy, wonderful characters and a powerful under current of dread that all good fairy tales should have.  A glorious mix of horror and Fantasy, that will take you on a journey you will never forgot, just make sure you pack something to eat."
–
Ginger Nuts of Horror
"It had a whimsical, Neil Gaiman-esque quality (and since I worship Neil Gaiman, this is very high praise). There were moments that would have been confusing if it had been presented by a less-skilled writer, but in Ishbelle Bee's hands, you just accepted it. Lovely, somewhat lyrical, the writing was wonderful."
– Bellsie Books
"I'd recommend this novel to readers in search of whimsical settings and characters, with magical realism and enchanting prose."
– The YLogs
"This short, dark tale is a treat.  It is a fun blend of historical and urban fantasy, and succeeds in keeping our interest throughout the story.  I recommend it, and will be reading other stories by Ishbelle Bee."
– Science Fiction and Fantasy Book Corner
"A penny dreadful fairy tale – delightfully dark, wonderfully wicked, highly original! This is a five out of five stars rating and I hardly ever say that. Bravo Ishbelle Bee!"
– Views & Reviews
"It is a dark and wonderful fantasy story that mixes horror with steampunk and historical elements. I loved it."
– Rickus Bookshelf
"Quite the fantastic read in all ways. Riveting characters that share their own singular voice and world building that takes you to unexpected places. This series will bind you with expectations."
– Koeur's Book Reviews
"The whole experience was like reading from inside the Mad Hatter and Chesire Cat's brain combined. Everything was just slightly off kilter and I loved every minute of it. Perhaps that really says something about my brain, but I don't care. I say read it, love it, embrace its kilter.
The most exciting thing I read about this novel though was the Volume I label. That means more are coming. Pumped!!!"
– In Pursuit Of My Own Library
"I fell in love with this book. Absolutely and totally. But this will also be one of the hardest reviews I've had to write so far. Not because the book is bad obviously, since I loved it, but because it's so different from anything else I've read recently. Heck, I don't even know what genre to put this book into. Gothic? Fairy tale? Horror? New weird? It's all of that and none of it at the same time. The Singular & Extraordinary Tale of Mirror & Goliath is a genre of its own, that can be summarized by three words: Weird, wicked, wonderful."
– Elena Linville's Tower of Winds
"It is rare, in my experience, to come across such finesse with the use of language that one feels excited just to be experiencing the words on the page. I therefore have to commend this book into place number four on my "Top Books of 2015" list."
– The Bookshelf Gargoyle
"This lovely tale has "dark fantasy" all wrapped up, but, at least in the telling, there's also a sense of the fairy tale. And, of course, given the Victorian setting and the use of clockwork devices, The Singular & Extraordinary Tale of Mirror & Goliath will also be catnip for the steampunk fans."
– Lit/Rant
"This book is written with a flair for prose, and I don't mean flowery. Somewhat dreamlike and spare, it is very evocative. The tone matches the story, which is surreal, magical, and a little bit horrific."
– The Book Adventures
"If you like your books and your characters to be very dark, and you, like me, like unusual formats in books then I definitely recommend it."
– Dual Reads
"Deceptively complex and intricate, this is at once a simply fantasy story and an epic journey into a strange a weird world."
– Morpheus Tales
"This story is at its heart a fairy tale, and a dark one—modern in many ways, but as old as time in others, with that current of magic and power and truth you can feel in the old tales, and when you're lucky, in the new ones, too."
– Read This/Eat That
"If you enjoy the weird and wonderful, I would encourage you to read this book and become lost in its madness and magic."
– Magic Ink and Stardust