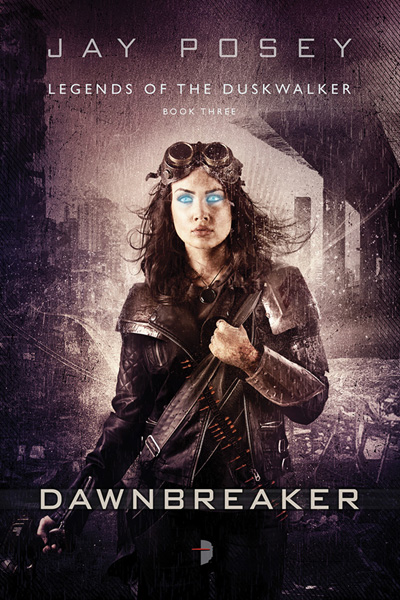 Dawnbreaker
Wren is safe – for the time-being. But when a man named Haiku walks into his life looking for Three, Wren's life is once again thrown into turmoil.
---
File Under: Science Fiction [ Third of Three / Nil Desperandum / Against the Weir / Charles the First ]
---
The Third Book in the Legends of the Duskwalker Series
Buy the ebook version now – only
£

3.99
SKU: AR9780857664495
Wren is living in Greenstone under the temporary care of Charles and Mol, and the protection of Chapel. Unable to determine the fate of his mother and those he left behind in Morningside, Wren believes there is nothing left to do but wait for Asher's final blow … until a man named Haiku walks into the Samurai McGann, looking for Three.
After learning of Three's fate, Asher's ascension, and Wren's gift, Haiku offers his help, and together they set out to find the remnants of House Eight and convince them to help.
As Cass and the few who survived the fall of Morningside face overwhelming odds to escape Asher and the Weir, they realize it is impossible…until their daring and probably suicidal plan to strike turns out to have surprising results and unexpected discoveries.
"Dawnbreaker is the third book in the Legends of the Duskwalker trilogy, which may be one of the best sci-fi trilogies published in the last decade.  Start at the beginning, with Three, and don't stop until you get to the end."
– Looking for a Good Book
"Dawnbreaker is every bit the great final novel of this trilogy, and ended as good as it started. Couldn't have asked for more. Highly recommend this trilogy, start to finish!"
– Life's A Beach
"The book has a lot of heart and enthusiasm going for it – and I really appreciated the manner in which Jay ended the series."
– Smorgasbord Fantasia
"One hell of a book!"
– Popcorn Reads
"Jay Posey has created an incredible new world (at least for me it is).  I found it to be very original and not like anything else I have been reading/listening to lately."
– Audio Book Reviewer