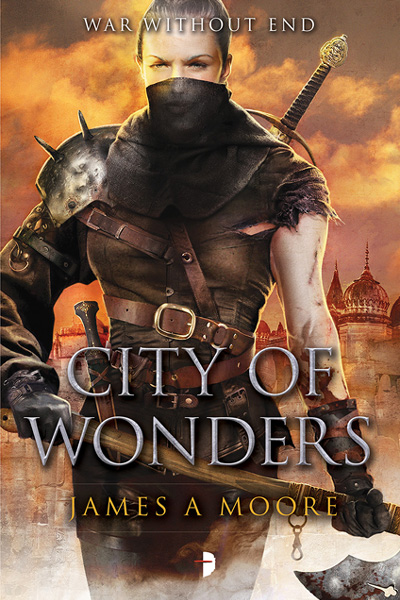 City of Wonders
Open war rages between the kingdom of Fellein and the Sa'ba Taalor. Refugees seek safety and the leaders on both sides pursue their agendas while ancient forces take notice of the conflict and stir from their slumber.
---
File Under: Fantasy [ Unholy Pilgrimage | Mother Vine Provides | Heroes Needed | Forged by Death ]
---
The Third Book in the Blasted Lands Series
Buy the ebook version now – only
£

3.99
SKU: AR9780857665065
Old Canhoon, the City of Wonders, is facing a population explosion as refugees from Tyrne and Roathes alike try to escape the Sa'ba Taalor. All along the border between the Blasted Lands and the Fellein Empire, armies clash and the most powerful empire in the world is pushed back toward the old Capital. From the far east, the Pilgrim gathers an army of the faithful, heading for Old Canhoon.
In Old Canhoon itself, the imperial family struggles against enemies old and new, as the agents of their enemies begin removing threats to the gods of the Seven Forges and prepare the way for the invading armies of the Seven Kings. In the distant Taalor valley, Andover Lashk continues his quest and must make a final decision, while at the Mounds, something inhuman is awakened and set free. War is here. Blood will flow and bodies will burn.
| | |
| --- | --- |
| Release Date | 2015-11-03 |
| Cover Art | Alejandro Colluci |
| Ebook | 3rd November 2015 | 9780857665065 | Epub & Mobi | RRP £6.99 / US$6.99 |
| US Print | 3rd November 2015 | 9780857665058 | Trade Paperback OR Massmarket Paperback | RRP US$7.99 / CAN$9.99 |
| UK Print | 5th November 2015 | 9780857665041 | Paperback | RRP £8.99 |
| Goodreads URL | Discuss and Review City of Wonders |
"The Seven Forges series is epic fantasy the way it should be done, and City of Wonders is no exception. It's character driven without sacrificing the action, intrigue, and wonder that's at the heart of all good fantasy. That Moore throws in a dash of horror only makes his recipe better."
– Adventures Fantastic
"City of Wonders is a deeply immersive book, one that will hook you from start to finish."
– ZireV
"I just anointed City of Wonders as the novel that catapults Seven Forges into the upper echelon of sword and sorcery fantasy ever written."
– BookWraiths
"City of Wonders is a book that kept me reading long into the night, and has stayed with me days after I've finished. I've gone back and re-read the ending a few times just to make sure I caught everything, because that ending was so big with so much going on that I'm sure I've missed key hints and clues about what's going to happen next. I have so much anticipation for the The Silent Army, I need to read it right now!"
– Fantasy Book Review
"Moore has created a brilliantly realised world here; his characters continue to get better with each book. It's still exciting, it's still fresh, and brilliantly vivid. Fantasy does not get much better than this."
– Morpheus Tales
"Moore's writing completely transports, his characters are fantastically fantastic, and the tension he weaves through it all is expertly done. Oh, and the twists? You'll love those too. There are few authors I read where I wish I could write as well as them, but James A Moore is one them."
– Amanda J Spedding
"The third installment of Moore's Seven Forges series is as good as the first two."
– Scary Monkeys and other Childhood Phobias