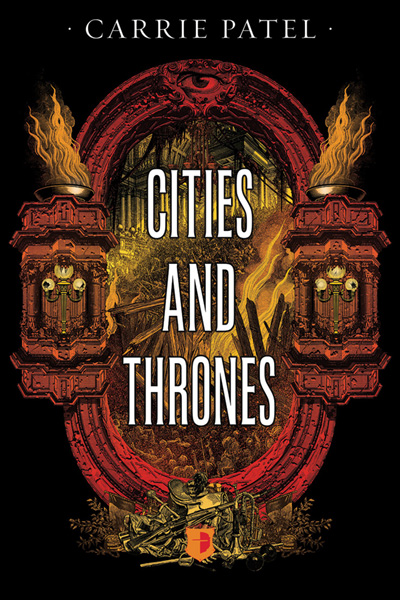 Cities And Thrones
A world-changing secret has been let loose in the shadow-choked underground city of Recoletta. Now Inspector Liesl Malone must keep the city safe even as it threatens to tear itself apart.
---
File Under: Fantasy [ Buried Cities | Secrets & Lies | Revolutionary | Total War ]
---
Book two of the Recoletta series
Buy the ebook version now – only
£

3.99
SKU: AR9780857665546
In the fantastical, gaslit underground city of Recoletta, oligarchs from foreign states and revolutionaries from the farming communes vie for power in the wake of the city's coup. The dark, forbidden knowledge of how the city came to be founded has been released into the world for all to read, and now someone must pay.
Inspector Liesl Malone is on her toes, trying to keep the peace, and Arnault's spy ring is more active than ever. Has the city's increased access to knowledge put the citizens in even more danger? Allegiances change, long-held beliefs are adjusted, and things are about to get messy.
| | |
| --- | --- |
| Series | Recoletta |
| Publication date | |
| Cover Art | John Coulthart |
| Ebook | 2 July 2015 | 9780857665546 | Epub & Mobi | RRP £6.99 / US$6.99 |
| US Print | 7 July 2015 | 9780857665539 | Massmarket Paperback | RRP US$7.99 / CAN$9.99 |
| UK Print | 2 July 2015 | 9780857665522 | Paperback | RRP £8.99 |
| Goodreads URL | Discuss and Review Cities and Thrones |
"What Patel is giving the characters (and the reader) in this changed portrayal is an understanding of consequences. The old Recoletta is dead, but the birth pains of the new one aren't especially pretty. Still, from a setting point of view, Patel has spun together a vivid world, one which is different enough from our own to be fascinating, and similar enough that we empathise with the characters as they struggle within it."
– Sci-Fi and Fantasy Reviews
"I read this book in one go, quite literally in one sitting. It's definitely a worthy sequel."
– Bibliophibian Inc.
"Carrie Patel has created a world that's so rich, so full, and so well-developed, that it's incredibly easy to get lost in it. There are layers to the characters and layers to the world itself. It's incredibly thought out and developed, and it's so well-done. I'd revisit this world again for sure."
– In Case of Survival
"What I really loved (and respected) about Cities and Thrones is that Patel doesn't pander to the reader, overwrite the story, or otherwise tell rather than show. Yet the wording isn't dense, frustrating, or nebulous."
– Online Eccentric Librarian
"Ms. Patel has a knack in Cities and Thrones of providing just enough information for your imagination to grab hold and provide the rest. She's also a master at nail-biting, non-stop action. Once you start reading, hold on tight because things are going to get really interesting fast. I recommend this series because it just keeps getting better."
– Popcorn Reads
"It's all fascinating and interesting, and the aftermath of the revolution in Recoletta puts me in mind of some of the events of the French Revolution. Thus, the tangle of events here reminds me strongly of the novels of Django Wexler and Brian McClellan, especially when the plots of their novels focus on intrigue and city adventure rather than the flintlock fantasy war scenes. These three authors, McClellan, Wexler and Patel, all understand and illustrate that revolution and political upheaval are never, ever, smooth and easy affairs. There are countervailing forces, revanchist forces, radical elements, and the ordinary person *still* has to muddle along  and live the day-to-day life, sometimes in a very broken world."
– The Skiffy and Fanty Show
"I was on the edge of my proverbial seat during the last few chapters."
– The Qwillery