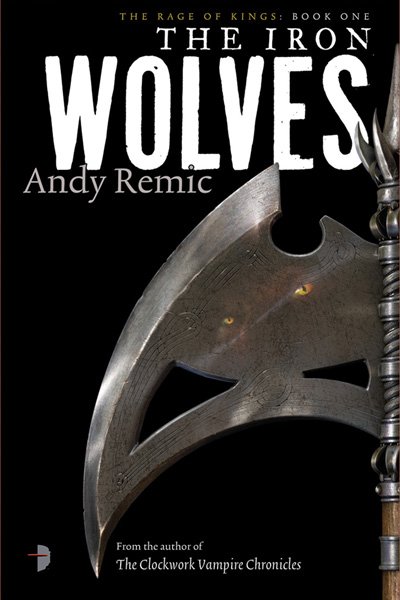 The Iron Wolves
The least trustworthy warriors in the kingdom are needed one last time to hold back an invading army, or die trying. 
---
"For anyone who is missing their David Gemmell fix."
– iO9.com
---
File Under: Fantasy [ Evil Sorcerers | The Chaos Hall | Fighting Dirty | Mud-Orcs! ]
---
The Rage of Kings, Book 1
Buy the ebook version now – only
£

2.99
SKU: AR9780857663566
Thirty years ago, the Iron Wolves held back mud-orc hordes at the Pass of Splintered Bones, and led a brutal charge that saw the sorcerer Morkagoth slain.
Now, a new terror stalks the realm. Orlana the Changer has escaped from the Chaos Halls and is building an army, twisting horses, lions and bears into terrible, bloody hunters, summoning mud-orcs from the slime and heading north to battle the mighty region of Vagandrak where, it said, the King has gone insane.
General Dalgoran searches to reunite the heroes of old for what he believes will be their final battle. But Dalgoran discovers the Iron Wolves are no longer the heroes of legend, and they might just be more dangerous than the invading hordes.
| | |
| --- | --- |
| Series | Rage of Kings |
| Publication date | |
| Cover Art | Lee Gibbons |
| Ebook | 31st December 2013 | 9780857663566 | Epub & Mobi | RRP £5.49 / US$6.99 |
| US Print | 31st December 2013 | 9780857663559 | Massmarket Paperback | RRP US$7.99 / CAN$9.99 |
| UK Print | 2nd January 2014 | 9780857663542 | Paperback | RRP £8.99 |
| Goodreads URL | Discuss and Review The Iron Wolves |
"Remic delivers the goods for fans of stark brutality and violence in a fantasy setting."
– Publishers Weekly
"If you thought Theon Greyjoy's castration scene in A Game of Thrones was a little restrained, then The Iron Wolves could be the epic fantasy potboiler for you … Combining George RR Martin-inspired visceral violence with a touch of Slaine-style bombastic barbarism and a plot straight out of The Lord of the Rings…"
– SFX
"Nothing is too outlandish for Andy Remic… [The Iron Wolves is] glorious."
– Graeme's SFF
"Add to the mix a good dollop of battlefield humour, a good handful of Howard's style backed up with a stark descriptiveness and it's a tale that gives Remic a firm footing within the genre."
– Falcata Times
"Andy Remic has to be given credit for his unflinching style which is certainly not for everyone. The action and gore levels are increased, while the characters are all tested and reveal more about themselves… The action and snappy dialogue are all here. This book delivers exactly what its predecessor promised: the ability to bewitch the reader and to turn your expectations upside down."
– Fantasy Book Critic
"A worthy successor to the Gemmell crown."
– SFBook.com
"Fast paced, good action and an interesting cast of anti-heroes"
– Fantasy Review Barn
"If Quentin Tarantino read a lot of Heavy Metal comics and played Dungeons and Dragons and decided "hey, I'm gonna write a book!", this is what he would write… The Iron Wolves is a vicious, over the top violent, and thoroughly vulgar ripping bloodfest of a fantasy… This book grabs you by various body parts and then punches you in the face when you try with all your weak little might to get loose."
– The Ghostworks
"Full of unlimited energy and madness, this book is perfect for readers looking for a stronger, headier kick to their epic fantasy; fans of bloody battles and gritty anti-heroes are in for a real treat"
–Bibliosanctum
"not [for] the faint of heart, many will find its fast pace and gritty characters to be just to their liking."
– Heather McCorkle, Author of Born on Fire.
"Remic has a very precise way with descriptions of battles and fights and with weapons of every type (including head butts). The scenes leap and snort off the page, making the heart race with anticipation about their outcomes … The Iron Wolves seethes with action; indeed, it stomps across every page."
– Sharon Reamer, Author of the Schattenreich Books.
"It amazes me how an author that writes such brutal and straightforward stories can twist the neck of a plot so artfully … Andy Remic brings grit and realism to the fantasy genre in a fascinating and addictive way. This book is well worth a read and I'm already looking forward to the next part."
– Tony's Thoughts
"Holy crap, but The Iron Wolves was a hell of a lot of fun! It's as if Robert E. Howard and Fritz Leiber reached out from beyond the grave to collaborate on the kind pulp fantasy they perfected, decided to take Stallone's The Expendables as their inspiration, recruited Sam Raimi to direct the medieval mayhem, and then demanded that nothing short of the explicit, unrated director's cut make it into print."
– Bob Milne at Beauty in Ruins.
"As I've come to expect from Mr Remic, the author doesn't shy away from describing the awfulness of the splicing process. In fact, be warned those with a nervous disposition, things veer off into the realms of body horror on a number of occasions. It's one of my favourite things about this particular author's writing. Nobody does brutal violent chaos better than Andy Remic."
– Paul Holmes, The Eloquent Page.
"So, a bloody, violent, vicious fantasy romp. If you like your fantasy full of elves, unicorns etc this may not be your thing but if you like getting up to your ears in blood, gore and nastiness you're in for a treat. On a final note, the very last scene in this book was not at all what I expected, and even now, five days after finishing it still hasn't left my thoughts. I am certainly looking forward to the next book." – The Terror Tree
Listed as one of the Most Anticipated Books of 2014 at Shadowhawk's Shade