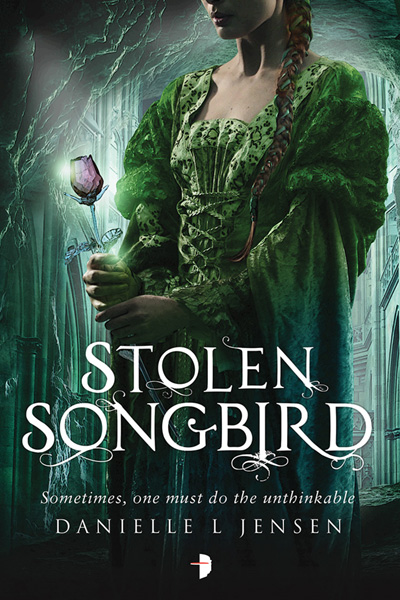 Stolen Songbird
"Stolen Songbird is a fantastic debut. The book had an amazing cast of developed characters, an intriguing plot, an swoon- worthy romance and an ending that'll have you itching for the next book. I'd definitely recommend it."
– YA Midnight Reads
---
When Cécile is kidnapped and sold to trolls, she believes she is destined for the cookpot. But she learns her preconceived ideas of those who hold her prisoner are false… and finds a life that she can love. Cecile gets embroiled in the growing conflicts between the pure-blood trolls and the underclass of half-bloods, and finds herself becoming an unlikely champion for the kingdom's downtrodden.
---
File Under: Fantasy
---
The first book in the Malediction Trilogy
Buy the ebook version now – only
£

2.99
SKU: ARSC9781908844972
For five centuries, a witch's curse has bound the trolls to their city beneath the mountain. When Cécile de Troyes is kidnapped and taken beneath the mountain, she realises that the trolls are relying on her to break the curse.
Cécile has only one thing on her mind: escape. But the trolls are clever, fast, and inhumanly strong. She will have to bide her time…
But the more time she spends with the trolls, the more she understands their plight. There is a rebellion brewing. And she just might be the one the trolls were looking for…
"Amazing world building. Incredible writing. Awesome characters. No dull moments. Fierce and not-whinny-and-annoying heroine. And a swoon worthy Troll prince.  Stones and sky! I was completely engulfed in the world of Trollus. It felt like I have been living inside its world throughout the entire time I'm reading this incredible book."
– The Nocturnal Fey
"Stolen Songbird is an absolutely wonderful addition to the fantasy genre. The book is full of magic, adventure, outlandish creatures, and at its heart is one of the most touching love stories I have ever read… This novel takes a very old fairytale cliché, and turns it into a stunningly original and beautiful story… So obviously I really like this book and I am going to go ahead and give it a 9/10. This is the highest rating so far!"
– Avid Reviews
"It's rather rare for me to sit down just after finishing the book and start the review. But here I am, only few minutes after reading the last word of this book writing this. I cannot tell you how much this book makes me happy."
– Ja čitam, a ti?
"Every once in a while you run across a new series that sucks you in and you know you will be anxiously following every installment…Stolen Songbird book 1 of The Malediction Trilogy is just such a book."
– Tome Tender
"The underground kingdom was an astounding setting, it was just… I don't even have words, it felt real!"
– Paperback Wonderland
"This book is such a beautiful story.  A world filled with fantasy, romance and politics.  An introduction to a hidden, magical place, full of a race that we thought only existed in fairytales.  So well described, you have no problems imagining it.  You get to experience Cécile's emotions as she is torn away from her dream life, forced by a magical bind in marriage to a prince of a cruel race.  Grow with Cécile as things begin to change, making new friends, experiencing feelings she didn't think would be possible and discovering powers that she never realised she had. So what are you waiting for, get this book added to your Goodreads shelf, spread the word to your fellow readers and get ready to purchase this book on the 1st April 2014.  This is going to be another amazing series!"
– Opinionated Cupcakes
"I seriously lack the superlatives to express how much I adored this book. An intelligently-written romantic fantasy with an engaging moral conflict at the heart of the story, original and creative worldbuilding, political intrigue, an enigmatic and appealing hero, and, best of all, a quick-witted and strong-willed heroine who grabs your affection and doesn't let go? You had me at hello. When I was reading it, all I could think of were the fantasies that I grew up reading in the 90s, but with a few exceptions from authors like Sherwood Smith and McKinley and Stevermer and Wrede I can't think of any books that pull off all those elements so successfully, which made me realise that Stolen Songbird is really the kind of book I wished I had to read when I was growing up. I really think today's YA audience is incredibly lucky to have such an abundance of diverse fantasy novels from authors like Cashore and Bardugo and Marchetta… and Jensen has definitely earned herself a place alongside those names with this debut. I will be watching her work avidly from now on."
– Emma's Miscellaneous Maunderings
"I laughed, I ranted, I cried twice. It was a bit of an emotional rollercoaster for me but I thoroughly enjoyed it and look forward to reading the next book in the trilogy."
– Leanne Crabtree
"This book has it all, a unique and well-developed cast of characters, romantic tension, political intrique, and high-stakes fantasy elements. And a centuries old witches curse as well! Gotta love it. And oh I so did."
– Don't Shush Me
"Stolen Songbird is blessed with a setting so vivid that the characters have no choice but to flourish and become real in the reader's mind.  I loved the author's surprising new depiction of trolls!"
– Cowering King
"I would recommend this book in a heartbeat. It's a wonderful fantasy book filled with tons of magic that will leave you wanting more. I am very much looking forward to the next installment."
– The Nightly Book Owl
"Stolen Songbird was everything I wanted, but at the same time nothing I expected."
– The Innocent Smiley
"If you're looking for a YA fantasy full of magic and mystery and intrigue and romance and wonderful, heartfelt characters that you could easily accept to be trapped under a mountain with, then don't just read Stolen Songbird – inhale it. Deliciously written in two POVs that are deep and personal and completely intertwined with one another, this book is at once like hot chocolate on a rainy day with a cat on your lap, and a shot of something wicked when you're feeling wired. There's nothing I even remotely disliked, and a list as long as most Welsh train station names of things I loved. Stolen Songbird was a dream to read, a dream to adventure through, and a nightmare to leave. I didn't want to wake up – and neither will you."
– Jet Black Ink
"Stolen Songbird is a must-read.  It doesn't come out until April 1, but you had better pre-order a copy right now if you find this book even remotely interesting.  Just like me you'll also want the rest of The Malediction Trilogy to come out this instant as well. I can't wait for book two! I give this book 5/5 stars."
– The Mad Reviewer
"If you love fantasies, romance, and political intrigue, then you really need to add this book to your wishlist and tell all your friends you want it for your birthday, because Oh my gosh, it is my new favorite book of this year."
– Book Marks the Spot
"There are too many good things about Stolen Songbird for me to list them all. Suffice it to say that I didn't want this book to end, I didn't want to have to leave the cast and Trollus behind. Tristan and Cécile will certainly be a pair that I look forward to returning to, and book two of the Malediction Trilogy is already on my list of anticipated reads for next year whilst Stolen Songbird has already set a very high bar for any book to top it as my favourite book of the year."
– The Serpent's Quill
"I love this book. This is something I would read everytime before I sleep. And for my own record, this could be my next inspiration for writing."
– Shining Jewels
"Overall, this lengthy fantasy novel offers a lot of adventure, romance and political intrigue. It would suit any voracious young reader looking for an entertaining read with thoughtful substance behind it. Highly Recommended."
– Laura Dunford, Canadian Review of Materials, Feb 14th 2014 issue
"Without any doubt, I can already say that Stolen Songbirdwill end up on my and many other lists of best novels for young adults published in 2014. Stolen Songbird is an example is how it looks when a team of professionals works on a book: great writing, editing & design. What did I like? The list is mile long."
– YA Books Central
"Stolen Songbird is an enticing beginning to a magical new trilogy. The passion between Cécile and Tristan simmers tantalizingly beneath the surface, anticipating the slightest of sparks that will fully ignite it. Jensen has created a vivid and complex world that readers will be eager to explore further in the next two installments."
– Teen Reads
"Stolen Songbird is a pretty mesmerising story, complete with beautiful, calculating creatures, an underground cavernous city, and a gutsy human heroine. There is fantasy, witty dialogue, magical oaths and rebellions, love and loyalty, and everything in between."
– Realm of Fiction
"I thought this book was excellent. Unputdownable, even. And the end leaves us in a perfect position: a nice balance between wrapped up and need-to-know-what-happens-next. It leaves room for a sequel that I not only want to read, but believe has the potential to be a very different kind of story to this first installment. I'm pretty damn excited!"
– Emily May (Goodreads)
"Stolen Songbird was an absolute delight to read. With an elegant writing style and captivating world as well as storyline, my eyes were locked to the pages until the very last."
– Not Yet Read
"The writing-style was superb. I was transported to the world of Trollus and I walked side-by-side with Cécile. The setting was magical and I was sucked into the story, which has a very interesting and complex plot without being overwhelming."
– The Daily Prophecy
"Stolen Songbird was my top anticipated young adult novel coming out from Strange Chemistry this year, and I have to say all the lusting and the pining has been worth it. Author Danielle L. Jensen opens up a whole new world for readers who love magic, romance, and enchanted lands."
– The Bibliosanctum
"This book is so different to the usual YA book that is appearing at the moment, fresh to read, I become captivated by the characters and the world that they inhabit."
– Homeport Blog
"If you ever watched Labyrinth on a loop, or if you enjoy the strange characters and dangerous politics ofAlice in Wonderland, this recommendation is for you."
– Handheld Dream
"I devoured this novel. Loved the action/adventure, the political intrigue, the interpersonal dynamics, and I could hardly wait to share it with you."
– Popcorn Reads
"This book was beautifully intoxicating.  From the feeling of being in past generations from their dialect, to characters that enchanted my heart, to the intricate storyline that kept me glued to the pages, it was impossible not to become lost in their twisted world.  I was completely blown away by how much I loved this book and how Cecile and Tristan's happiness, sorrow and horror became mine."
– Star-Crossed Book Blog
"Without a doubt, Stolen Songbird is one of the better YA fantasy books I've read in a while. The novel follows a well known YA storyline but manages to make it its own, to make it appear fresh. It's a book full of magic, political intrigue, strange creatures and coupled with Jensen's lovely writing, I believe it will be a real hit for many fantasy lovers."
– The Book Geek
"The romance is slow burn, the magic is plentiful–and the story is good. Readers will be taken on a fun journey with otherworldly characters, and odd happenings–Fantasy fans will enjoy this romance based YA."
– This Girl Reads a Lot
"I really enjoyed the story , I look forward to the next book in the series, and I think it's precisely the sort of story that teen and tween girls will really enjoy, and some of the teen boys might as well, if they'd give it a shot. Stolen Songbird by Danielle L. Jensen is an engaging read for teen readers."
– Looking for a Good Book
"For a debut book this was a really great read. I could not stop reading it. Even when I had other things to do, I just kept telling myself 5 more minutes."
– New, Borrowed, Used
"An enjoyable fantasy romance that gets deeper and more complex with every chapter."
– Borrowed Worlds
"Stolen Songbird was the start of an epic series, with a breathtaking setting and refreshing characters."
– Boricuan Bookworms
"I ended up doing an 8 mile green way walk while listening to this novel and didn't realize it until I was already two hours in because I was so engrossed in the story."
– A Midsummer Night's Read
"An unconventional story with fantastic characters, gorgeous settings, bountiful twists, and trilling action. A definite recommend for anyone interested in reading a fantastic fantasy-romance."
– Amy Braun Author
"This book is so amazing. I love the cover, love the world-building, the characters, the romance, everything! I eagerly await the next one so I can find out what happens because I am absolutely desperate to know and I think I'm going to be waiting a very long time. If you haven't already, read it."
– Chased by My Imagination
"The book is good. Trust me. If you like funny, witty, flawed, and strong willed characters, slow burning romances, and some very weird fantasy, then this is for you."
– The Book Cover Girls
"Compulsively readable."
– A Reader of Fictions
"Tons of action to keep you hooked from the first to last page. Five Stars"
– For the Novel Lovers
"Despite being the first in a new trilogy, there's enough here to make you feel as though you've enjoyed a complete story, with a tantalizing hook in Stolen Songbird's final paragraph to pave the way into its sequel."
– Fantasy Literature