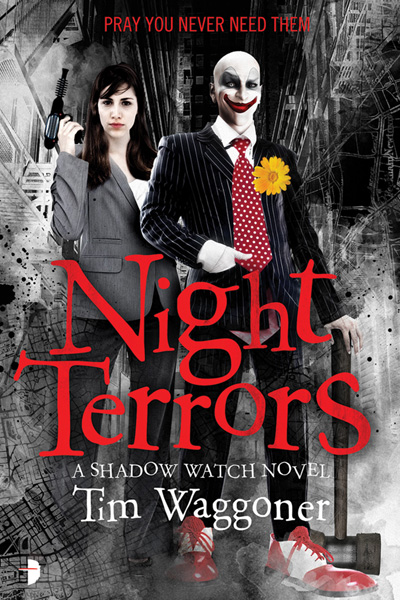 Night Terrors
A supernatural agency hunts down nightmares in our world to keep the peace, and allows dream-folk to live among us – as long as they play by the rules…
---
File Under: Urban Fantasy [ Lords of Misrule | Living the Dream | Breaking In | I Make These Look Good ]
---
The first book in the Shadow Watch series
Buy the ebook version now – only
£

2.99
SKU: AR9780857663702
It's Supernatural meets Men in Black in a darkly humorous urban fantasy from the author of Nekropolis.
When you dream, you visit the Maelstrom. Dream long enough and hard enough, and your dreams can break through into the living world. So, alas, can your nightmares.
And who's there to catch the dreams and nightmares as they fall into reality? Meet the Shadow Watch.
Pray you never need them…
The first book in the Shadow Watch series
| | |
| --- | --- |
| Series | Shadow Watch |
| Publication date | |
| Cover Art | Amazing 15 |
| Ebook | 27th May 2014 | 9780857663702 | Epub & Mobi | RRP £5.49 / US$6.99 |
| US Print | 27th May 2014 | 9780857663696 | Massmarket Paperback | RRP US$7.99 CAN$9.99 |
| UK Print | 5th June 2014 | 9780857663689 | Paperback | RRP £8.99 |
| Goodreads URL | Discuss and Review Night Terrors |
Praise and Reviews for Tim Waggoner and the Nekropolis saga:
"Both horror and mystery readers will be delighted by this horror-noir adventure."
– Publishers Weekly (starred review)
"Fans of science fiction, fantasy, and horror, fans of noir detective stories and fans of the just plain weird, rejoice! … Nekropolis is something to pick up if you are in the mood for something different and fun. The weirdness does not leave you alienated (sic) and the worldbuilding is of a very high quality."
– SF Revu
"Nekropolis is an engaging read that had plenty to recommend it to me. I like detective tales and Nekropolis has all the elements this and uses them effectively. There's a mystery to be solved and every question is answered with another question, just the thing to keep me reading (which it did)."
– Graeme's Fantasy Book Reviews
"The villains in the book are creepy, alien, and often very scary, but some of Matt's friends are even scarier… [it has] good description style and a well thought out plot."
– SF Site
"Tim brings to the genre a mystery with some great twists, a wickedly twisted sense of humour and … a cracking world for the character to tread the beat. Great stuff."
– Falcata Times
"Anyone who wants to see a slightly different version of urban fantasy will find this highly readable. For them as likes this type of book, Night Terrors is a very good buy."
– Thinking About Books
"I found myself rooting for a freaking clown. And I want to go back".
– Kathy's Book Pile