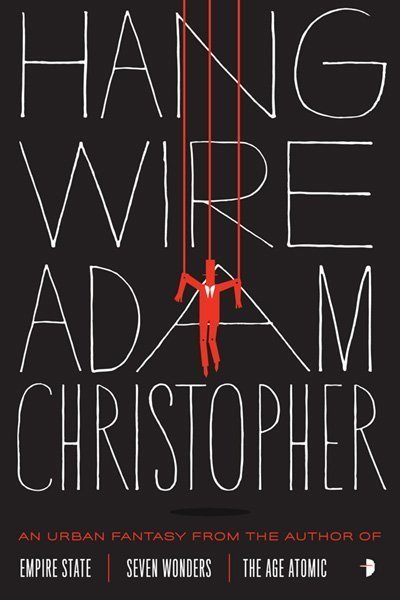 Hang Wire
A story of circuses, sleepwalkers and ancient, immortal powers, from the author of Empire State and Seven Wonders. 
---
"The sheer volume of ideas is dizzying… an enjoyably fast-paced read."
– SFX Magazine
---
File Under: Urban Fantasy [ Tensile Strength | Dual Identities | The Greatest Show | Bandits ]
Buy the ebook version now – only
£

3.99
SKU: AR9780857663184
Ted Kane is worried. He's been sleepwalking, and his somnambulant travels appear to coincide with murders by the notorious Hang Wire Killer.
Meanwhile, the circus has come to town, but the Celtic dancers are taking their pagan act a little too seriously, the manager of the Olde Worlde Funfair has started talking to his vintage machines, and the new acrobat's frequent absences are causing tension among the performers.
Out in the city there are other new arrivals – immortals searching for an ancient power – a primal evil which, if unopposed, could destroy the world!
| | |
| --- | --- |
| Publication date | |
| Cover Art | Will Staehle |
| Ebook | 28th January 2014 | 9780857663184 | Epub & Mobi | RRP £5.49 / US$6.99 |
| US Print | 28th January 2014 | 9780857663177 | Trade Paperback | RRP US$14.99 CAN$16.99 |
| UK Print | 6th February 2014 | 9780857663160 | Paperback | RRP £8.99 |
| Goodreads URL | Discuss and Review Hang Wire |
"Christopher fulfils our expectations and more: just when we think the story couldn't get any weirder, he adds a whole new layer of weird, bouncing from one unexpected moment of goofiness to another, keeping us stuck to our chairs until we think it'll take an industrial-strength solvent to pry us loose. Days after finishing the book, you'll still have a grin on your face."
– Booklist Starred Review
"To put it simply, this is one of the best sci-fi novels in years. Try this one out, it's a worthwhile experience and one that beats any number of Hollywood blockbusters for pure originality and panache. A fantastic read."
– Kafka's Cage
"Hang Wire is just pure fun. Yes, there are some dark doings here (something huge is awakening underground and gods are running around wearing human facades, and of course, murder), however, Adam Christopher manages to pull off the right amount of creepy (and some great action scenes) without ever getting too dark. Fans of quirky urban fantasy will devour this one. Loved it!"
– My Bookish Ways
"There's only so much praise you can heap on a book, and I'm going to lay it on thick here. HANG WIRE is a damn cool book. It's the perfect example of deep and well thought-out characterisation, diversification, multi dimensional plotting, and clever (and at times poetic) writing. "
– Just A Guy That Likes To Read
"The plot within Hang Wire is just as original as his previous work and like before, he loads it up on characters and ideas … it's a fun novel with a hell of an interesting cast."
– EveryReadThing
"[Hang Wire] feels like an old story, but one told in a fresh and relevant way. Which to me means it is excellent storytelling. It could be read as almost anti-science or anti-science fiction even (anti- as in opposite, not against), reflecting past-times when horrors such as earthquakes and comets were explained by supernatural events … So, what is Hang Wire? A very good piece of storytelling. A damn fine read."
– Geek Syndicate
"Hang Wire tells a number of tales all at once. It's a detective story, a horror, a little bit of science fiction and a lot of urban fantasy. It's a heady mix and throwing all these elements together means Adam Christopher is able to keep things rolling along at a hell of a pace."
– The Taichung Bookworm
"An excellent read, Adam Christopher once again reminds us why he is your go-to writer for awesome urban fantasy as he crafts an unputdownable tale that makes Angry Robot's 100th Novel an excellent read!"
– Bane of Kings, The Founding Fields
"It kept me on my toes and kept me wondering who it and they were. I also enjoyed the dash of mythology thrown into it and the sense of the mystical that the circus theme always brings."
– BookCharmed
"It's an absorbing read … The pacing is really good: there was never a point where I could put it down and not wonder what was coming up next."
– The Bibliophibian
"The worldbuilding is light but effective and the plot runs along at a fair pace with some great imagery … Overall – being an Angry Robot book you expect it' to be pacy and intelligent with good plotting and Christopher really delivers. Recommended."
– BRSBKBLOG
"Hang Wire is an awesome read (and that's understating it by far), from the first pages I was hooked. Not only has Adam Christopher written a great story, it is also his writing style that readily pulled me in and never let me go."
– Jasper, The Book Plank 
"Like a tightrope walker himself, Christopher deftly balances Hang Wire on multiple, crisscrossing threads of character and plot. As dizzying as it is, he never slips. "
– NPR Books
"Lightning fast, overflowing with imagination and great fun to read, Hang Wire will definitely capture Adam Christopher some new fans."
– The Tattooed Book
"Bad things are happening in San Francisco, and no one in the story is ever really safe. If you are looking for atmospheric and creative storytelling, Hang Wire could be just the ticket."
– Books, Bones and Buffy
"Adam Christopher has brought he unique to this novel and I loved it. Hang Wire is pure murder mystery married to a dark, sinister urban fantasy, with both bordering on and possibly crossing over into horror in places. I get chills now just thinking about it."
– Popcorn Reads
"This was a worthy addition to our bookshelf and one of those books we are sure we will be looking forward to re-reading some day in the future. Don't let this one pass you by."
– SoSo Gay
"Hang Wire is Adam Christopher's fourth book and it is his best so far. That's not saying the three that went before – Empire State, Seven Wonders and The Age Atomic – were not good, they were very good in fact, what I am saying is over the course of the previous books I have seen Adam's style and mastery of his craft grow and expand. The result is Hang Wire, a pitch perfect story set in the world of nameless monsters and forgotten gods running rampant on the streets of San Francisco."
– Fantasy Fiction