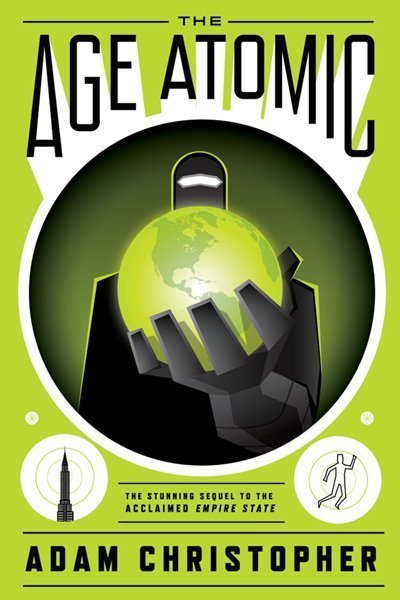 The Age Atomic
WINNER OF THE KITSCHIES INKY TENTACLE COVER ART AWARD
The second Empire State novel – Rad Bradley and the denizens of the pocket universe face a new and deadly threat: transdimensional invasion!
---
"If you're not careful, Adam Christopher will melt your face off with The Age Atomic: the heat of the prose pairs with searing action. This is fireball storytelling and a rare follow-up that's better than its predecessor."
– Chuck Wendig, author of Blackbirds Mockingbird and The Blue Blazes
---
File Under: Science Fiction [ Splitting the Atoms | Angry Robots | Crossing | Universal Destruction ]
Buy the ebook version now – only
£

3.99
SKU: AR9780857663153
The sequel to Empire State – the superhero-noir fantasy thriller set in the other New York.
The Empire State is dying. The Fissure connecting the pocket universe to New York has vanished, plunging the city into a deep freeze and the populace are demanding a return to Prohibition and rationing as energy supplies dwindle.
Meanwhile, in 1954 New York, the political dynamic has changed and Nimrod finds his department subsumed by a new group, Atoms For Peace, led by the mysterious Evelyn McHale.
As Rad uncovers a new threat to his city, Atoms For Peace prepare their army for a transdimensional invasion. Their goal: total conquest – or destruction – of the Empire State.
| | |
| --- | --- |
| Series | Empire State |
| Publication date | |
| Cover Art | Will Staehle |
| Ebook | 26th March 2013 | 9780857663153 | Epub & Mobi | RRP £5.49 / US$6.99 |
| US Print | 26th March 2013 | 9780857663146 | Trade Paperback | RRP US$14.99 CAN$16.99 |
| UK Print | 4th April 2013 | 9780857663139 | Paperback | RRP £8.99 | 4th April 2013 | 9780857663788 | Hardback | RRP £20.00 |
| Goodreads URL | Discuss The Age Atomic |
"A wonderful novel, The Age Atomic proves that Adam Christopher can write sequels just as well as anyone. The most fun read of 2013 so far, and one of the best. 5/5"
– The Founding Fields
"The sequel to last year's Empire State sees Christopher's 'pocket universe' alt-Manhattan under threat from earth tremors, endless winter, and an army of killer robots. The nuclear terror of the Red Menace era is filtered through a fusion of SF and gumshoe novel to superb effect."
– James Lovegrove, Financial Times
"The Age Atomic is another masterful tale by Adam Christopher. An action-packed noir Atompunk tale with more layers, facettes and twists than one would expect and which keeps the reader enthralled from the first to the last page. Highly recommended reading! 10 out of 10 Zeppelins"
– Traveler at Daily Steampunk
"While the ideas behind this series show that Adam is imaginative and bright, it's the writing that keeps you enthralled. I couldn't tell you the amount of evenings where I lost track of time reading this book – it's that good."
– Brandon at Every Read Thing
"A glorious and joyous ode to the pulp science fiction of old. Awesome fun, from start to finish, just straight up, pure entertainment."
– A Writer's Sidequest